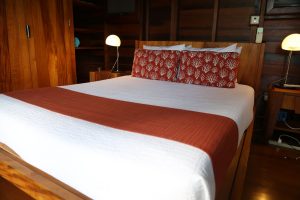 A stay here is for the discerning traveler who highly values an intimate setting (4 acres total) combined with appealing natural surroundings, the utmost privacy and a property that maintains a beautiful silence. This clifftop location features merely eight villas and bungalows. The villas are more spacious then the bungalows; each villa comes with its own plunge pool. But all come with excellent views.
Appropriately there is a secret beach at Secret Bay and one notices its beauty as soon as one has a chance to wander the property. This semi-circular cove with its smooth white sand is guarded by steep cliffs and is hidden away so that it is only accessible via the water. Guests can kayak, paddle board or swim to reach it's sandy shores. A second much more accessible beach, (TiBay Beach) is divided on one side by the Cario River which flows through the property into the sea.
There is a commercial kitchen on site but no restaurant; guests can choose to have personalized cooking service with meals delivered in the comfort of your bungalow or villa.
Guests can do as little or as much as they desire. A stay here is about flexibility. A pre-arrival questionnaire helps their concierge customize itineraries and tailor experiences for each party. This also includes any dietary needs and arrival and departure information.
Dominica certainly offers a wide range of activities for nature lovers and Secret Bay makes sure guests have full access to a diversity of on property and off property activities and experiences. Yoga, art classes, cooking classes, a private concert, massage, river exploration, Lion Fish hunting and Scuba diving are just some of the experiences offered.
This eco-luxury property opened in 2011 and has already proven itself as an ideal location for proposals, honeymoons and anniversary celebrations.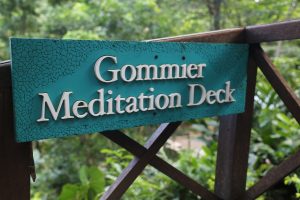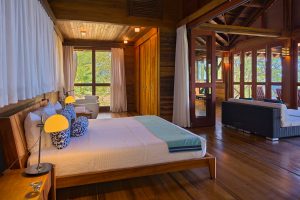 There are currently no non stop flights to Dominica from major USA, Europe or Asian cities. Travelers often connect through nearby Guadeloupe (a 30 minute flight to Dominica) with transfer from the airport provided by Secret Bay. They can also arrange transportation from Guadeloupe by boat.
At times Dominica feels like a cross between the unspoiled natural character of Papua New Guinea, the dramatic volcanic landscape of Hawaii, the cloud forests of Costa Rica and perhaps a touch of Southern Thailand's geography thrown into the mix.
There are the obvious natural and cultural highlights of the country; beautiful rain forests, numerous scenic rivers, dramatic mountains, hot springs, the second largest boiling lake in the world, waterfalls, the Caribbean's largest indigenous population, the Kalingao and very friendly people.
But perhaps also, part of the intrigue of this country is that it is not easy to get here and it really does feel off the 'beaten path'. In addition, compared to many parts of the Caribbean the infrastructure here is surprisingly low-key – perhaps helped in part by the low population density (the country only has about 72,000 full time residents). As a result the feel on Dominica is refreshingly one of going back in time to some extent.
For more information about Secret Bay, visit: www.secretbay.dm
And for more information about Dominica visit: www.discoverdominica.com
Note: in addition to our own photography, several photographs provided by Secret Bay.