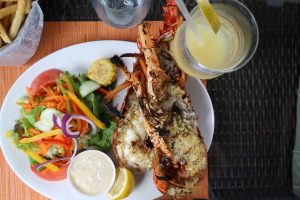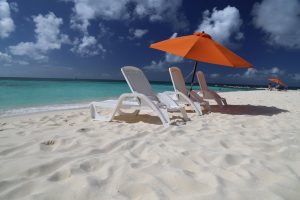 The tiny island of Anguilla is approximately 16 miles in length (26km) by about 3 miles (5km) wide. You come here to unwind, to relax and to enjoy a slower pace of life. The island is not overbuilt and does not feature massive resorts – rather there is a diversity of lodging from affordable three star properties to luxurious 5-star properties.
Because of it's size, the island is easily explored – with little traffic, generally very flat roads and friendly locals. And you also come here to eat – the island earns the description, 'the culinary capital of the Caribbean" for good reason – over 120 restaurants are here. With only 35 square miles of land mass there are approximately 3.4 restaurants for every square mile! Locals own many restaurants as do expats – you have a nice mix of Caribbean influence with Mediterranean cuisine.
Anguilla is rightfully proud of her diversity of silky smooth white sand beaches, from Shoal Bay (voted one of the top beaches in the world) to Sandy Ground Beach to intimate Sandy Island and any of a number of small beaches at the resorts.
There are several ways to arrive on the island. Cape Air offers nonstop flights from San Juan Puerto Rico using small planes. You can also fly into nearby St. Martin (Princess Juliana Airport) using mainstream carriers, one minute from the airport is the private ferry terminal followed by a 20 minute speed boat ferry to the small Blowing Point Ferry Terminal on Anguilla (we used Calypso Charters) for this ferry ride.
STAY
Cap Juluca – one arrives at this secluded resort and is quickly whisked away into a world of pampering and tropical refinement. The assiduous staff are here to ensure you have a memorable and worry free stay. A number of them we met have been working here for many years.
White washed Greco-Moorish influenced suites are laid out along the secluded crescent Maundays Bay – each suite boasts a veranda overlooking the water with no visual obstructions other than a few quintessential palm trees. Wooden doors swing open when you want the bay breeze – or close when you want to retreat into your cocoon of luxury. Either way you will hear the breaking surf and in the evening you will find yourself being lulled to sleep by its sounds.
And when you want the relaxation of the beach simply walk the short distance from your suite to one of the waiting chairs in the sand. And soon one of the attendants will be by to inquire about your drink of choice.
For something a bit more energetic, stop by the Watersports Center. They offer offer a wide range of activities – close to shore and further afield. Snorkeling is along the rocky outcrop below Pimms Restaurant, water skiing is in the bay (wave to those watching you from the shoreline if you have the balance) and snorkeling trips can be arranged private for your party or with others. A cruise on the resort's 32-foot boat is also available. Visit: www.capjuluca.com
Paradise Cove Resort is located in a quiet section of the island nestled slightly inland (a 10-minute walk to Paradise Cove Beach). This peaceful resort is family owned by husband wife Sherille and Frank Hughes. They built this property from the ground up and have owned it for over 20 years. The resort offers a variety of accommodation ranging from smaller rooms to one and two room suites to several penthouses. The suites are generous with space featuring a large entry, kitchen, room and two bathrooms.
Behind their lobby is the main pool (with a bar right next to it) and two open-air Jacuzzi's. It is easy to whittle away a morning or afternoon here especially when the staff brings over drinks and food to your chair. Nearby is a croquet court and BBQ – along with a fitness center. They host small weddings here – and it is easy to see why when you are surrounded by this picturesque setting. Visit: www.paradisecoveanguilla.com
ARTS

Cheddie's Carving Studio is owned by Cheddie Richardson, a self taught artist who mostly works with driftwood he finds on the shores of Anguilla. This talented artist maintains a small gallery full of wooden sculptures of birds, people and fish among others. His work studio is directly below the gallery. He may not always know what shape will be revealed to him when he begins his work – as he carves the sculptures start to take shape.
A danger of being an artist is creating pieces so special you or your family cannot part with them. Fortunately only a few pieces at the gallery fall into this category including an impressive piece of a bird of prey emerging from a piece of driftwood.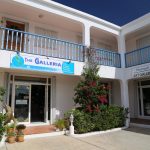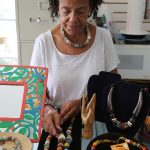 Devonish Art Gallery & Uhuru Gallery are two separate yet physically joined art galleries under the same roof. Devonish is owned by Courtney and Carrolle Devonish – both artists in their own right. Courtney works with beads and Carrolle creates sculptures and pottery. Works by other local artists are represented. Visit: www.devonishart.com
At Uhuru Gallery, the owners have amassed an impressive collection of artifacts and historical items from around the world. At times you might feel as if you are in a museum but then you quickly discover all the items are for sale. Also a nice collection of Jim Thompson silk. Visit: www.facebook.com/uhuruartgallery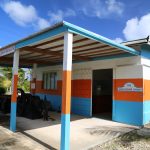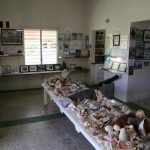 Heritage Museum – this private collection maintained by founder Colville Petty is the finest museum on the island – devoted to the islands' human heritage dating some 2500BC all the way to recent times. Mr. Petty has done a remarkable job in curating the collection based on hundreds of items he has accumulated.
The museum is small but each room packs in plenty of exhibits and artifacts. Noted exhibits include some of the geology and shells of the island, comparisons between the English and French settlers and a room dedicated to the bloodless revolution in 1967 that occurred on the island. Colville is also a noted local author and several of his books are for sale in the gift shop. Open Monday through Friday from 10-5pm – located near the East End Village.
CULINARY
Dolce Vita Restaurant – this tiny Italian restaurant is located at the edge of the beach overlooking the bay at Sandy Ground. They are only open for dinner but when they do it quickly becomes a lively spot. A small bar serves up a variety of cocktails. The focus is on seafood; recommended dishes include the crayfish and the mussels. They make their pastas on site. After a few drinks and plates of seafood, you are apt to practice some Italian with the owner…even if you don't speak Italian!
Da'Vida Restaurant "Celebrate Life" shows clearly on a wooden sign as you enter this restaurant. And what a place to do so. All tables are steps from the beach – each with nice views of the bay. Start with a cocktail from their well stocked bar (the Anguillan Passion might be a good choice) followed by a giant lobster or the smaller crayfish. Or choose from one of their seafood salads. Once you are finished with your meal – enjoy the beach and then come back to Da'Vida not for additional culinary enjoyment but to try one of their relaxation treatments (they also double as a spa). Visit: www.davidaanguilla.com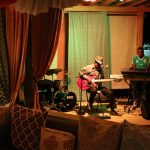 Veya Restaurant – husband wife Carrie & Jerry Bogar from Pennsylvania purchased this restaurant and have turned it into a fun place to be in the evenings with live music, a thriving bar and delicious food served outside on the veranda. Carrie is chef (graduated from the Culinary Institute of America); dining feels like you are at someone's home – helped in part by the setting and Jerry who walks around greeting guests as they dine. The focus is on fresh seafood prepared using the influences of a number of regions from around the world. They maintain a robust wine list often with vintages slightly older then winery current releases.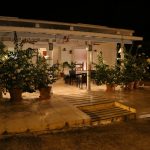 Focusing on the details and quality of cuisine rather than the number of people served or a fancy location- De Cuisine is an intimate several table culinary experience. Because of their size, reservations are highly suggested and preferred. Run by husband and wife Joash and Denise- the focus here is on artful creatively prepared dishes. The menu does not remain the same – adapting to what is in season and perhaps Denise's culinary interests at any one time. She has worked as an executive chef in kitchens in several overseas locations including Dubai while Joash is a skilled front-of-the-house welcoming host. Visit: www.decuisine.wix.com/de-cuisine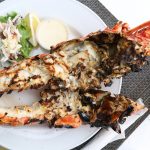 Smokey's at the Cove is located on the western part of the island overlooking the small and picturesque Cove Bay – not far from the Cap Juluca Resort. The vibe here is casual with the focus being on seafood (but with plenty of other options for non seafood eaters). Excellent soup, salads and lobster.
Dining is either inside or outside on their deck – they also offer a limited number of beach chairs and umbrellas to relax with either before or after eating (or with one of their rum punches in hand!).
NIGHTLIFE
Unlike some of the busier Caribbean islands nightlife here is rather low key and intimate featuring several eclectic bars filled with plenty of character (both in the establishments and the clientele). Two of these are located in Sandy Ground: Elvis and the Pumphouse.
Elvis' Beach Bar looks to be semi portable – its located at the far end of Sandy Ground Beach and features an old boat that has creatively been turned into a bar with seating on both sides of it's elongated shape. Owner Elvis is always on hand to help serve drinks and keep the conversation flowing. Bars don't get much more simple than this – people, drinks, sand and sea.
There is a large screen outdoor TV, a small section of sand for dancing and a DJ keeping the volume high. This is the bar of choice in Sandy Ground for visits until the wee hours of the morning. Elvis attracts characters from all over and a visit isn't' only about the alcohol but also for the people watching. Visit: www.facebook.com/elvisbeachbar
The Pumphouse is located right next to the old commercial salt ponds (closed down in the early 1980's). This bar still contains the old machinery used for processing the natural salt and in the evenings live music will be setup right next to this old equipment. It makes for a unique and somewhat eclectic visit. Gets crowded under their small roof with dancers and drinkers. Fun atmosphere and you will meet folks from all over.
OUTDOOR ACTIVITIES
Anguilla Watersports was founded by Judson Burdon in 2013. However he moved to Anguilla in 2000 and has not left. When talking to him, one will quickly feel the passion and energy he has for the ocean and water sports – with conversation quickly turning to top surfing spots around the world – some of which he has personally surfed. He is also an avid kite surfer having setup a well-regarded Kite Surfing school on the island.
Today he offers lessons for Kite Surfing and Stand up Paddleboarding as well as guiding (along with his staff) excursions using glass bottom kayaks. One memorable kayak trip is from Crocus Bay Beach along the rocky limestone shoreline – exploring the inlets and watching the marine life go by through the bottom of the kayak.
A highlight of this trip is a stop at a tiny sheltered beach – simply and appropriately called "Little Bay" where one of the Bachelorette episodes was filmed back in 2011. For sure take some time to relax here, swim and or snorkel near the rocky outcrops. One can actually access this beach via the rugged cliffs helped in part by a rope but its much 'cooler' to kayak in from the bay!
Alternatively you may rent these kayaks and explore the rugged coastline here on your own.
You can book your kayak trip, stand-up paddle board or kite surfing lesson by contacting Judson and his staff here: www.anguillawatersports.com/contact-us
Anchor Miniature Golf is located at the home of the Anguilla Sea Salt Co (where you can also order ice cream and cold drinks). This 18-hole course is laid out immaculately. Most holes are par 2 with some of the more challenging ones par 3 included the memorable 18th hole.
Sandy Island – This tiny strip of sand is a getaway from your getaway! It features 0.6 of an acre of silky smooth white sand in an elongated shape tinged with the occasional colorful umbrella and the obligatory white beach chairs. From Sandy Ground Wharf it is only about a 12 minute power boat ride to the island.
Once there you, you will also be treated to a small restaurant that stays busy serving a variety of tropical drinks including some island specialty rum based drinks. Once you've chilled in the sand with a cold one in hand glance at their menu. Highlights include fresh crayfish and lobster. Several tables are located under a wooden roof for when you want to eat or escape the sun. But this is just for short while – you really want to be out on the beach or in the azure waters.
Bring your snorkel and mask (neither are provided on the island) for some memorable underwater views.
And be sure to chat with owner Simone Connor – she and her family lease the island from the government and operate the restaurant.
For more details visit: www.mysandyisland.com
TOURS
Premier Taxi and Tours is owned and operated by Accelyn Connor, one of the most gracious and helpful individuals you will ever meet. He is also known on the island for his 'nightlife' tours and will take you to some of the more popular, hidden away and eclectic bars. Accelyn knows Anguilla very well – is a safe driver and very knowledgeable about the island. You can reach Accelyn by email: premiertaxiandtour@hotmail.com
MORE INFORMATION
The Anguilla Tourism Board is the go to destination to begin planning your trip, for more details visit: www.ivisitanguilla.com
and follow them on
Twitter: www.twitter.com/Anguilla_Trsm
Instagram: www.facebook.com/DiscoverAnguilla
Facebook: www.facebook.com/DiscoverAnguilla