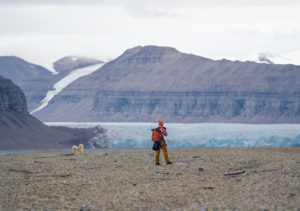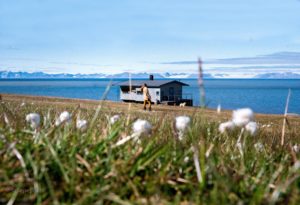 October has always been one of Cecilia's favorite months. The sky over Longyearbyen, Norway (78.2232° N, 15.6267° E) is painted in incredible shades of blue. Wisps of thick clouds roll over the awe-inspiring mountains, putting a mysterious veil over the peaks. Her mood is immediately elevated to a new height in this picture-perfect weather. It is the last month of the year she gets to soak up the sun before the two-and-a-half-month polar night descends.
A breath of chilly fresh air welcomes her the moment she opens the door to the outside world. Resting on a wooden porch is her Finnish Lapphund, Grim, cozily curling up in a furry ball as if it is an enormous fluffy cloud of cotton candy. She heads up to the fire pit to get the fire started. The open flame keeps her soothingly warm while she snugly settles in with a cup of morning coffee. The caffeine starts kicking in – helping ease her into the day.
Out in the ocean, whales are flipping and splashing through the waves. The sound of them breathing and blowing water  into the air somehow comes off therapeutic in this lovely morning. A flock of seagulls hover over her little cabin – surrounded by untouched artic wilderness. Visually, her home appears isolated among the scenic surroundings.
She takes a sip of her coffee and falls into a reminiscent state of mind.
About five years ago, Cecilia Blomdahl moved to Svalbard from Sweden. Initially, she planned to stay in Svalbard for a few months. As fate would have it, she fell in love with the lifestyle there. The locals love the outdoors so much; their life is based around the natural world and related adventures. She spends everyday life in this winter wonderland, surrounded by glaciers, mountains and the northern lights. The lure was irresistible, so she decided to call Svalbard home.
Since she was born and raised in Sweden, she is used to cold, long and dark winters. This serves as an advantage for her to ease into her new life much easier.
Most people dread the polar night, where the darkness lasts 24 hours. As it turned out, the polar night became her favorite time of year. Wearing suitable clothing for weather presented the biggest challenge for her. It took her about 2 years before she really understood how to dress for temperatures approaching -30C, and how to stay comfortable in extreme weather.
"It really is about buying shoes and clothing that allows for air to build up and warm you, and to use the right materials like wool".
If you ever plan to visit Svalbard in October, she has recommendations for how to spend your day.
The best way to start the day is going on a boat trip to Pyramiden –  the one that passes by Nordenskiöld glacier. It is a fantastic way to experience Svalbard on the ocean. One will be impressed by the stunning landscape and mountains during the ride, and may very likely come across whales and puffins, or even a polar bear. One can get off the boat and explore the fascinating Russian ghost town – Pyramiden. On the way back, the boat will stop by the majestic Nordenskiöld glacier.  Get your cameras ready as it will be an incredible sight to behold!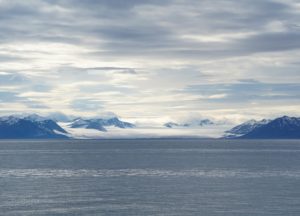 While back in Longyearbyen, one may choose to dine at Restaurant KROA, a very cozy dining place where many locals spend their evenings. Speaking of food, there are some native foods one may try while in Svalbard – Svalbard reindeer, whale, bearded seal, ptarmigan and arctic cod.
"My favorite is definitely arctic cod! My boyfriend and I spend our entire summers out on the ocean fishing for cod and other fish like Haddock and Atlantic Wolffish".
The best thing to do at night in Svalbard? One could consider booking a tour to head out in search of the northern lights.
"The main thing to prepare for is the weather. It changes so quickly that you may see many different types of weather any day in a month. You need to be prepared for it all and have proper warm clothing. WOOL is the one main thing I tell people to have with them, wool thermals, wool socks etc. Also, bear in mind that you cannot roam outside the village alone when travelling here. You will need to be accompanied by someone who has a rifle. My advice is to plan your activities in advance, so you get to do and see all the things you come for".
It is not exaggerating to say that there are more polar bears than humans in Svalbard. Having lived in Svalbard for years, Cecilia has had her fair share of encounters with polar bears.
"What is so wonderful, and scary, about polar bears in Svalbard, is that they can show up at any time. It is impossible to say what the odds are of running into one, but during the time I have lived here on the island, I have seen them many, many times".
Cecilia saw bears wander into the village. They even paid an unwelcomed visit to her cabin several times. Through the window, she saw the curious bears climb on her snowmobiles, trying to figure out what to do with the motor sled.
"They could be out of sight for months, and then out of a sudden, there are three of them wandering by our cabin within the same week, so you never know!"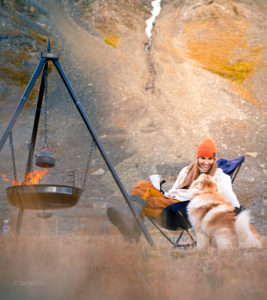 When the night draws in, Cecilia is outside the cabin playing with Grim. In one leap, the dog pushes her to the snow-covered ground. Lying on the snow, she playfully flaps her arms and legs to make a snow angel while Grim happily gives her a sloppy lick. At this very moment, the dazzling Aurora Borealis makes a magical appearance across the sky, the green and violet lights quickly streaking across the sky, moving in spectacular synchronicity. Life can't get any more magical than fiction – but it seems it has this one evening in the far north.
This is the beauty of life in the arctic. Enjoy every moment that comes your way and never take this incredible nature for granted. Her current plan is the extension project of her cabin, which is slated to be completed in about 5 months. She also looks forward to the thrill of continued snowmobile trips this winter season.
"My biggest life lesson about moving here, is that you never really know what you want – if you don't take chances. I always thought I wanted a career life in a big city but when I was at it, I ended up hating it. Then I moved to a small remote island, near the north pole, and found my home! You will never know if you never try. Also, don't be afraid of failures, it's part of life. You will only grow from it"
She is right. There are many life opportunities out there waiting for you to explore and experience. The sky is only the limit, just like the Northern Lights, filling out the heavens stretching across the sky.
Note: This article is written based on an interview with Cecilia Blomdahl. All photos by Cecilia Blomdahl.
Biography:
Cecilia Blomdahl is originally from Gothenburg, Sweden. She is currently living in a cabin on Svalbard and has been living on this arctic island for over 5 years. She is  a vlogger and professional photographer. She spends most of her time working on her social media and brands for her clients. She also works part time at a local school and a clothing store in Longyearbyen.
Website: www.ceciliablomdahl.com
Instagram: www.instagram.com/sejsejlija
Youtube channel: www.youtube.com/channel/UCnFhQlaQIqs6vw_mmG0bRww