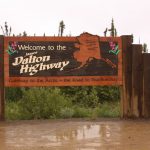 We pulled out of Fairbanks at 7am sharp – under grey skies with a promise from the clouds of rain to come. It has been raining here the past few weeks and is an unusually rainy June. The clear and warmer weather is forecast to begin in a few days, after we have left. Today it was a trip up the famous Dalton Highway, a series of graded dirt and partial pavement at times road that heads north to Deadhorse and Prudhoe Bay, both located almost within spitting distance of the Arctic Ocean.
This road generally follows the 800 mile Alaskan pipeline through stunted forests, permafrost areas and tundra. A good driving day to the edge of the Arctic circle takes about 12 hours return trip from Fairbanks, including short stops. The road is now 40+ years old – built after oil was discovered on the Northern Slope. It was originally called the "haul road"; this is still an appropriate name – trucks continue to drive this back and forth all day and all night all year long.
Rental cars have limitations on which (if any) of their vehicles can be taken on this road (several companies offer car rentals for the Dalton Highway and other dirt roads including GoNorth Alaska). At mile one of the Dalton Highway we discovered why. A truck came barreling down the dirt road – mud and rocks flying everywhere all smashing against the vehicle we were in. Now the plethora of dents and chips and several long striated cracks stretching across our windshield finally made sense!
Reaching the great Yukon River we quickly realized how massive it is – it's brown raging torrent stretched for hundreds of feet across. This time of year there are swarms of mosquitoes that plague havoc with any uncovered parts of your body; a mosquito net is essential as is strong repellent.
The one room cabin visitors' center was attended by a lady who comes here for the Alaskan summers. She was trying to grow tomatoes on the south side of the cabin – these poor plants were really struggling in the 40 and 50 degree temperatures. Not to mention, this past June and part of July has been one of the rainiest on record in Fairbanks and vicinity.
We popped over to a little one room shack on the edge of a super muddy parking lot where Dorothy the owner of Mainly Birch sells a variety of Birch wood products including bracelets and various jewelery. She selectively peels bark from birch trees and then uses a hole punch to punch hundreds of little round pieces of birch bark which she then strings through each round piece eventually acquiring enough of these pieces to create a bracelet.
She and her family moved here a number of years ago in late summer and hurriedly built a cabin before winter set in – 3 miles up the Yukon River using a single chainsaw. She has plenty of stories to tell about her life in this part of Alaska.
In the winter this giant river freezes solid and she can walk on the ice from her home down to where her shop is. Usually the river ice starts breaking up sometime in May!
Continuing to head north we saw pumps located next to a number of streams. When it gets dry in this area in the summer trucks will hook their tanks up to these pumps, pump out water and spray down the road to help control dust. Eventually we reached Finger Mountain, a prominent stone formation out in the distance that looks exactly like an index finger. It is conveniently pointing towards the direction of Fairbanks and we were told local pilots use this as a landmark.
The amount and variety of lichen here is really incredible. There are many shapes and colors – this plant also serves as food for a number of animals that roam this part of Alaska. Some of these animals dig down through the snow to access this food supply in the winter. If you look at the lichen close up in the rain it is very easy to think you are at the edge of the ocean; it looks very similar to the algae and and organisms that grow in tidal zones.
The Arctic Circle is located at 66 degrees north latitude. There is a sign indicating you have reached this cold and northerly part of the globe. Another 60 miles gets you to Coldfoot which is near where the lowest ever recorded temperature in the United States was recorded – a frigid minus 80 degrees Fahrenheit.
Continuing another 200 miles past that, you finally reach Deadhorse and Prudhoe Bay. Public access is not allowed to the Arctic Ocean – however during certain times in the summer you can take the Arctic Ocean Shuttle from Deadhorse to reach its shores. For this journey along the Dalton Highway we used 1st Alaska Outdoor School – they do offer select 3-day tours up to Prudhoe Bay in the summer (the "Gates of the Arctic National Park" tour) which can tie into the bus that takes tourists up to the Arctic Ocean.
1st Alaska Outdoor School offers tours year round – some of their most popular tours are in the dead of the winter to see the Northern Lights. These particular tours usually start in the late afternoon and last for much of the night before returning to Fairbanks.
For more information please visit: www.1stalaskaoutdoorschool.com