Alaska is absurd. Bears, moose, mammoth mountains, soaring pines, jagged peaks, water streaming past boulders, surging down valleys, crashing against sand. We started in South Dakota, attending a wedding in the Black Hills the weekend prior to departure. This was July of 2014. On Sunday, we drove to Denver, hopping an Alaska Airlines flight to Seattle, using two companion certificates. Our departure from Seattle to Anchorage was delayed. We played cards in the airport. My nephew, Alex, aged 15 then, loves card games and his words at the table seemed wise beyond his years. My father wins most games, but Alex wins too.
On the ground, in Anchorage, we taxied to the Marriott Downtown. Our room was not spacious, but we had access to the Executive Lounge. We ate in the Lounge the next morning, enjoyed a late checkout, and taxied to the airport. On our flight to Kodiak, Alex sat in the window seat, I sat on the aisle, and no one sat between us. We switched seats. The view entering Kodiak revealed a scene from a postcard. I was reminded of the San Juan Islands, in the Puget Sound. We flew past the town of Kodiak, with mountains, trees, and wind towers staring back. The airport is southwest of the city and it looked like we'd land on water before finally touching down on runway. A smooth landing.
We picked up our rental car, using Google Maps to lead us to the Bed and Breakfast. Perched on a hillside, overlooking the channel, with towering pines, sits, A Channel View Bed and Breakfast. Friendly owners. Our apartment had one bedroom, with a pullout couch and a rollaway set up at night in the living area. We had dinner downtown at Henry's. We walked to and fro. I sampled smoked salmon on a bed of lettuce. Back at the B&B, it was 11 pm and light outside. We closed the shades and rested.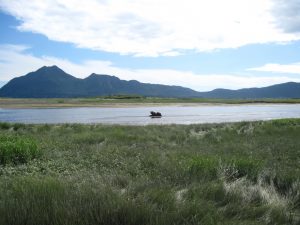 We woke and ate Kashi cereal. We drove two miles to a remote outpost on Near Island where floatplanes take off. We found our plane and waited for the flight, with Sea Hawk Air. Coffee was served. We snapped photos and geared up for bear viewing. As we're about to depart, an older guy shows up. He's our final crewmember. He laments to Willy, our pilot, that he, yes, he, an honorable former pilot, reserved the cockpit seat. Willy says no, Alex has it on the way out, and you get it on the way back. And it's settled.
Take off is smooth and we angle over Kodiak Island on our way to Katmai National Park and Preserve. Willy spots mountain goats, and points at bear trails weaving through the brush. We arc across open water toward Katmai. We fly over the bay where we will view the bears, and then over a massive glacier. Willy describes the color changes of the glacier. Willy flew in Timothy Treadwell – mauled by a grizzly in 2003. Treadwell spent 13 summers living with Katmai grizzlies, and his life was captured in the 2005 documentary, Grizzly Man.
We circle back around and land in the bay, a novelty. Hip waders take us to shore, where our guide, Jo, is making her way back to greet us. She drops off the previous group, and after a brief introduction and crash course on bear viewing, we set off toward a mother and her 1-year-old cub digging razor clams on a sandbar. It takes 10 minutes to reach them and a group of five is also watching. We take pictures, observing for 10 to 15 minutes.
Jo points out a boar lying on a sandbar waiting for the tide to rise. At that point, he will wake and start fishing for salmon. Tide is coming in on the mother and her cub and they soon need to find higher ground so we move on. We catch up with a boar munching on wild celery. He ducks behind a small ridge and we are within 40 feet, but cannot see him. I did not relish that moment. We cross the ridge and stand still, watching, listening to him munch celery.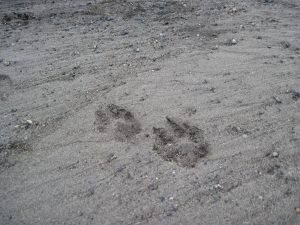 We set out again and see a boar fishing in a stream. We leave him alone and walk toward the spot where Jo saw a mother and her spring cubs earlier that day. We find them and come within 30 feet before Jo stops. We huddle together and watch them eating grass. We hear the sound of mother chewing. She pays us no attention as her cubs play and eat in the background, 10 feet away. We move on to what Jo thinks are a mother and her cub lying in the grass near a stream. Jo suddenly recognizes it's a boar by himself. We observe, and then he rises and moves on. And so do we.
We start making our way back to the mouth of the bay. We come across a mother and her spring cub. Jo says this is the cub that likes to jump on his mother's back and ride in that manner. He continually pops up on his back legs to examine us, as if asking his mother what are those strange creatures in the distance. We watch, and then a boar starts moving in. We were warned boars pose the greatest threat to a cub so we are nervous about his presence. He walks off in the other direction, but not before we stand between him and the mother with cub.
When we reach the mouth of the bay, we turn around and count upwards of 10 bears going about daily activities. What an experience! We wait for Willy to land. Tide has come up five feet or more and our departure is far from where we first landed. Jo hands us our lunch. I have a turkey sandwich on a soft jalapeno cheddar roll. The box includes a piece of watermelon, a cookie, a snickers, and pasta salad.
As we leave the bay, we cross an island and see a mother and her two cubs that swam to the island for protection. We fly over Raspberry Island, and a remote camp our friends recently stayed in. Willy points out fishing vessels and describes how they go about fishing this water. We fly past open water where whales are frequently seen, but we don't see any.
We landed at Kodiak, drained, but reveling in the majesty of viewing bears in their natural habitat. We moseyed to the B&B, where we laid down, exhausted. Later, we drove to Safeway for groceries. We repaired to the B&B and dined on smoked salmon, cheese and crackers, an apricot, and a pluot. We ate mint moose tracks ice cream for dessert and slept early.
On Wednesday, we ate Kashi cereal again for breakfast. Mom and Dad bought French pastries. We snacked on them for lunch. We made a reservation for the Old Powerhouse Restaurant, by the waterfront. We drove along the southeast side of the island. We stopped to look for salmon in a tributary. No luck. We drove south past three bays. After forty miles, we returned to Kodiak.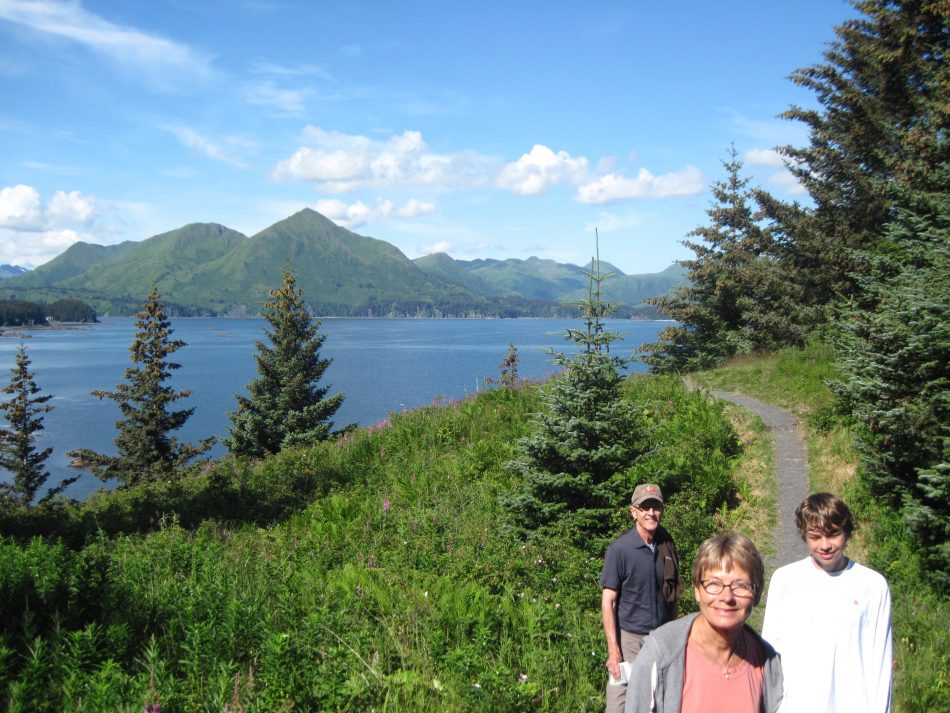 Thereabouts, we stopped by the B&B for dark coffee. We motored to the Powerhouse for an early dinner. I had my finest meal of the trip – a salmon fillet on rice with veggies, and salmon roe, all topped by a delectable Asian sauce. As we sat waiting for the check, a harbor seal swam by the window. Alex and I caught a brief glimpse. And then he was gone. Into the tide of nothingness. At the B&B, we ate ice cream and packed for our morning departure.
The airport was full the next morning. We meandered through the crowd. In Anchorage, we taxied to the car rental agency. Afterward, we drove to Snow City Café, got breakfast to go, and ate in the car on the way to Talkeetna, 114 miles north. Upon arrival, we couldn't check in so we made a reservation for the next morning, at Denali Zipline Tours. We walked around downtown. Talkeetna is a tiny village, less than 1,000 residents, smaller than anticipated.
Back at the cabin, we played cards and rested. That evening, we ate antipasto and pizza at Mountain High Pizza Pie. The spicy buffalo chicken pizza was mediocre, but the antipasto of smoked salmon, olive tapenade, with fresh mozzarella, and crunchy crostini, went over well. After dinner, we walked to the Susitna River in hopes of seeing Denali. No dice. We returned to the cabin for a card game and slept.
On Friday, we arrived early at the zipline office, got a brief introduction, and embarked to the woods for an adventure. At our destination, we geared up, endured a short demo, and set out to zipline. The tour included seven lines and a short rappelling zip. The final zip cascaded over a pond with memorable views of the forests and mountains. Two couples from Minnesota accompanied us.
After zipping, we met up with Mom and walked downtown for burgers, fries, and cokes. We hopped in the car and began our journey to Healy, on the northeast side of Denali National Park. We stopped at the park to check our reservation for the morning. Settled, we found our B&B, the Dome Home, an odd place. Not especially warm or inviting. We drove in the rain to 49th State Brewing Company. I had a salmon burger, and we rendezvoused back at the B&B for tea and cards.
The next morning, we passed through road construction on our way to Denali National Park. We stopped at a convenience store for Boar's Head sandwiches to take with us. We grabbed a mocha nearby, and I had another coffee when we got to the park. We found our bus and waited in line. We boarded the bus and Mom and I sat up front, opposite the driver.
The bus passed through forests and then tundra, where we saw bears from a long distance. A mother and her two cubs were trying to cross the river. The cubs kept getting swept away in the current, pirouetting back to shore. Mother finally retreated to their side of the river, and they sauntered off in a different direction. After some time, we came across caribou, then moose, a red fox, more bears, a dall sheep, a ptarmigan. But a 9-hour bus ride. With hordes of tourists. And a National Geographic photographer. So it goes. Back at the B&B, we ate pizza and slept.
We had breakfast cooked-to-order at the B&B. We packed and continued our expedition toward Anchorage. We stopped to take pictures of Denali – a stupendous mountain. We adjourned for a short hike at Ermine Hill Trailhead. We spotted bear scat and left unscathed.
In Anchorage, Dad returned the car. We checked in at the Hilton Downtown. Mom and I visited an outdoor market. She bought gifts and we walked to the waterfront to check out Bridges, a seafood restaurant. We made a reservation and returned at night for dinner. The starter bar was included – crab legs, watermelon with mint, pasta salad, potato salad, bread with smoked salmon spread, and beets. Alex, Mom, and I all ordered King Salmon. We found an ice cream shop and retired to the room to sleep.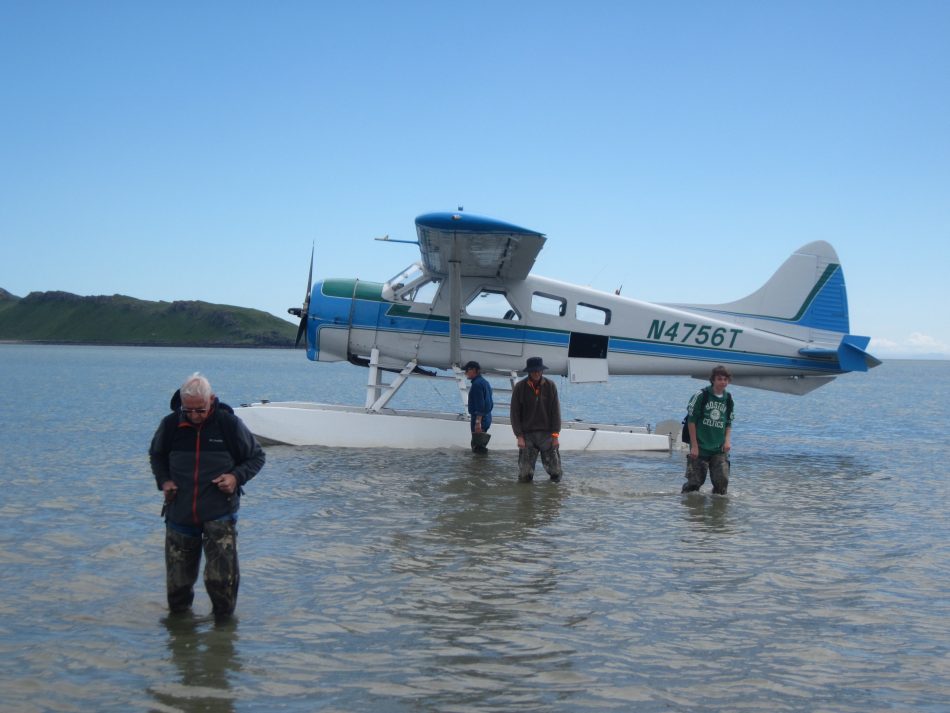 On Monday, we enjoyed breakfast in the Club Room. We ate again at Snow City Café for lunch. I had the eggs benedict with salmon cakes. We left our luggage with the bellman and took a free shuttle to the zoo. Anchorage doesn't feel like a city of 300,000. It's laid back. The zoo is not expansive, but provides a chance to see animals up close. Most were sleeping, as it was mid-afternoon. We were entertained nonetheless. Alex ordered a reindeer sausage, hopefully not procured on-site. We took the shuttle downtown, walked to the hotel, and waited in the computer room on couches.
About 9 pm, we left for the airport. As we entered the airport, Alex realized he lost his cell phone. I dialed the taxi dispatcher. He said the driver is a level below, waiting for a new passenger. Alex and Dad rushed downstairs, located the driver, and came away with Alex' phone. We ate at a seafood restaurant and I ordered a salmon fillet with fries. About 15 minutes before boarding, Alex couldn't find his boarding pass. I asked at the gate if anything could be done. The agent printed a new boarding pass and we marched on.
Our Alaska Airlines flight left Anchorage at 1:20 am. We arrived in Seattle after 3+ hours. We found our gate and rested. After a 90-minute layover, we landed in Denver on time. We retrieved our bags, stopped by Burger King for Alex, and drove to Rapid City. My sister, Ashley, had a meal waiting for us. We dropped Alex off and began our drive to Pierre. We arrived about 11 pm (8 pm in Anchorage). Our Alaskan adventure – a resounding success!