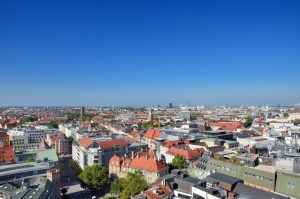 I made it to Munich in one piece! Let's just say that's thanks in part to the complimentary wine and liberal alcohol laws on my flight. After getting my luggage, I met my German host family that I'll be staying with for the next two weeks – Hans und Gaby. Gaby was holding one of those signs with my name on it, I felt like I was powerful or something.
About fifteen seconds after meeting, they shepherded me to the nearest Biergarten, which wasn't far – there's one in the airport. I tried Weisswurst (white sausage, a Bavarian specialty – four and a half stars), some bacon-wrapped meatloafish cutlet that was revealed to be a mixture of unknown meats (it's pretty good if you don't look at it too closely), and pretzels. Let me just tell you, I hadn't had a real pretzel until I had eaten this thing, it was so good.
I spent the day mostly with Gaby – and it was a little bizarre. We first went to a zoological collection building, where Gaby borrowed several stuffed animals – you know, the kind that were once alive. This building has bears, lynxes, chimpanzees, musk ox – I felt disgusted and in awe at the same time. Gaby is a biology teacher at the Dachau Gymansium (combined middle and high school), so we took those specimens to the school and saw a lot of Dachau on the way.
When most people think of Dachau, they think only of the concentration camp, but Dachau has gorgeous medieval architecture and a charming spirit about it. There's a yarn shop that serves coffee (!), and a lovely castle with a peaceful garden. There happened to be a Biergarten by the castle, and I tried my first Radler, a mixture of beer and lemonade. American beer is the piss of the world, compared to this stuff.
Later on, I sat down to a lovely dinner with Hans and Gaby later on – French cheese, German bread, and a very tasty zucchini and egg dish. It was simple yet so good. I learned that my thinness inspires the same reaction from every mother; as I buttered some bread at dinner, Gaby regarded me imperiously and said in slow, disjointed English, "You must eat more!"
Which brings me to the question of language skills. Since arriving Monday morning, I've been thrust into a culture I wrongly assumed would be almost exactly the same as mine, and into a language I thought I had almost mastered. Whenever people asked why I was a bit nervous about studying abroad, they always asked if my German was good. Invariably I responded with a haughty dismissal, saying "I can definitely get around."
I won't say I was wrong, but I definitely wasn't right. My German, I now realize, is slow and disjointed and includes few everyday sayings, whereas most Germans speak in rapid fire vernacular. Never before have I appreciated the effect of language on daily life. I sometimes find myself mindlessly agreeing with what Hans and Gaby say because it's just so easy to tune everything out.
But after three days of being engulfed in nonstop Deutsch, I'm definitely beginning to feel more comfortable with the language and even the accent. And I'm definitely growing more comfortable with my new surroundings.
There's something adorable about Munich – the city is one of the largest in Germany, yet in no place does it feel crowded. Almost every building, from apartment complexes to churches to Biergartens and shops, is ganz bunt – quite colorful and cute, almost like children designed the city.
The enormous English Garden splits the city in two; it also happens to be where elderly and semi-elderly nude sunbathers hang out (in every way) along with other, more attired Germans. It's a gorgeous park that straddles the Isar River – and surfers take turns riding the river's waves. It's incredibly easy to walk along the river and forget that you're in a city.
In the old part of town, street performers, opera singers, and string quartets drown out the street noise with classical music, and sometimes when I'm on the subway and the doors open, I can hear a few bars of someone's favorite Bach concerto. And everyone bikes. Old Germans, young Germans, Germans with dogs, Germans on the subway, fashionable Germans, German businesspeople. It's pretty awesome.
And then there's the food. In almost every subway station, there's a bakery, selling fresh bread, Quarktaschen (pastries filled with a cream cheese-like goo – my favorite so far), and myriad other diabetic coma-inducing specialties. Today I walked into a shop…well, really it was more a section of heaven that fell into a ritzy area of Munich. The smells of dozens of different cookies, chocolates, and candies greeted me as soon as I entered. To complete the scene, a strapping, comely German clad in lederhosen and a cheerful spirit was working the cash register. Any residual doubt about studying abroad, I can safely say, is gone.
Some things I don't love? There are no public water fountains. Anywhere. And I know I should be against globalization or whatever, but Chipotle doesn't exist here. On the continent. Which to my mind is a crime.
Still, it's a wonderful city that is invested in the future yet fully embraces its classical past, creating a wonderfully warm atmosphere. Sure, there are tourists galore, but for good reason: Munich has a heart, and is proud to welcome all to enjoy the city.