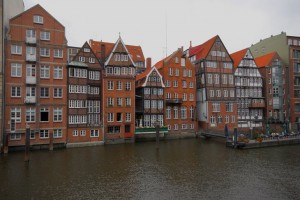 Our heads were fuzzy and our legs like jelly when we left the long, overnight flight from Kansas City to Munich, Germany. After clearing passport control and getting our luggage, my husband and I headed to the rental car area of the airport. Despite our fatigue, we managed the paperwork and check-out with only a minimum of frustration. An hour later, we settled into a Mercedes C Class sedan and made our way out of the city, Ken at the wheel and map in my hand. Our second job of the day was to locate the hotel we'd booked on the internet. I'd searched diligently for a reasonably priced hotel not too far from the Munich airport. I found many, but somehow one kept calling to me, so I clicked and clicked until we were booked for the first three nights of our three week stay in Germany.
The half hour drive to Hohenlinden turned into an hour, then another hour. We learned that German roadways are excellent but that German road signs leave a great deal to be desired. We also discovered that the GPS in our rental car was programmed in German. Useless for us. Round and round we went, on highways and byways, roundabouts and little traveled pathways. I was near tears and Ken near eruption point when we somehow pulled into the small, rural village of Hohenlinden. Relief is far too mild a word to describe our feelings. Surely the Hotel Zur Linde would soon appear.
"I think it's on the outskirts of the town," I told Ken as he gripped the steering wheel more firmly.
"Not so," he said slowing down in front of a three-story stucco building with Hotel Zur Linde painted on the side, right in the middle of town. He pulled into the side drive and around the back to a miniscule parking area, and we walked wearily into the hotel. A small reception area appeared dark and rather uninviting, but a young girl in the office cubicle smiled and greeted us so warmly, our spirits rose like a hot air balloon on a sunny day.
All we wanted was to go to our room, take a shower and change clothes, but it was not to be.
"Oh, I'm so sorry," the young woman said in perfect English. "You cannot go to your room until 2 p.m. But you can have lunch first." Her smile erased any irritation we might have had as she led us to the outdoor biergarten surrounded by greenery, an arbor and sweet-smelling flowers. We could easily kill an hour and a half here.
A tall glass of the local beer and a bowl of Hungarian soup helped revive us. We lingered in the pleasant outdoor garden until 2 p.m. when we unloaded our luggage and stepped into a tiny elevator to go to our room. It was small but clean and nicely furnished. A big window looked out on a church across the road. The bed with the snowy white duvet, sheet and soft pillows looked so inviting.
Showered and clothes changed, we set off on a walk around the town. Quaint houses, small shops, and flower gardens brought smiles to our faces and cooled our blood pressure back to normal. In one front garden, a man wearing a long cotton coat, worked with wood using a standing saw. Seeing him thrilled Ken. He told me he'd seen pictures of men doing work like that and wearing the coat to protect their clothes. As we walked, we discussed our plan for the next day when we were to go back to the Munich airport to pick up good friends from South Africa, who would be traveling with us.
In the evening, we went to the formal dining room and enjoyed a leisurely and excellent meal served by a waitress who had charm plus. Several patrons ate with well-behaved dogs lying next to them. The girl who had checked us in that afternoon was gone, and her mother was the dining room hostess and hotel clerk for the evening. Mama was tall, slender and blonde, wearing spike heels and a low-cut blouse. We chatted with her and were a bit surprised to learn we had booked into a Hungarian hotel. Good German beer and German food like roast pork, red cabbage and potato dumplings and a few Hungarian items on the menu, so not a problem, especially with the special way we'd been welcomed.
When our waitress brought our food, she asked what we would say in English to wish someone a good meal. "Enjoy!" I told her, "or even BonAppetit!" With eyes sparkling, she called out "Enjoy!" as she hurried back to the kitchen. Our food proved to be as satisfying as the hotel itself.
We'd noticed the church across the street filled the summer air with its bells every hour on the hour–lovely bells which chimed for a couple of minutes. We strolled over to the church after dinner and found a small cemetery on one side of the building. Each plot was outlined in paving stones and perennial flowers, some with stone angels adorning the area where the marker sat. We were taken with the care each grave had been given and the gentle, dainty look the flowers and statues added. Hand in hand, we crossed the road to our hotel and bed. "I can"t wait to see Mike and Mavis tomorrow," I said to Ken.
At 6 a.m., the church bells began to peal. Nice, I thought, as I pulled up the duvet and snuggled deeper into my feather pillow. But the bells went on and on and…. Fifteen minutes worth! Enough to wake the entire town! Surely, no one in Hohenlinden needed an alarm clock.
After a pleasing breakfast, we zipped into Munich in less than half an hour. Amazing what you can do when you have the proper directions. We picked up our friends at the architecturally impressive airport and brought them to Hotel Zur Linde. Our innkeeper greeted them warmly as new guests and we as old friends, having been there an entire 24 hours.
"Oh, what a nice place this is," Mavis said to me as we helped them to their room down the hall from ours. We met in the biergarten for a tall glass of beer to toast the beginning of our time together. Living halfway across the world from one another, our times together are treasured. We ate outdoors that night with many of the locals who were having a good time if judged by the chatter and laughter.
The next morning I asked if there was a guest computer. "Oh yes," the innkeeper said, and she led me to a folding screen in the breakfast room which hid the computer. I tried and tried to get onto the internet but could not find the @ on the keyboard. I finally gave up, and went to the office to ask for help. "That is a Hungarian keyboard," the woman told me. "Come, I'll show you what to do." Hit Shift and q and the @ comes up. Success at last, but the y and z were in the opposite places of our keyboards. Otherwise, they were the same. I finally got it figured out and was able to check my e-mail.
We woke up each morning to the 6 o'clock bell concert. By the third morning, I was awake and waiting. Instead of being irritated at the early awakening, I looked forward to it, knowing a wonderful German buffet breakfast awaited us on the floor below. Fresh fruit, cereal, cold meats, cheeses, and hard rolls accompanied by strong coffee and a few pastries filled us to satisfaction as we lingered in the sunlit dining room.
Before we checked out of the hotel, we booked it again for our last night in Germany, negotiating a lower price for our return.
After touring the back roads, small towns and villages of southern Germany, for three weeks, we returned to Hohenlinden. When we pulled into the parking area, it almost felt like coming home. The four of us strolled into the reception area, and our Hungarian innkeeper came to greet us, three inch heels clicking on the tile floor, her face alight with a warm welcome. We were definitely home.
A rainy night meant dinner in the formal dining room with a fire burning to take the chill out of the air. Good food and drink and a recap of all we'd done while touring Germany gave us a lovely final evening in the Hotel Zur Linde.
The grand finale came at six the next morning when the church bell concert began. I lay in the comfortable bed, listening to the swell of the bell tones, pleased that I'd found this charming small hotel, or did it find me? With so many choices, why did this one keep calling out to me?
We checked out after breakfast and loaded the car, ready to go to the airport. The four of us made one last trip inside for a warm farewell from the Hungarian hostess of this special hotel. The church bells rang to let us know it was eight o'clock as we drove out of town.