In the spring of 2022, my wife and I rented an apartment in Barcelona and lived like locals for 31 incredible days. After two years of working from our home in the Bay area, we realized we weren't capitalizing on the remote nature of our now-remote jobs. Our dream of eventually moving to Europe became a reality, even if for a short time. 
Since we were still technically working during our stay, we crafted a daily schedule to maximize our free time. After waking up at 6:45 am, we'd catch up on work from 7:00 to 11:00. Then, we'd take a siesta from the grind and begin our daily exploration.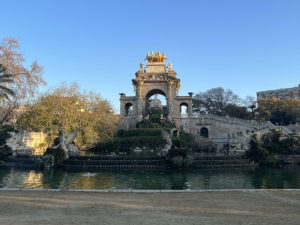 Each day, we picked something unique to do. Some days it was a walk through the parks; others, a visit to a museum or Gaudí masterpiece. We'd get back to the apartment by 5:00 pm and settle in for meetings and more work until 9:00 when we'd venture out for dinner. Luckily, Europeans are known to be late diners, so we didn't miss out. 
Our perfect month in Spain only made us want to accelerate our plans for permanent residence somewhere along the Mediterranean coast.
Situated on the coast of Northeastern Spain, Barcelona is the second most populous city and the capital of Catalonia, an autonomous community. Originally founded as a Roman city, Barcelona is now one of the most popular tourist destinations in Europe, and for good reason. 
Barcelona is known for:
Its historic Gothic Quarter and stunning ancient Roman ruins

Antoni Gaudí's modernist architecture

Delicious food and sangria

Lush landscapes with miles of vineyards

A laid-back, no-rush attitude
Despite my questionable grasp of the Spanish language (hey, I'm trying – de verdad), locals were warm and welcoming toward us during our visit. With everything we needed within walking distance, we became month-long regulars at our neighborhood businesses and started to feel immersed in this beautiful culture and simple lifestyle. 
Upon our arrival in the Catalonian capital, our first stop was for tapas and sangria. I'd had tapas at American restaurants before, but this was wonderfully different from my previous experiences. We also tried Sangria de Cava (made with Spain's trademark sparkling wine) and were immediately hooked. For better or for worse, the best Sangria de Cava we found was at an incredible, brand new Peruvian restaurant next to our Airbnb called Cumpanama. After our first couple of visits, the owner and his family would see us walking by and invite us in with a loud 'Sangria de Cava!!' 
Who are we to turn down a good time?
Here are my top things to do and see while in Barcelona, with some honorable mentions:
1. Antoni Gaudí's architecture
Born in Reus, Catalonia in 1852, Gaudí was a Spanish architect known for his eclectic style, drawing from diverse influences. As a student, he was fascinated by Moorish monuments in Spain and took inspiration from oriental arts, but he was especially interested in the Gothic Revival period. 
In adulthood, Gaudí moved toward modernism and eventually became known as the father of Catalan Modernism. The natural world played a significant role in his design process, with naturally occurring elements intertwined into most of his works. Unfortunately, the world was robbed of Gaudí's genius when a tram struck him in 1926.
Because of his unkempt appearance, passersby assumed he was a beggar and left him in the street. Hours passed, and a policeman eventually took him to the hospital, where he only received rudimentary care because of his mistaken identity. Gaudí died three days later. His funeral procession, which concluded at the Sagrada Familia, was attended by the entire city of Barcelona.
Fourteen of Gaudí's masterpieces decorate the Barcelona cityscape, but here are my favorites:
Sagrada Familia – Construction on this yet-unfinished basilica began in 1883 with the crypt. The crypt and the apse are in the traditional Gothic style, and the rest of the church is in Gaudí's beautiful naturalist style. His plan called for 18 spires (12 for the apostles, the Virgin Mary, four Evangelists, and the tallest for Jesus Christ), and so far, nine are completed. The sheer detail of this half-finished behemoth is awe-inspiring.
Park Güell – One of the largest green spaces in Barcelona, Park Güell (pronounced Gwell) is the brainchild of Gaudí and his long-time benefactor Eusebi Güell. Though initially conceptualized as a housing community, the park officially opened to the public in 1926. 
Gaudí designed the park in his naturalist style, taking inspiration from things like dragonfly wings, seashells, honeycombs, and snakes' curving forms. Mosaic-tiled buildings line the approach to the park, setting the tone for a whimsical experience. 
In 25 years of traveling the world, I've never seen more fantastical design, especially considering Gaudí imagined, designed, and built it in the early 20th century. My favorite areas of the park are the stone viaducts and the signature mosaic-tiled serpentine bench.
Plan to spend at least half a day exploring this sensational park. You can also visit the home where Gaudí lived from 1906 until his death for an additional cost.
Casa Batlló – This stunning residence is my favorite of Gaudí's works. The home was built in 1877, but homeowner Josep Batlló hired Gaudí in 1904 to redesign it. Although Josep wanted to demolish the building, Gaudí convinced him to renovate it.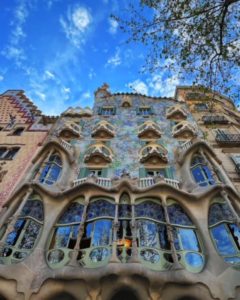 The home's façade beckons you inside like an eerie siren's song, with each balcony taking the shape of a skull smiling down. When you enter, the basement's rotating floor takes you through projections of changing colors, music, and landscapes. Then, moving upward through the house, you voyage through Gaudí's mind and more of his nature-inspired design elements. 
The fireplace seat – which looks straight out of a hobbit's home – flows into the noble room where la familia Batlló would gaze out the window at shoppers on Gran Via below. A staircase with gorgeous light blue tiles that grow darker as you move higher leads you to the roof, where you'll find amazing views of the city and the fabled dragon scales. Venturing back downstairs, you'll find a final staircase that features an installation of 164,000 meters of aluminum chains by Japanese architect Kengo Kuma.
Casa Batlló is a Barcelona must-see. Catch rooftop concert performances most nights, but book well in advance because they tend to sell out quickly. We did this on a cold and windy Wednesday night and were so glad we did. It was a lot of fun singing along to some Frank Sinatra, Whitney Houston, and Bruno Mars jams!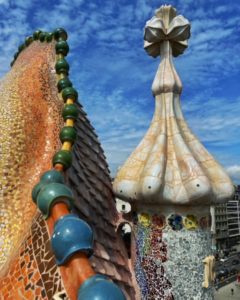 Casa Milà (La Pedrera) – Built between 1906 and 1912, Casa Milà was the last private residence designed by Gaudí. A futuristic design, Casa Milà was very controversial at the time of its construction because of the rolling stone façade and mangled wrought-iron balconies. Nevertheless, the breathtaking 180-degree rooftop views, especially of the Sagrada Familia to the east, emphasize the profound effect Gaudí had on the Catalan capital. 
During the guided tour, get a taste of what life was like for residents of this UNESCO World Heritage Site. 
2. The Monastery at Montserrat
Pink, Martian-like peaks rise to greet you as you approach Montserrat. You can reach the mountaintop monastery in two different ways from the nearby town: the first is a cable car with panoramic views, and the second is a railway train that snakes up the mountainside. At the summit, you can tour the monastery buildings and art museum, attend a mass (and, if you're lucky, a performance from the world-famous L'Escolania boys choir), and explore miles of paths and trails. Bring your walking shoes and comfortable clothes, because you can spend hours exploring. 
Montserrat's main draw is the Virgin of Montserrat. This thousand-year-old statue of Madonna and Child received Canonical coronation from Pope Leo XIII in 1881 and is now a popular pilgrimage site. 
3. Montjuïc
Montjuïc is a hill in Barcelona that features sprawling gardens and recreational spots like the Castell de Montjuïc, the Estadi de Olimpic de Montjuïc, Joan Miro Museum, and Calatrava Tower. The history of Montjuïc dates to the 17th century when it served as a fortress and execution site. But the most important developments came during the 1929 International Exposition, when the area experienced a construction boom to accommodate the festivities.
As part of Barcelona's 1992 Summer Olympic Games, Parc de Montjuïc became the home to many Olympic venues. The magnificent grounds showcase gorgeous gardens, museums, and sporting venues that still function today.
The park's pinnacle is the Palau Nacional, a palace commissioned for the International Exposition and Catalonia's national art museum since 1934. The museum sits atop Montjuïc, overlooking the bustling Placà de Espana and our next stop: the Magic Fountain of Montjuïc.
This spectacle of water, music, and lights blows all other fountain shows I've seen out of the water. (Pun intended.) Each display features 3,620 jets circulating 2,600 liters of water per second, with over 7 billion light and water combinations in every show. We decided to take lunch and make a day of exploring the entire park. Our visit culminated in drinking Cava while watching the magical fountain show. The fountain alone is worth the visit to Montjuïc. 
Seasonal schedules vary, so check before you go.
4. Gothic Quarter
Although Barcelona's famed Gothic Quarter contains medieval landmarks and remnants of the city's Roman wall, much of the area's development dates to the 19th and 20th centuries. City planners sought to transform the then-deteriorating neighborhood into a tourist attraction for the 1929 International Exhibition with neo-Gothic projects like the renovation of the Barcelona Cathedral and Pont de Bisbe (Bishop's Bridge).
Labyrinthine pedestrian-only cobblestone alleys lined with shops, restaurants, and apartments contribute to the neighborhood's ancient feel. These narrow pathways open up into traditional squares like the Plaça Reial. A popular nighttime hangout, Plaça Reial attracts locals and tourists alike with live music, restaurants, and some of Barcelona's most infamous nightclubs.
5. La Boqueria
Barcelona's most famous market, situated in the Gothic Quarter just off La Rambla, is a sensory explosion. Smells of freshly cooked seafood, vibrant fruits & spices, and mouthwatering Iberian ham and desserts beckon from rows of vendor stands. 
La Boqueria dates back to 1217 when merchants would sell meat near the city's gates. In 1826, the market achieved legal recognition, and construction of the current structure finished in 1853. 
The market's wide variety of vendors will satisfy any palate – just be sure to come hungry!
Honorable Mentions:
Picasso Museum
Moco Museum
Mount Tibidabo
Barceloneta Beach
La Rambla
Arc de Triomf
Citadel Park
Palau de la Musica Catalana