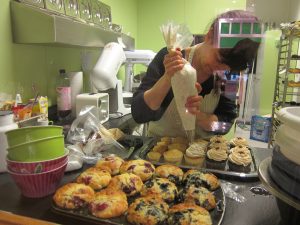 Berlin is attracting the attention of hungry tourists around the globe. A huge variety of edible delights compete for your appetite in this bustling metropolis. If your time in Berlin will be brief, consider a food tour. Those on a culinary quest reap the benefits of a guide's insider epicurean tips. Even if you're not food-centric, you will learn about the culture, history and sights of Berlin as you stroll the city with your guide and nibble away.
Berlin Food Tour is Locally Owned and Operated
On a recent February day, I booked a Berlin Food Tour. The charming owner, Bastian, personally escorts all the tours. He offers a score of mouth-watering itineraries. All the groups are purposefully small, so there's lots of time to ask questions and you never feel like you're part of a herd. Bastian is so warm and inclusive, if you didn't have a friend in Berlin before the tour begins, you will after it ends.
Berlin Mitte Tour
I booked the Mitte tour. Mitte means middle in German and this trendy neighborhood is smack in the geographic center of Berlin. My hotel was here, so it seemed like a sensible choice. My sweet tooth was tempted by the chocolate tour, but Mitte won out. The tour started at a civilized noon hour. It lasted for over three hours, but the time flew by. We made a dozen delectable stops, walking to them all. We sampled edible treats from sweet to savory, from classics of the Teutonic kitchen to ethnic favorites. Nothing was fancy, just casual, affordable eats and delicious street food.
The Food Show
The meeting place was Katjes, where the in-house baker creates diminutive cakes in colors worthy of a jewel-box.
After a tasting and an informal introduction, we jump-started our palates a few doors down at Lindner. Locals come here to purchase prepared food that taste like granny made it. Sample Bavarian meatloaf so light you'll think it will levitate. Don't miss Lindner's famed butter, whipped with little paddles so it spreads perfectly on earthy German bread.
Doner Kebabs, a Turkish Heart Meets a German Soul
Currywurst

Invented in Berlin after World War II, currywurst is the local's fast food of choice. It's sliced bratwurst served in tomato sauce that has been liberally laced with curry for a sweet-spicy kick. Berliners are so passionate about this fortifying snack, there's even a museum dedicated to currywurst. Curry 61 makes an excellent and authentic version. They sell fries too and it's perfectly acceptable to dunk them in the sauce.

Potent Potables
Liquid nourishment is plentiful on this tour. If you think all Riesling wines are as sweet as apple juice, meet Philip Weiss. This elegant oenophile's intimate wine shop, Eisenwein, specializes in products from artisanal vintners. You will be treated to a terrific assortment of this varietal, including an aged version. The aged Riesling had a golden tone and flavor that reminded me of an expensive Sauterne, but with a much lower price tag. While the Rieslings were definitely fruit-forward, none were cloying or excessively sweet.
This is Germany, so you'll want to sample beer. Bastian brought us to the oldest brewery in town, Weihenstephaner. This atmospheric brewery located in a historic building in a scenic market square. You'll taste an extensive range, from mellow wheat beers to the strong and malty. Waitresses in characteristic dirndl skirts with bosom-amplifying tops serve a mostly local crowd.
Caffeine Seekers Are Satisfied Too
If you prefer your liquid caffeinated, Röststätte Berlin takes black liquid seriously. They roast Arabica beans from micro-farms that focus on sustainability. There's no music, as the theory is that it might distract from the intense flavor experience. You are also discouraged from adding any condiments such as sugar or cream. If it sounds like an episode of Berlandia, your first sip will prove this is no joke, rather a genuine, pure coffee experience.

Too Many Stops to Count
I loved the assortment of mustard, sauces and spicy nuts for sale at Eat, all made in Berlin and sold in hip packaging. The baked goods at Eisenbergs were the stuff of sweet dreams. Owner Toby is a congenial fellow and there's comfy seating too, so it's a great place to relax for a spell.

Where to Stay
I stayed in fabulous hotel in Mitte that that wasn't expensive. The Arte Luise Kunsthotel is within sight of the Reichstag and just a short walk from the Brandenburg Gate. The boutique property is really an art gallery within a hotel. Each room is personally conceived and decorated by a different artist and a unique work of art. They have all creature comforts but it's the visual appeal that is so striking. Here's a look at my three roomies: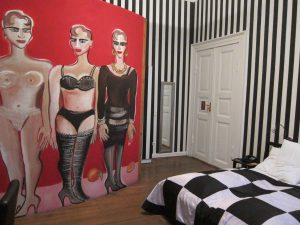 How to get here
Air Berlin offers non-stop flights to Berlin from U.S. cities such as JFK, Chicago, Miami and Fort Myers, as well as from cities around the world.
For more information, go to Visit Berlin and the German National Tourist Board.