A birthday card from our kids shows the front paws of a tiger; a cub is peeking out between two protective legs, cub eyes full of mischief as if saying, "is anybody out there silly enough to dare touch me, with my big daddy around?" I gaze at it for a while. Gradually, a decisive fraction of a second once upon a time starts to cross my mind…
* * *
Entering deep relaxation after some yoga that morning, I've planted gratitude in my mind for our lives and health; an ancient Tantra technique, called sankalpa, that works fine in modern times, too—especially times of liberty and peace.
It's a sunny skiing day in the Tarantaise region of the French Alps, and the south face of the mountain glares in spring mood already. My wife and I ski half a day each, and take turns babysitting to make sure at least one parent is nearby and out of reach of avalanches; it also gives me the quiet to concentrate, mind and muscle. You never know when you'll need it.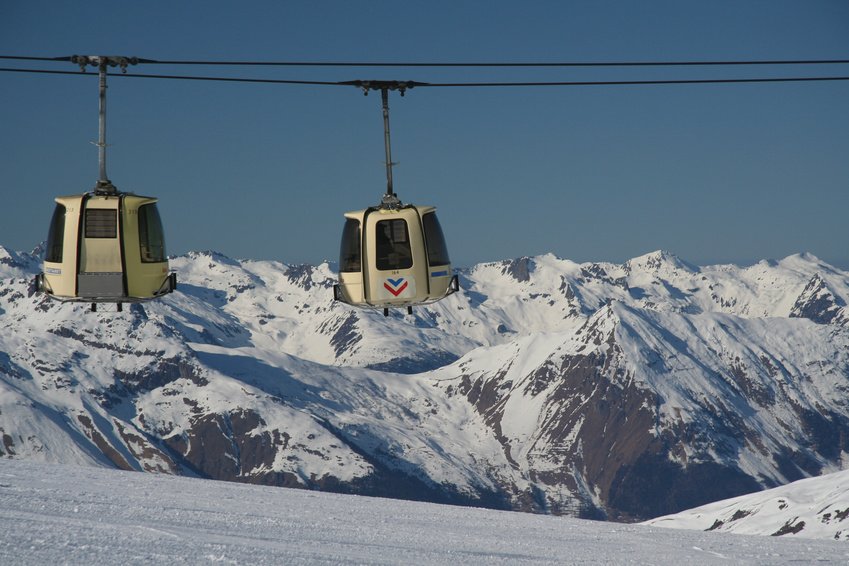 My ski pals are a few steps ahead. This time, they take an off-pist slope nearby while I take a safer on-pist route, and we'll meet again in the valley. We're catching up with a bunch of Russians, who occupy the entire width of a trail leading aslant from a summit station to a steep trail; this is the one and only survivable way to traverse the vertical part of the mountain.
I'm passing by, on the downhill fringe of the trail, but one of the Russians makes a chaotic turn toward me. Avoiding a crash, I've no choice but the very edge of the trail, full of packed snow; a stone underneath pushes my left ski further out, by an inch too much. The shit is to hit the fan.
The body reacts at lightning speed without thinking, to my surprise, much like a blocking thrust can divert an attacker's kick by a life-giving inch in martial arts. I sense icy shivers down my back, struggling to retain presence of mind. I notice my thick mittens squeezing a slippery warning rope.
I'm below the edge, my body dangling on the rope at a wall of rock and ice. Nobody can see me, nor hear me scream in the gusts howling all around. A fall all the way down would kill me, and our child is less than two years old.
The verge up there equals survival, so the struggle goes without saying. There's nothing else in my mind. I creep up inch by inch of the icy rope, edging my skis carefully toward the slippery rock. For fifty infinite seconds, conditions are as taut as the rope, the nerves, and the arms.
I finally make it all the way up. I'm back on the traverse trail, and I breathe a sigh of relief. Never before did stone-cold mountain air taste so celestial.
My ski poles, dropped as I grabbed the rope, are what's left on the trail. My pals are already halfway to the valley. They look ant-sized, although whirling up a tail of powder each. On a steep descent high above my pals, quite a few snowy Russians are still struggling to step back into their bindings after falling.
I realize I'm all alone; nobody else has noticed the fall, even less what followed. My knees are jelly now, yet I'm infinitely grateful to some unknown mountain-rescue guys with foresight, for those orange sideropes in a very cold place. I glance over the verge and down the precipice; a bottomless pit.
The emotional avalanche I've escaped is catching up as I join my pals back down in the valley.
"You're ten minutes behind. Are you all right? Is that on-piste route as safe as you alleged?" one of them asks, in smalltalk mood.
I tell him what happened, my voice still trembling.
"A guardian angel or one's second self from Inner Skiing…" he says.
"Both. Hard-working coworkers indeed," I say.
* * *
My wife and I kiss the child and the zooful of teddy bears, in a goodnight and sweet-dreams ritual, while faraway stars and snow-groomer headlights twinkle above the fairytale snowscape outside. Two very small hands give me a huge hug, a magical toddler radar sensing that Dad has ridden out a storm. I feel tiny in a tall body, smaller than the teddies, and hardly dare to imagine what could have happened on the mountain only hours ago.
I've been more cautious ever since, in sports, traffic, dark city streets, you name it. I'll keep that birthday picture for good. It says a thousand words.
Bio:
Rooted in Europe's airspace rather than soil, Mi West now lives in Scandinavia. He was a runner-up in the Jerry Jazz Musician Fiction Contest, Tiferet Writing Contest, and Writer Advice Flash Prose Contest, a finalist in the Adirondack Review Fulton Prize and Writer Advice Flash Travel Contest, a quarter-finalist in the ScreenCraft Cinematic Short Story Contest, and listed on Digging through the Fat. His prose has appeared online in the EEEL, JJM, Writer Advice, and BWG Writers' Roundtable, among others. Yoga, zen, and music shaped him in a home full of books, while he grew up in a family of artists, hence some inclination for sounds and music. When neither writing nor meditating nor skiing, he's seeking a lit agent for a completed novel.