Many people looking to ski on a budget are turning to Eastern European countries as their destination of choice. The neighbouring countries of Romania and Bulgaria in particular, are up and coming ski destinations. Since their entry into the EU, the infrastructure has improved and getting around has become a lot easier than in the past. Romania is being talked about as possibly the cheapest ski destination in Europe, but does that make it one of the best?
If you want well organised skiing with plenty of well groomed and marked pistes, illuminated skiing and long runs with protective netting, then Romania may not be the best place for you. There are some resorts that are beginning to develop in this direction and realising that in order to attract more visitors, they need to improve their facilities. If you are an adventurous skier, or a ski tourer, or perhaps someone that prefers to manage their own break rather than take a package deal, Romania could certainly be a great option.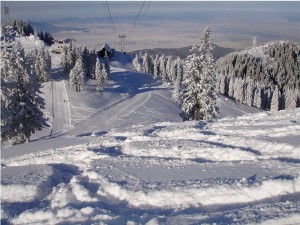 The Most Organised Resorts
Predeal
For superb winter sports scenery, Predeal in Brosov County on the summit separating the Prahova Valley from the Timis Valley, cannot be beaten. Surrounded by the Bucegi Mountains, Postavaru Mountains and Piatra Mare Mountains this high resort features 13 pistes with 40% rated as beginner, 50% intermediate and 10% as advanced. It also has 2.5km of cross-country tracks. It can be reached by train on the Bucharest – Brasov route, or driving along the DN 1 road, 25 km SE from Brasov, or 147 km NW from Bucharest.
Poiana Brasov
With 8 ski runs of varying difficulty to suit everyone from beginners to experts, Poiana Brasov is one of the best and most organised places to ski in Romania. As a result it is also probably the most expensive. The slopes are illuminated and serviced by chair lifts. Based around the impressive mountain of Postavurul, the plateau at the top of the mountain and the gentle nursery slopes in the centre of the resort make it a great place for novice skiers. For those with a little more confidence the run that connects the nursery slopes to the true mountain skiing is the blue run from Christianul Mare. For intermediate skiers there are three great runs over varied terrain but experts need to head further away from the resort to the black runs on Subteleferic or Lupului.
Șuior Resort – Marmures
The Marmures ski area is the second largest in Romania. Located on the north slope of Mogosa Mountain, Suior is a well organised resort. There are 3.6km of marked piste serviced by a TAG based funicular lift capable of transporting up to 1200 people an hour. 2.7 km of track is illuminated for night skiing and artificial snow cannon cover 2.7km of runs to ensure that snow conditions are always superb. The resort has a mix of runs to suit all levels of ability. There is a 100m long beginner track with plenty of instruction and equipment hire available. The resort is well provisioned for off piste entertainment with bars and restaurants housed in quaint Alpine style log cabins. A 24 hour ski pass costs around 50 Euros.
 
The Best Area for the Adventurous Skier
Balea Lac
The slopes around Balea Lac are only suitable for advanced snowboarders and skiers. If you are inspired by unmarked terrain and steep descents in an atmosphere of outstanding and pristine natural beauty, then this is your dream location. There are no well groomed pistes here but what you will find are the peaks of Doamnei and Vaiuga from where you will find two fantastic and challenging unmarked runs. If you prefer to enjoy the climb, follow the snow-covered Transfagarasan from the cable car station. There is however, the choice of a cable car that will get you up there much faster. The nearest airport is Sibiu Airport, 77 kilometres away from Balea Lac and the resort is along the national road DN1 from Sibiu or Brasov. Near the village of Scoreiu there is a roundabout where you turn in the direction of Balea Lac.There is a 3700m cable car ride from Balea Lac waterfall that leaves every 15 minutes