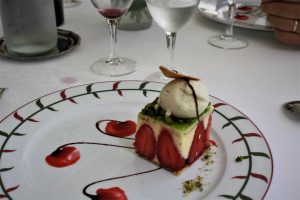 To say food inspired me on a trip to Italy sounds trite and a little too rehearsed. After all, there are lots of people who have been inspired by Italian food. Right?
I'm telling you…this was different.
Maybe it was because this was our first trip to Italy. Or, maybe it was because it was before GPS, and we had to rely on maps, road signs, and our basic sense of direction to get to our food. Some meals were more of an adventure than others.
This adventure started by our host at the B&B suggesting we try his all-time favorite restaurant. That in itself is quite a recommendation. He scribbled the restaurant name and some semblance of directions on the corner of a magazine cover. "You can't miss it. It is right there in the vineyard and it's only 6 kilometers away." Easy.
Since we saw no street signs or signposts, we followed his squiggly lines and the landmarks he told us we would see once we went past the village of Radda. One small problem. We thought we were looking for an actual road. Deciding we had passed what could only be called a well-used path between the rows of vines too many times, we decided to turn.
With no place to turn around if we were wrong, we kept going. Coming to slight rise, the path ended literally in the middle of the vineyard. Brilliant white tablecloths, sparkling wine glasses, and dozens of happy diners sat overlooking a scene right out of an advertisement for an Italian vacation.
Picture perfect…to use an overworked cliché. There was nothing else to say. It was.
Our server spoke some English and I could read basic Italian, so ordering was simple. If I didn't catch all the words, it wasn't a big deal. We were in Italy. In the middle of a vineyard. Drinking Chianti.
Now…to the inspiring food. Or, maybe I should have said it was the combination of the right wines with that food. Not sure.
At any rate, our meal progressed through several courses, each with a different wine. Three hours later, we were all happy and pleasantly full. Then, our server brought the dessert menu. Sure. Why not?
My dessert was listed as Italian cheesecake with fresh berries. I like simple desserts and this one seemed unassuming enough. Until I tasted it. Not simple at all. It was pure heaven. To begin with, the crust had a hint of cinnamon and almond. Crunchy and smooth at the same time, if that's possible. The cheesecake itself was light, but not too airy. It really did melt in my mouth, yet the taste didn't disappear. There was a definite front and back palette taste. I didn't care if I ever ate anything else.
When my plate was licked clean…literally…I asked the server what made this cheesecake so different from the ones I was familiar with in the States. I had made cheesecake many times and it didn't taste like this. Mine was good. Just not this good.
She smiled and said she would be back. Okay. We continued to eat, drink, and enjoy the views.
She came back, with the chef right behind her. She told me she didn't know how to explain it, so he would. He spoke no English. Did I mention I could only read basic Italian? I believe he thanked me for liking his cheesecake before he launched into the recipe for it. His rapid-fire Italian had my wine-soaked brain scrambling for some form of translation.
Every once in a while, I asked a question in rudimentary Italian and mostly English. I tried. He would nod and smile before he gave me more directions. Using his hands for emphasis and mixing instructions, he looked at me. "Okay?"
I think he was asking me if I understood. I smiled. He smiled and nodded, gave me a big hug, a kiss on both cheeks, and disappeared back to the kitchen. At least, I think that's where he went.
Whew! Talk about inspiration. Watching and listening to him would inspire just about anyone to try their hand at creating something in the kitchen. Talk about passion. I have never met anyone so animated and so passionate about a recipe!
After that, I vowed to try to replicate his recipe at home. After several renditions, I believe I am as close as I ever will be. Except for the views, of course. Perhaps I should go back just to be sure I have it right.
As for inspiration, something about that entire exchange with the chef gave me a new focus when we travel. I have always liked to try to figure out what is in a dish I enjoy. It's fun to try and recreate it at home. But I have never been quite as passionate or engaged as that chef.
That exchange made me taste things more critically, and I find myself wanting to share what I learned about a particular dish. I want to make what I just had in Spain, Italy, France, or wherever. And, I want to make it mine. My goal is to be just as excited as that chef was about everything I make.
Is it working? I would like to think so. That chef and that meal were just the beginning for me. Come to think of it, that entire experience has morphed into so much more.
Cheers!