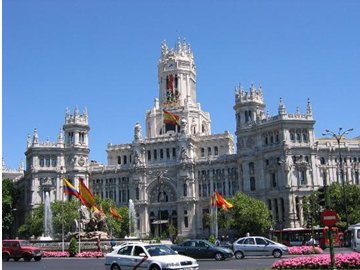 As the capital of Spain there is no doubt that Madrid delivers a great deal of excellent dining choices, but that doesn't necessarily mean that you get good food from the region everywhere you go. Like every other bigger city it is a melting pot for different regions where different cultures and with that different flavours get mixed together.
So what are typical dishes from Madrid? If you're going to stay in apartments in Madrid you certainly want to know what foods this region is known for. Geographically speaking the city is in the middle of Spain which is kind of like a nice metaphor for the fact that nowhere else in Spain you will get such a wide cross section flavors from all over the country.
Fish, cod and bream in particular, is a very important component of the local cuisine which I find very unusual, as Madrid is not directly located by the ocean. Along with that, it is a rather interesting fact that Madrid has the 2nd largest wholesale fish market in the world with only the one in Tokyo being bigger. Every day Madrid receives fish from all over the country. A very typical way to prepare cod is to put cod into water overnight so it will desalt (with the water being changed a couple of times). The fish will then be cooked with potatoes, tomatoes, garlic, onions, olive oil, water, black pepper, and some flour. This dish is called Bacalao a la Madrilena.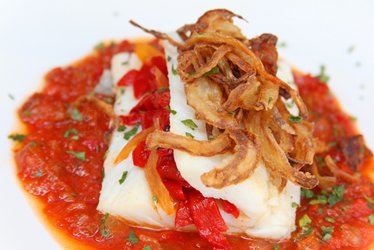 The local food in Madrid tends to be heartier compared to the regions in the south, as the climate is different and it gets significantly colder in winter, which makes stews and hotpots another specialty of the region. The so-called Cocido Madrileno is a stew with different vegetables and a variation of beef, chicken or pork. It is a dish that dates back to the 17th century and the traditional way to eat it is to drain the soup and serve it first. After that the other ingredients are being served often with tomato sauce.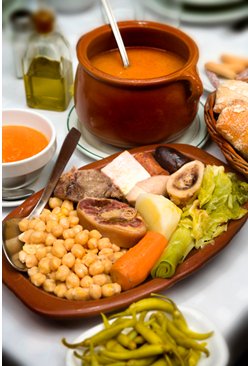 I think of garlic as something to season food with, but there is another specialty of the local cuisine of Madrid that uses garlic as a main ingredient, sopa de ajo (garlic soup). Chopped garlic is cooked in olive oil and paprika. Later on water, salt and pieces of bread are added. Often chorizo or chopped ham is added as well.
Speaking of food in Spain we can't leave out tapas. There is hardly ever a round of tapas with out patatas bravas (fried potatoes that come with a spicy tomato sauce and/or aioli), it's almost like an unwritten law to order them. And along with bravas you can order cheese, olives, ham, calamares and a tapa specialty in Madrid are caracoles (snails). If you stay in Madrid accommodation you should take note that in many bars in the city you will get a free plate of tapas with your drinks.