I was lucky enough to visit Valencia during its traditional Falles celebrations; it was a fantastic experience.
Falles is a wild five-day fiesta held in commemoration of Saint Joseph.  The celebration is citywide and involves the entire community. Each neighbourhood has an organisation, thecasal faller, that work year long to support the celebrations. Each casal faller produces a construction known as a falla, which is eventually burnt. The celebrations take place in March and the whole city is a hive of activity.
It's hard to describe the Falles, each one is as uniquely weird and wonderful as the next. These sculptures take a long time to produce and can be very elaborate in their detail. Smaller parts, known as ninot, are taken out for a grand parade in the days leading up to the main celebration. Each neighbourhood shows off their ninot with great pride and hundreds of people turn out to admire and compare. After this, they are mounted onto a firecracker filled monument in the street of the given neighbourhood.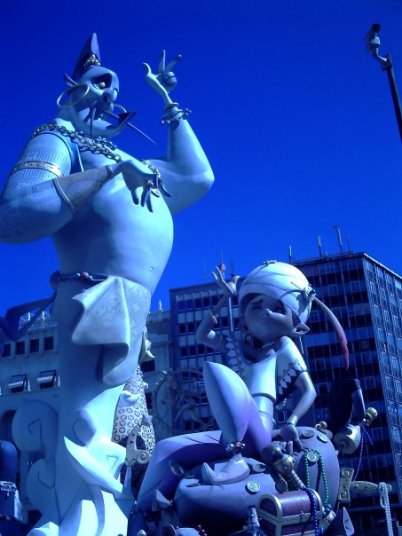 The ninots and their falles are constructed according to themes and are traditionally satirical. There were over 750 of these figures and it's fascinating to think that over a quarter of the city's population gets involved in their construction.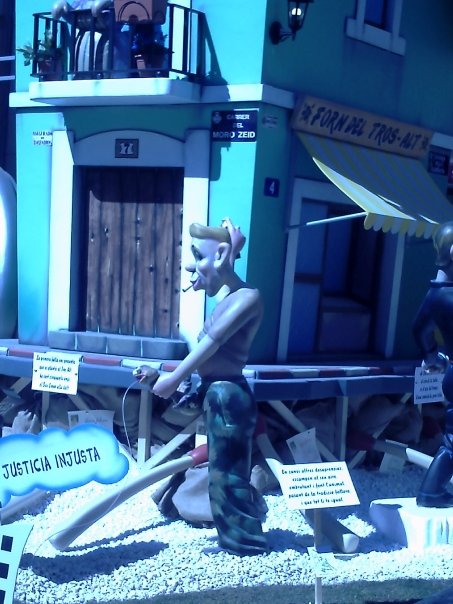 The 19th March is the main day of celebration. On this day many locals wear their casual faller dress. It is wonderful to see these regional and historic costumes worn with such pride and normality (despite their beautiful and intricate design).
This day is also the day of La Cremà (the burning). Each of the carefully constructed sculptures is set alight and the city looks to be ablaze as each neighbourhood sets fire to its Falla. It really is a spectacle to be seen. The atmosphere is one of festivity and delight and it is contagious. There's a party feeling and it's great to be a part of something so special. Any disappointment at the fact the beautiful sculptures are being destroyed soon disappears with the realisation they have succumbed to their destiny. This is not by any means an act of destruction but one of celebration.
For a few days leading up to La Cremà, the skies are filled with the most impressive firework displays. During the early hours of the 18th March people gather on mass to enjoy the spectacular Nit del foc (Night of Fire). I've never been a huge fan of fireworks but this display was like nothing I have ever seen. We stood on a rooftop of a local friends' home and watched in awe at the extraordinary display of colours and sounds.
From the 1st to the 19th March there is also the traditional Mascletà, a display of gunpowder explosions. The city was packed for this event; masses of people crammed into the streets in anticipation. We joined them, not knowing quite what to expect. It had been described to us as a sort of day time firework display. Honestly, we had thought it sounded dull but it certainly was not.  It's a distinctive experience and the whole city seems to beat to the rhythm of these explosions. I can't explain how, what were essentially just loud explosions, sounded celebratory but they did.
Also part of the celebrations is the Ofrenda de Flores (Offering of Flowers). The entire city's fallas take part in a parade from their own districts to the Plaza de la Virgin in order to make an offering of flowers to Our Lady of the Forsaken, the Patron Saint of Valencia. The offerings are made by young women and girls dressed in traditional attire and the flowers form a 15 metre high tapestry which is not to be missed.
The festival as a whole is one of the most unique experiences I have enjoyed; I would recommend this to anyone. It was the first event I have ever attended that felt like the entire city was passionately involved.