Many would agree that winter's most glorious aspects are of the culinary variety.   Celebratory food and drink that promise the return of light in the depth of chilly darkness differ in every culture, but epicurean indulgence is a common thread.  In Germany, Christmas traditions border on magical. Snow blankets much of the landscape, lights sparkle amidst the frost and festive markets sell handmade crafts and ornaments.  On a recent trip to Germany, I discovered many of its favorite Yuletide indulgences revolve around food.  In a country whose history and legacy is perhaps more complicated then most others, Germans shamelessly embrace their holiday gastronomic traditions and are proud to share them.
German cuisine doesn't get the attention that French and Italian do.  The frugal hardships of life are reflected in its hearty, plainspoken dishes.  Pork is a mainstay, often enhanced with dumplings or noodles called Spätzle. Like Italy and France, there is no pan-German cuisine. Regional distinctions and characteristics abound, but during the holidays, traditional foods eaten by nearly the entire population predominate.
I started my holiday gourmand getaway in Dresden, the capital city of Saxony.  It was almost totally destroyed in 1945, when allied forces mounted a vast bombing raid.  Meticulous restoration has brought the city back to its historic former beauty.  Its manageable size makes it perfect for walking.  The city center lies along the banks of the Elbe, and a stroll will take you by its jewel-like baroque buildings and treasure-laden museums.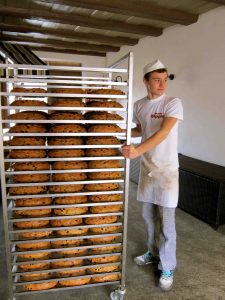 My mission took me just outside the center of town.  In a country loaded with delicious cakes and fabulous bakeries, the Dresden Christstollen is coveted by foodies.  You will find stollen all over Germany during the Christmas season, but its roots are here in Saxony.  This dense, fine-crumbed loaf cake is loaded with butter, raisins, dried fruits and nuts and covered with a sweep of powdered sugar. At the Wippler Bakery, the family has been making stollen according to a venerable family recipe since 1910.  Current owner Michael Wippler is a convivial gentleman.  Herr Wippler speaks excellent English, honed on his trips to the United States, where he enjoys riding his Harley-Davidson on the open road. He bakes the classic version with raisins, as well as almond and poppy seed variations. The exact recipe is a guarded secret, but Wippler will say it is a hefty, eggless combination of butter, flour, almonds, sugar, milk, raisins and love.  The bakery offers a scrumptious display of cakes, breads and pastries plus a modern, airy space to consume them, perhaps with a hot beverage.  Behind the café and bakery is a small museum that houses antique baking tins, rolling pins, mixers and other artifacts that food historians will enjoy.  Chatting with Wippler is in itself a history lesson.  He explains how stollen has been enjoyed here since The Middle Ages, but that it was difficult to produce during the years when Dresden was part of the German Democratic Republic.  The materials needed to bake this treat were strictly limited and business suffered. The political freedom that took place after the Berlin Wall fell had significant effects on stollen production, which boomed.
Passionate bakers should ask Herr Wippler to go behind the scenes and tour the kitchen. You will see dozens of bakers and apprentices kneading, rolling and mixing the various batters, while you are surrounded with a variety of mouth-watering aromas.  Excellent stollen can be purchased in several centrally located bake shops in Dresden, but do look for the gold seal of authenticity affixed on each cake to assure quality, and try to make it to Wippler's Bakery for the full-on experience.
Next stop, Berlin.  This cutting-edge city pulses with frenetic energy day and night, but when it comes to edibles, its traditions remain solidly in place.  If you are a fan of the dark temptress, Berlin is the home of the largest chocolate shop in the world, Fassbender & Rausch, established in 1863.  You could visit this gigantic emporium anytime of year and enjoy its whimsical Willa Wonka atmosphere, but Christmas is extra special.  The store is decked out in full seasonal regalia and offers festive holiday treats packaged to perfection. Beautifully presented, delectable confections flood the counters.  Truffles, pralines and an assortment of single plantation chocolate bars can be found on the ground floor.  These big-on-flavor bars are produced with cocoa beans from a single estate.  As delectable as the edibles are, many people come here to view the all-chocolate showpieces, eye-catching renditions of the Brandenburg Gate, the Berlin Reichstag and other historic local buildings, sculpted out of fine quality chocolate.
Head upstairs to the café and you will feast on tempting, chocolate-infused pastries, decadently paired with ultra-rich hot cocoa.  The café hosts chocolate themed suppers on select evenings, a worthy splurge that proves almost any dish is refined with a touch of chocolate.
Upstairs is also where you will also find the Chocolate Laboratory.   Watch the masterful artistry of chef Chocolatier George Helwig as he creates sweet treats and mingles with customers.  Multi-lingual Helwig has worked all over the world, but enjoys the customer interaction that working in this open space allows. His charming and approachable personality makes it easy to ask him any lingering questions you might have on the bean-to-bar process.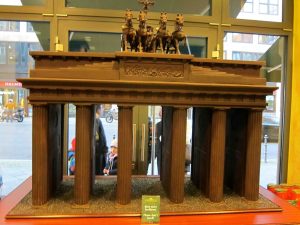 Düsseldorf was the last stop on my German epicurean adventure.  This well organized city of half a million inhabitants sits on the banks of the Rhine River and is the capital of North Rhine-Westphalia. It enjoys a thriving business climate, simultaneously offering residents and visitors one of the most dynamic cultural menus on the Continent. Opera, symphony, ballet and dozens of art galleries thrive, plus it is an up-and-coming European fashion capital. For approximately one month each year, the city enchants visitors with its seven Christmas markets.  Each market has a slightly different flavor, but they all cast a charming spell over the city. The Old Town in particular looks like an illuminated fairytale come to life. Dozens of lovingly decorated huts sell holiday crafts and tasty seasonal treats.  Two of the most traditional market delicacies are hot mulled wine and candied almonds. They perfume the cold air with a tantalizing fragrance.  Liane Teichmann has had her market stall for years.  She sells Glühwein served in traditional glass mugs. She allowed me to observe as she concocted this delicious brew.  Liane makes mulled wine the time-honored way, using a full-bodied red wine, but she also makes an unusual white wine version.  Whether you choose white or red, the wine should be fruit-forward.  Simmer a bottle of either with a cinnamon stick, a star anise, 2 cloves and the rind of one orange for 15 minutes.  Heat over a low flame, otherwise you will burn off the alcohol.  The mulled wine does wonders to fortify as you browse the market.
Another market specialty is hot sugared almonds.  This Christmas treat is sold at every market, but it is available in a most delicious form at a pocket-sized shop, Gagliardi, in the Old Town. Mrs. Gagliardi sells the traditional sugar roasted almonds as well as vanilla scented, chili pepper and cinnamon-spiced.  It is open year-round, so you can sample this winter delicacy anytime, except Monday, when the shop is closed.
Where to stay
In Dresden, I stayed at the clean and comfortable Ibis hotel, located steps from the train station and walking distance from everything. A copious buffet breakfast is included in the modest room rate.
In Berlin, I was enchanted by the Circus Hotel. It is located in the trendy Mitte neighborhood, a top choice for globetrotters and locals alike. This boutique hotel is loaded with low-cost personality. The staff is friendly, helpful and international.
In Düsseldorf, the InterCity Hotel was right near the train station and close to the Old Town.  It is sparkling clean and quiet, a winning combination.  The breakfast buffet features a selection of hot and cold dishes and excellent coffee.  They provide International newspapers with your fresh-squeezed orange juice.
How to get here
Air Berlin flies to Berlin and Dusseldorf non-stop from several gateway cities, including New York, Miami, Fort Myers and Chicago.  Business Class features individual pod-style seating for extra privacy and comfort. Fares are very competitive in coach class. They are a member of oneworld, so you will be getting those coveted frequent flyer miles.  As an added bonus, they serve Fassbender & Rausch chocolate in-flight, to make it all go down sweet.