Just a stone's throw away from the chaos that is Rome's Colosseum, lies the uber hip and largely unknown neighbourhood of Monti, buzzing with independent boutiques, trendy eateries and fashionable wine bars, and adored by local Romans and hipster tourists alike. You will find a true cross section of Rome wandering the cobbled streets of Monti; from super trendy arty types searching for their next vintage find, to Roman families looking for a quick aperitivo.
Named after one of Rome's seven famous hills, for years Monti was somewhat of an undesirable neighbourhood, attracting prostitutes and outlaws aplenty. Today Monti has reinvented itself as an achingly cool destination- catering for anyone wishing to experience authentic Rome. Whatever your reason for visiting Monti, you will most definitely not be disappointed. Explore the narrow crumbling streets to discover a wholly different side of Rome- one of authentic Italian cuisine, small creative brands and plenty of genuine antiques.
Forno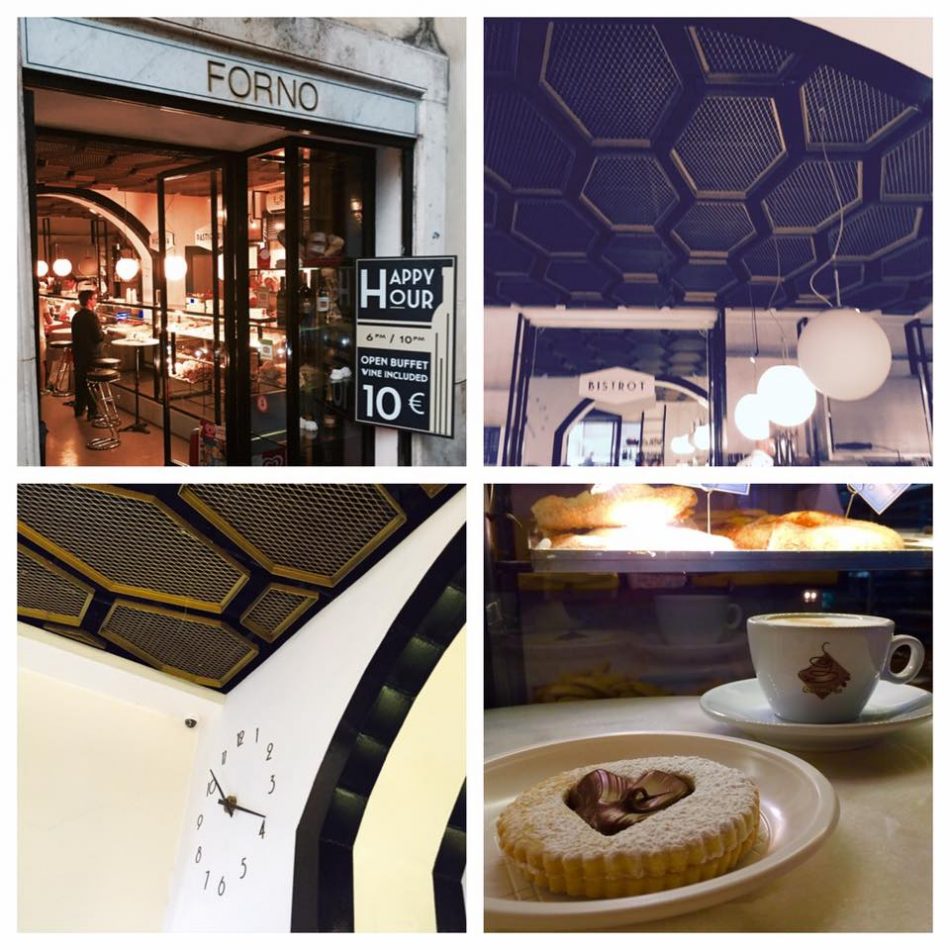 Image courtesy of James Treacher / Touriocity
Forno is the perfect place to take five to grab an espresso and traditional Italian treat, freshly baked on the premise each and everyday. Opened in 2011 and the brainchild of Alessando Santomauro, this delightful Italian cafe in the heart of bustling Monti, offers up a range of quintessentially Italian savoury and sweet dishes along with an impressive array of high quality coffee. Choose from a huge array of rustic Roman pizzas by the slice or one of their beautiful Cornetti Dolci. It is a real pleasure to sit in the french art deco inspired interior and watch the hustle and bustle of Monti outside; so much so that you will not want to leave!
Corner of Via dei Serpenti and Via Panisperna. Open every day (Sunday until 2pm).
Mercato Monti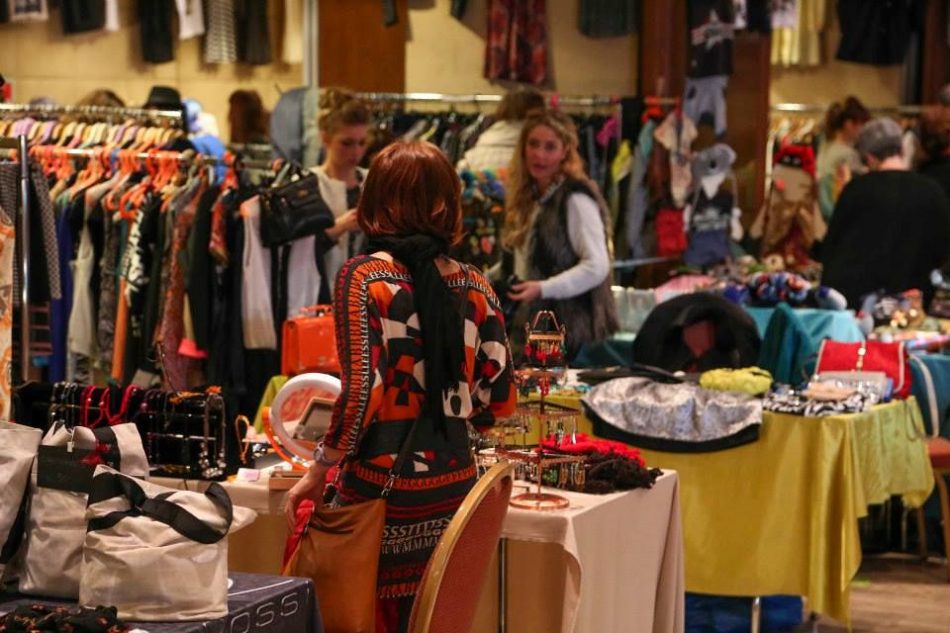 Mercato vintage & handmade market. Image source
This is a fabulous market showcasing over 40 local artists and designers, a hugely eclectic array of vintage and modern design. Originally just a few local shop owners banding together, today it has grown to become an incredibly popular attraction in Monti; being a real melting pot of creative talent, producing beautiful clothes, jewellery, accessories and homeware. The owner Ornella Cicchetti prides herself on selecting only the best products to showcase in the market, and indeed as  the customer you will definitely appreciate the effort to create this beautiful curated collection.
Hotel Palatino Via Leonina 46/48. mercatomonti.com. Every Saturday and Sunday (except the last of the month) 10am- 8pm.
Aromaticus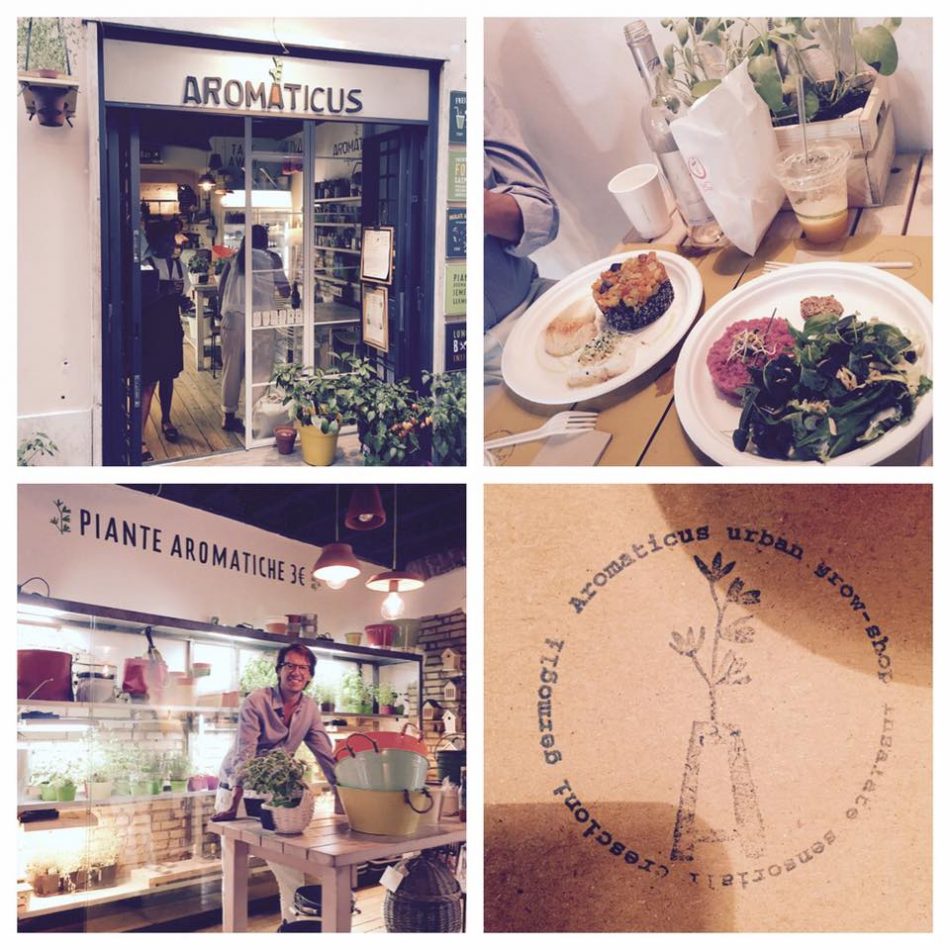 Image courtesy of James Treacher / Touriocity
Aromaticus is a total treat for anyone looking for fresh, honest, and locally sourced food. As you arrive you will be greeted by the irrepressible owner Luca and his partner Francesca who will be more than happy to show you to your seats and tell you all about the seasonal specials they have on offer. You can not help but be seduced by the incredibly casual atmosphere of the canteen-like dining room, complete with wall of fresh herbs, the aroma of which filling the air. In fact most of the plants, tools and seeds you see in the shop, can be purchased, making this place a real delight to explore.
The menu changes all the time depending on what is in season and is incredibly reasonably priced; with delicious aromatic salads starting at €6, impressive steak tartare at €10/ 150g, and a wide array of carpaccio plates, starting at €10. The beef is from the ultra lean Fassona breed from Piedmont, and is sourced through Bottega Liberati in Rome. Vegetarians will also not be disappointed, with seasonal vegetable stews served with lentils, which change weekly. Aromaticus is also famous for its fresh juices which include interesting combinations such as peach, watermelon and celery and can be customised to your own tastes.
Via Urbana 134. +39064881355. Tuesday – Sunday 11:00 to 21:30.
Urbana 47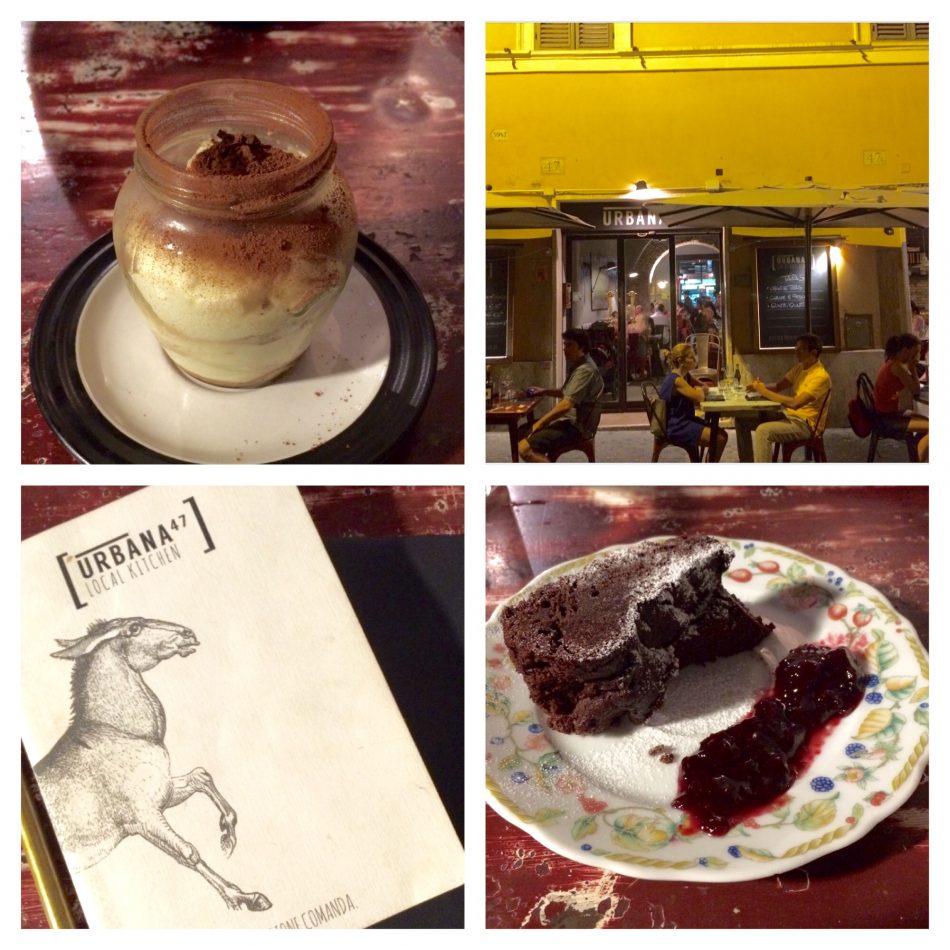 Image courtesy of James Treacher / Touriocity
Urbana 47 is quite likely one of the hippest joints in Monti. Not just a fabulous restaurant, but also an all day cafe, trendy cocktail bar, as well as a small cinema with regular screenings of indie films, accompanied by beautiful food-wine combinations. The interior of Urbana 47 is achingly cool, with vintage pieces of furniture married with some very cool urban design.
The owners of Urbana 47 are committed to fresh, organic and locally sourced ingredients. So much so that they describe themselves as "a zero kilometre restaurant"- ensuring that they use only the most local produce they can get their hands on.   
Open all day, Urbana 47 is meant as a cool place for foodies and friends to just hang out and enjoy quality ingredients. Visit from 8:00 am Monday to Friday, and from 9:30 am Saturday to Sunday for a traditional Italian breakfast with classics such as the "ciambellone", fruit tart, and homemade cookies, served with an array of quality tea and coffee. They also serve a more substantial and utterly delicious American breakfast with egg, home made bread with farmer's butter, fresh seasonal juice, espresso or American coffee, all for just €10.
Dinner is also a highlight at Urbana 47, where you can tuck into an array of tapas-style Italian dishes including Calamari stuffed with ricotta cheese and chard or a traditional Carbonara with bacon and zucchini. Also on offer is an impressive array of hot and cold specials as well as a delicious dessert menu. Do as the Italians do, and why not stay for a nightcap in the beautiful bar before heading home.
Via Urbana, 47. +39 06 4788 4006. Open 8 am- 12am mon-fri, (from 9:30 am sat-sun)
Ai Tre Scalini
Image source
This lovely little wine bar is a must for anyone who is wanting to experience the best of Monti with an authentic Italian crowd. The first thing you will notice is the vast curtain of vines that stretch across the street in front of the bar. Ai Tre Scalini still has a real rustic Italian charm that locals and tourist alike adore, and carries a wide range of Lazio wines and traditional beers. There is a small menu for both lunch a dinner where you will find delicious classics such as meatballs in tomato sauce, and ricotta cheese with truffle honey. This is one extremely popular spot among locals and they do not accept reservations, so grab a glass of wine, grab a spot outside and be prepared to wait.   
Via Panisperna 251. +39 06 4890 7495. Open every day.
Fontana di Piazza della Madonna dei Monti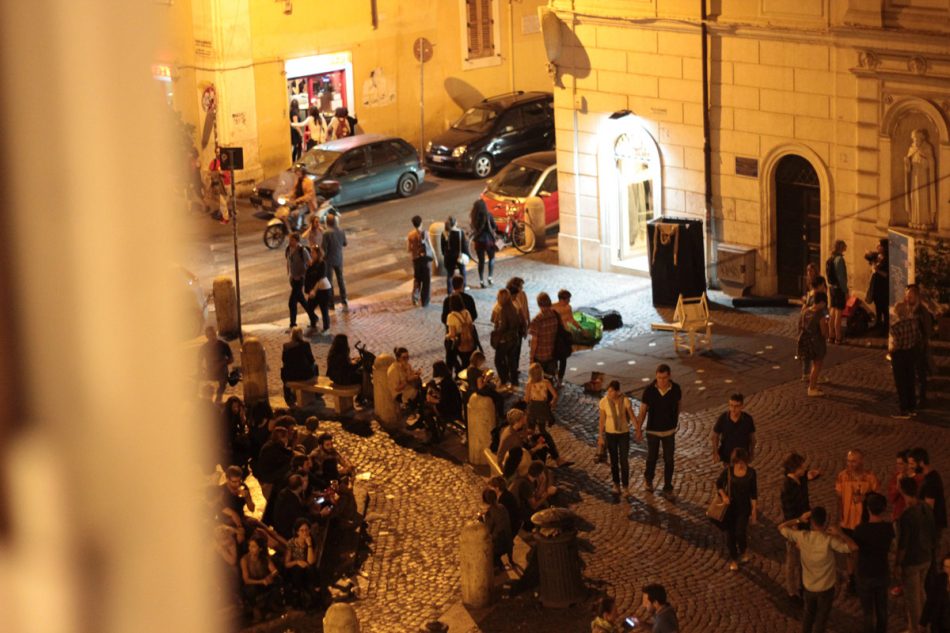 Image source
The fountain in Piazza della Madonna dei Monti, located in the heart of Monti is where you will find young Romans socialising and generally having a good time, enjoying gelato and a bottle or two of vino. The fountain was built by Giacomo della Porta in 1588, who also built the nearby Madonna dei Monti church and originally proved water to the area. This is well worth a walk past if you are looking to soak up some of that late night Italian atmosphere.
Piazza Colonna, 00186. Open all day, everyday.
James writes for Touriocity.com>; providing fabulous, bespoke city tours with expert local guides.