If you're at all familiar with the Lakes Region in New Hampshire, then chances are you know the town of Meredith. Or did know it. If you haven't visited the tiny little community on Lake Winnipesaukee in the past 20-plus years, chances are you wouldn't recognize the place.
What was once a sleepy little mill town – where an asbestos factory once loomed and was mostly just a cut through to the White Mountains – is now a bustling tourist attraction, with new hotels, restaurants, marinas, golf courses and upscale stores, all on a quintessential New England waterway, Meredith Bay. Sit just about anywhere in town and get killer views of the gorgeous harbor.
Or on the harbor: Meredith Bay is a regular stop for the very popular M/S Mount Washington, a large ship that kicked off a Friday night dinner cruise the summer of 2012.
"We've gone from being the gateway to the White Mountains, long considered the approach to somewhere else," said John Edgar, Meredith's community development director, "to becoming a destination."
Many in town, Edgar included, credit Rusty McLear with creating much of the town's renaissance. McLear heads Hampshire Hospitality Holdings, a local company he created. In the early 1980s, the local Rotary Club sunk $60,000 to transform a grungy gravel parking lot by the water into Hesky Park, a now popular picnic spot. McLear was in residential real estate at the time and saw the potential the town had, and with partner Ed Gardner, started buying up mill buildings, razing most but turning one into the Mills Falls Marketplace in 1984 – the old asbestos plant that was gutted, cleaned and used for its ancient, handsome and super-sturdy beams and floors.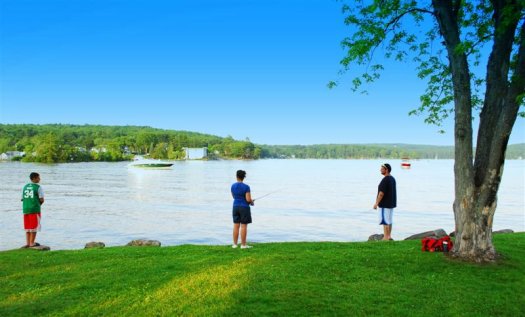 The renaissance began and paid off, as other businesses, including restaurants and shopped, moved into town. In 2005, Meredith was voted a Best Main Street Community by the National Trust for Historic Preservation.
There are no shortage of places to stay in Meredith, and one of the best is Church Landing at Mills Falls, the prime spot to stay on the water, site of an old church that McLear turned into an Adirondack-style lodge, the biggest hotel in the Lakes Region, which exquisite, cozy rooms facing the water and a swimming pool that starts inside and opens to the outdoors. The hotel's Lakehouse is a great place to eat, which along with exquisite food, serves up some of the best dining views in the region, right on the water.
McLear's other hotels are Mills Falls Inn, Chase House and Bay Point, all facing the water and with terrific dining opportunities. Lago's, for example, in Bay Point features Old World Italian dining with outdoor patio which is the place to eat on the harbor. Grab a seat, some pasta and a little chianti and wile away the time watching fabulous sunsets.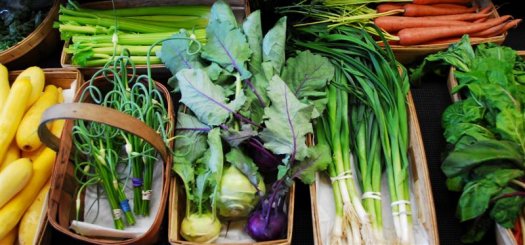 A can't miss is Hart's Restaurant ( www.hartsturkeyfarm.com), which has been doing all-things turkey since 1954, which includes turkey tempura and a whopping jumbo turkey plate with a full pound of turkey meat. Check out Canoe as well, with unique comfort food like lobster mac and cheese.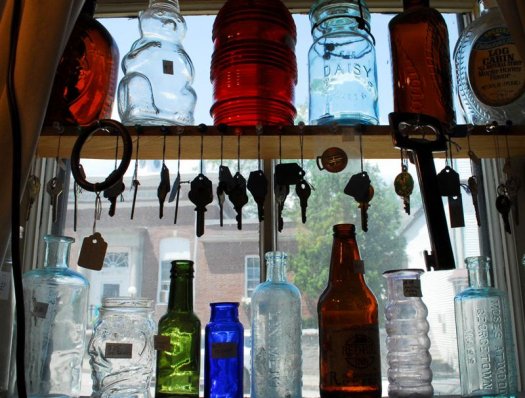 With all that water, it makes sense to be out on it, so check out Meredith Marina ( www.meredithmarina.com) where you can do half-day rentals of things like 19-foot Stingray bowriders and Hurricane deck boats, perfect for parties on the water. Shopping is a blast, and old school, at Once New Vintage Wares and Salvage, a creaky slope-floored store with tiny rooms jammed with old tools, ancient doorknobs and other doo-dads.
I love to cook, and fell in love with So Little Thyme, and not just for the name. The store has eclectic essentials like stainless steel prep bowls, mango-curry mix and asparagus steamers. It's fun just to poke around and convince yourself you can use a new oyster shucker. Gourmet is big at The Wine'ing Butcher ( www.wineingbutcher.com) where they sell incredible marinated steak tips, along with gourmet cheese, fine wine and other things you know you need.
Picnic Rock Farms ( www.picnicrockfarms.com) is an eighth-generation farm with a stand said to be the first registered farm stand in New Hampshire, and it's a beauty, boasting 99-percent New Hampshire products, including its own produce, and a huge array of baked and bottled goods. Rail lovers love the Winnipesaukee Scenic Railroad, which chugs from Meredith to Lakeport on a line built in 1849 along Meredith Bay, clinging to a shelf dug out more than a century ago to accommodate the fast Montreal trains that once zipped through here.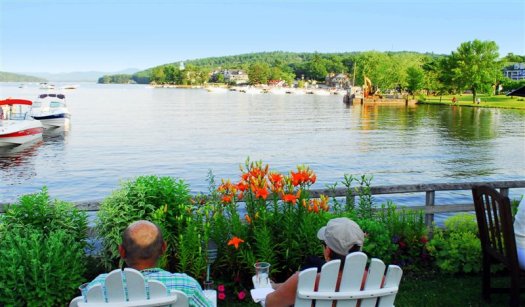 Besides having a great meal and walking through the twinkling town in the dark, there's lots to do when the sun goes down in Meredith. The Interlakes Summer Theatre ( www.interlakestheatre.com) where in 2011, I saw a superb version of "The Man of La Mancha." This is professional summer theater at its best. For live music, hit Giuseppe's ( www.giuseppesnh.com) for a little pizza or pasta with your music. The Barnz's Meredith Cinema is a popular movie house for families, showing first-run movies. And check out the M/S Mount Washington ( www.cruisenh.com), where you can cruise on the state's biggest lake, eat a buffet dinner and dance to the live music, under the stars.
Paul E. Kandarian can be reached at pkandarian@aol.com )
Photo credit: All taken by Paul Kandarian