This is my third and last post about my trip to Turkey. 
So without further ado, let me address the elephant in the room…the very popular and in my opinion, the highly overrated, Istanbul. Before you object to this, I will admit a visit to this city is matter of personal taste and preferences; because I take travelling very seriously (insert joke here), I offer my honest opinions on experiences and activities that others may gloss over on.
So! I hate to break it you guys, but my feelings about Istanbul are not your typical love story. They are complicated.
I'll tell you why this is and will also provide a how-to-guide on how you can be sure to fall in love with Istanbul on your holiday!
Why I Don't Love Istanbul
I believe in love at first sight. It just didn't happen with Istanbul.
The main attractions were beautiful I admit – and different from what I have seen in Europe so far – but I wasn't swept away like I was when I first saw the Colosseum in Italy, the De Arts Bridge in France, the crystal clear waters in Greece or the jaw-dropping architecture of Antoni Gaudi in Spain. Every country or it's capital cities have at least one special place that defines it, something that takes my breath away. Sadly I wasn't able to discover a special place in Istanbul – however there was still plenty of beauty to see.
Why I Actually Do Love Istanbul
There are a few items that I love about Istanbul – the vibrancy of it's people is contagious. It infuses you with energy… you feel happy, excited and even invincible for no reason at all while you are here. There are 14 million people living in the city and the type of energy, diversity and noise these people create, can make any big European city look like a sleepy town! For that reason alone, this city easily qualifies as one of my favorite holiday destinations.
And maybe, just maybe, the special thing that I am looking for wasn't supposed to be a 'thing' after all, rather perhaps it is a feeling…
How-To-Guide To Fall In Love with Istanbul
Given my love-hate relationship with Istanbul, I am dedicating the rest of this post to help you figure out what you must/must-not do to make your visit to this city a memorable one. I won't discuss the obvious places you need to visit like the Hagia Sophia, Blue Mosque and Topkapi Palace – because you OBVIOUSLY need to visit those; you can use the services of Google and Wikipedia for that! Instead I'll focus on the attractions and experiences that are difficult to find.
"Turna" Dream Cruise to Reality
I highly recommend a Bosporus cruise – especially the dinner (night) cruise; it will be an experience to remember, I promise. There are two primary companies that offer this cruise, both of which you'll probably be pitched (in broken English) by your hotel receptionist because they have some sort of arrangement with these cruise companies. Between the two, I recommend Turna Tours. I had booked the cruise through them and although the food was very average, I was memorized by the live performances on board. The show also included a small puppet skit, belle dance and the reenactment of a traditional Turkish wedding, all while you enjoy the stunning views of the Bosphorus in the backdrop!
Take your Display Picture at Galata
Another must do is to take a peek at Galata Tower. Although it is already an iconic tourist destination and shows towards the top of Google's "what-to-do in Istanbul" search, unfortunately many visitors miss out seeing it for various reasons.
Take your Cover Photo at Reina
A visit to Istanbul is incomplete without a night out at Reina, a restaurant/club located directly under the Bosphorous bridge.
You can opt for a relaxing dinner here or go for a night out, but be ready to pay a hefty price for the latter; the entrance fee alone was 75 Lira per person. We visited on a Friday night and the traffic was terrible – cars seemingly moved one-inch-after-10-minutes. On top of that we had an early morning flight to catch; it was our last night in Turkey and we were headed straight from the dinner cruise – tired and eager to get to the next place – so these traffic delays were not appreciated! But when we arrived, all the chaos made sense. There are so many cool clubs and places to hangout in the area coupled with the crowds (not as crowded as Istikalal Street) which creates a feel-good atmosphere. Reina itself was fabulous, the view of the Bosphorous was amazing (because of its location directly underneath) and you could faintly see Istanbul from afar, shimmering in all its glory.
Just a heads up though, it gets very crowded here.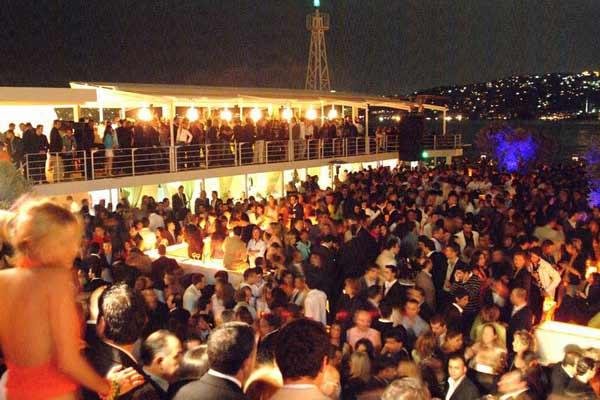 Don't be Borin', Taksimize your stay
Next, where to stay in town – very important! We booked a hotel near the Blue Mosque for two days (the open itinerary that we keep when we travel leaves ample extra time should we need it). We stayed close to the Blue Mosque because of all the tourist attractions nearby. However we did not realize how quiet this part of Istanbul is at night. Dead. Dead as a scarecrow. No restaurants, no people, no Istanbul-ish vibe whatsoever! Both days we Uber-ed back and forth to Taksim Square for the nightlife because there was nothing thing to do in Sultanahmet (Blue Mosque) area of Istanbul! So if you don't mind a bit of noise, and want to have a good time on your holiday, choose a hotel near Taksim square or Istiklal Avenue, because that is where all the fun happens.
The city is alive both day and night but if Istanbul disappoints you…than the inexpensive shopping in the area will perhaps make up for it.
Bargain like Your Mother
Do not forget to explore the small shopping streets in Antalya and Istanbul; shops here offer goods for very reasonable prices (Istiklal street is not one of them). Just remember to bargain; you can easily whittle the prices down to half of the original stated price. Unfortunately I do not possess the expertise or the required skill-set to bargain…but if you are good at bargaining, than you are going to be needing a few extra suitcases on your return flight!
Have you been to Istanbul? Do you want to visit this city? Please let me know about any of your experiences visiting this city in the comment section below. Happy travelling 😉