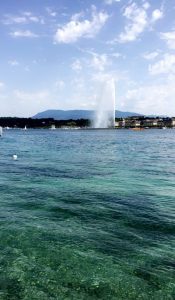 My idea of a good way to spend a bank holiday weekend is none other than jet setting off to a foreign land. My best friend was traveling in Italy and Switzerland, so I decided to meet her in Geneva for 3 days.
Let me start off by saying that Geneva is not cheap. Ranked as the most expensive city in Europe, anywhere you go for food or drinks, is generally overpriced. So if you're a backpacker on a budget, Geneva (and the majority of Switzerland) will hurt the bank. However don't let that stop you from visiting. After all, the country is known for its stunning landscapes, which surpassed my expectations. Essentially, 3 to 4 days is the perfect amount of time to see the entire city.
Getting around
Upon arrival at the airport, there is a machine that dispenses free bus tickets to anywhere in the city (must be used within 80 minutes). I gladly take advantage of most free anything while traveling especially transportation, given that a taxi fare can easily cost you 50 francs for a short ride. Most hotels in Geneva offer free transportation passes for the duration of your stay. This includes bus, tram and water taxis.
Side note – Be sure to always carry your Geneva transport card with you, as officers often check tickets! Even though I keep mentioning how expensive everything is in the city, getting around town doesn't have to be.
Exploring
The Old Town is a great way to spend a sunny afternoon. The area features many rustic cafes and shops. You'll also find several beautiful fountains decorating the town. One of my favorite aspects of Geneva, is that the many water fountains around town are spurting potable water, just look for the sign. You can easily refill your water bottle with ice cold spring water, instead of buying a new bottle every time you run out.
The top attraction of Old Town is St Pierre Cathedral. Approximately 850 years old, the parish features several different architectural styles, as it has been renovated over the centuries. For 5 francs you can take the spiral stairs up the north and south tower, giving you some of the best views of Geneva. There's also an archeological museum in the basement of the cathedral, which hosts artifacts (paintings, mosaics, flooring etc.) from a basilica which once stood in its place, dating back to the 1300's.
If a day of exploring hasn't tired you out, I strongly suggest checking out the nightlife. The city has many options for everyone's taste. If you're looking to wind down with a glass of wine, there are many restaurants along the water. A good example is Restaurant Casanova, with outdoor patios offering beautiful nighttime views of Lac Leman, with the famous Jet d'eau, pumping water 140 metres in the air.
For the party goers, Rooftop 42 is an excellent bar. They have a full menu of food, then you can move on to drinks, at which point the music starts getting louder as the night goes on. Finally there's a small area which turns into a dance floor. Of course I can't forget to mention their rooftop patio overlooking the city. Lastly, if you're not ready to go home at 2am, Le Baroque is a nightclub open until 5am on weekends, and it's neighbor is Rooftop 42 (literally a dozen steps away).
To top it all off, head to the top of Mont Salève (no pun intended…maybe). This mountain straddles the Swiss/French border. Don't forget to bring some Euros with you! There's a bus that takes you directly to the Geneva city limits. Then you must walk across the border into France to reach the ticket office. Now you've just done 2 countries in one day! For 8 euros (under 25 price for the budget youth travelers) there's a cable car that takes you up in less than 5 minutes. At the landing point, there's a magnificent viewing area for that perfect Instagram shot. I always try to remember to stop taking pictures. Just take it all in for a couple minutes, as you might never be back. There's also a restaurant where you can eat and enjoy the view.
However, for all those who want to work for their food, there's another restaurant at the very top, called Restaurant l'Observatoire. Fair warning, it takes approximately 30 minutes of rigorous hiking to reach the finish line. In the end it's all worth it, for the food and the view, of course. Once you've had your fill of mountain air, you may head back to the cable car at your leisure. Just make sure to be back for the last one!
If you haven't had enough sightseeing for the day and are the fearless type, there's a paragliding area which you'll come across on the hike. If that's not your cup of tea, I suggest watching a paraglider take off, they literally run off the mountain!
Finally it's time to go home. If you have some time to kill and haven't busted the budget, check out a few souvenir shops. In my case, I have a lovely Swiss-made watch, that reminds me of beautiful Geneva everytime I look at the hour.