Enjoying a Romantic Break on a Budget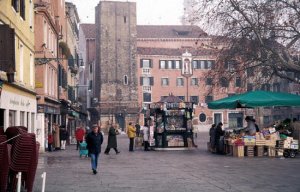 Venice is, without a doubt, one of the world's legendary romantic destinations. But the hordes of lovers traveling to the city each year have also transformed it into a hotspot for over-priced restaurants and hotels.
However, beneath the veneer of tourist traps and expensive rates, Venice retains its unique charm and, with a few money-savvy decisions, can be a city of romantic possibility even for a couple on a budget.
Go out of season
Venice is especially magical in the winter – often shrouded in mist, it has a hushed, secluded quality and the architecture looks even more dramatic in the half-light. It's much less crowded out of season, although the Carnival and Valentine's Day inevitably bring as many tourists as the summer months in February.
Cheap deals are also easier to find, particularly during the week, both on flights and rooms but also attractions and restaurants.
Fly to Treviso
Rather than heading to Venice's Marco Polo Airport, nearby Treviso is a cheap bus ride away from the island and has more regular budget flights.
Stay in a hostel
In a city renowned for pricey and often shabby hotels, Venice hostels can provide a great budget alternative for accommodation.
While staying in a dormitory may not be the height of romance, many hostels offer private rooms for a little extra charge. They can also have the benefits of self-catering facilities if you need to save a little extra or a bar with subsidized drinks in which you can start off a night.
The city is also home to a handful of cheap hotels and B&Bs in good central locations. The Locanda Armizo Hotel is a snip from $30 pp a night, offering a slice of luxury and Venetian style without the usual hefty price tag.
Get lost in the streets
Forget the usual tourist attractions and their entry fees – the best way to soak up the atmosphere of the city is to get lost in its unique streets.
Leave the map at home and wander the maze of bridges and backstreets that make up Venice without a specific direction. It's easy to turn a corner and come across a hidden piazza or sudden panorama of the city.
Find the locals' Venice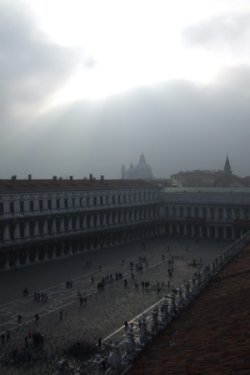 To the west of the Grand Canal, the district of Dorsoduro offers enough of an escape from the tourist traps for you to catch a glimpse of real life in Venice. It's still a lively area, particularly around the Campo Santa Margherita, but as the crowds tend to be made up of locals, the cafes, bars and restaurants are much more affordable.
Drink glasses of spritz
Harry's Bar, a former haunt of Ernest Hemmingway, is one of the famous venues in Venice but they charge $14 for one of their signature Bellini cocktails (peach juice and prosecco sparkling wine).
Treat yourself instead to a "spritz al bitter" (prosecco, soda and Campari or Aperol) which is a favorite with the locals and around just $2 a glass.
Take the traghetto
The iconic romantic gesture in Venice is a gondola ride but with tourist demand pushing prices to an outrageous $80, it's much more economical to take the traghetto.
These are ferry-like gondolas that residents use to traverse the Grand Canal where there are no bridges and, with their pole-bearing gondoliers in striped shirts and wide-brimmed hats, they offer a surprisingly authentic experience – all for as little as half a euro.
Dine at lunch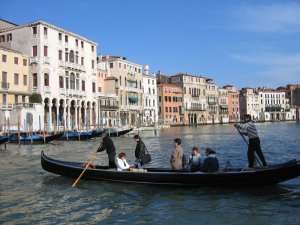 Celebrate with a romantic dinner for two – at lunchtime. Away from restaurants displaying the dreaded "menu turistico" sign, trattorie around the city (and especially in Dorsoduro) often have set lunch meals or "menu operai." A budget of $10 can get you a hearty meal even in this expensive city.
Enjoy your own Piazza San Marco
Cafes in the city's most famous piazza charge a small fortune so instead pick up a bottle of local wine from a Nave de Oro store (off-license) and a fresh snack from the huge produce market behind the Rialto and find a comfortable spot from which to revel in San Marco's sights and sounds, such as the orchestra at Caffe Florian.