I ended up visiting Cathedral Beach in Galicia by chance. My boyfriend and I had planned a weekend in Galicia (we're currently living in Madrid short-term for his job, but he's from Galicia) and we decided to simply look for a casa rural (a rurally located Spanish B&B) that was a good price, and that was in a good location. Where, didn't matter all that much.
I had wanted to explore Galicia long before I met my boyfriend so when we met, we made plans to take a few trips there while we were both still in Spain. Our first trip, was a holiday weekend in Santiago de Compostela. While it was a lovely town, we didn't have a car and spent most of the weekend in our Airbnb apartment cooking, or roaming the streets of old town Santiago stopping every now and then for tapas and drinks (white wine and Estrella Galicia rule in this region).
For my next trip to Galicia I really wanted to see more of the scenery. The rivers, the beaches and the wild vineyard areas. So, when we found only a couple casas rurales within our desired price range we simply booked the one that looked the closest to the coast and had the best reviews. Done! Then, we planned around it.
We knew we'd need to take a train into a city that would put us in an easier place to access the area by car (because driving from Madrid would be about 7+ hours and extremely expensive in gas and rental car fees for the wasted time) so we chose Ourense.  We chose Ourense mainly because it is the Galician city that is the shortest train ride from Madrid, and because it's the jumping off point for the Ribeira Sacra (where I was planning to go a few days earlier before our trip).  If you wanted to fly to Galicia to visit this area, you could fly into Santiago de Compostela and then drive (about 2 hours) or, you could fly directly into A Coruna and then drive (about 1 hour 45 minutes). This area is also only about a 4 hour drive from Porto in Portugal (and this would make a fantastic road trip!).
Once we got to looking at the map, my boyfriend realized we were going to be very close to a famous beach in Galicia: Playa de las Catedrales (or in Gallego: As Catedrais). My boyfriend was really excited about this, because it's one of his favorite spots and he wanted to show it to me. He told me how many people come to visit this beach in Galicia (mostly Portugese or Spanish tourists) each year.
I, in contrast to my boyfriend, get less excited about a place when it's a super popular tourist destination. I hate crowds, which is why I almost always travel off season and on weekdays. For me, the idea of going to a super popular place on a weekend sounded like a potentially crowded-touristy (and expensive) experience. But, we were traveling in September to Galicia. Which meant none of these things were really going to be an issue. After August the crowds die down. And even in peak season 'crowds' in Galicia are nothing like they are elsewhere in Spain (or in places like Northern California where I'm from). The fact it's so far from the rest of Spain, and that a car is needed to get around to most of the sights keep it a destination that doesn't get over crowded very often.
We opted to visit Cathedral Beach, by hiking there from a nearby village, instead of driving directly there. Because of where our casa rural was located, this was easy.
We were only about 15 minutes from Ribadeo and about 25 minutes from Cathedral Beach. We could have chosen to hike/walk from Ribadeo all the way to Cathedral Beach or to hike from a tiny village called Rinlo mid-way between the two. We had already seen enough of Ribadeo so we opted for Rinlo (we love tiny villages!). We were told we could simply drive into the center of the village and find parking near the water and then we'd see the trail heads.
Our decision to visit Rinlo, as a starting point was the best decision we made on our trip. A previously unknown village to my boyfriend, Rinlo was a welcome surprise. It was everything I'd wanted to find in Galicia: tiny, picturesque, surrounded by ocean views, chock-full of amazing seafood spots and with no hotels or supermarkets in sight. The fact that you could start one of a handful of hiking trails from Rinlo made it that much better (below are the signs pointing out where you can walk to from the parking lot near the boat dock in Rinlo).
Once we arrived in Rinlo, we really wished we had known about it earlier and had booked our accommodation there.
As it was though, we had a day and we decided to take full advantage of our time there.  We showed up hours early (we needed to wait until low tide to visit the beaches) and strolled around the village, grabbed coffee, took some walks down some of the trails (and found some lovely ruins) and made reservations for lunch. Apparently Rinlo is a hot spot for people who are on their way to Cathedral Beach (or locals from nearby Ribadeo) due to the culinary specialty of the town,  arroz caldoso (hot soupy lobster rice in a cauldron like pot with a full steamed lobster in every pot). You need to book a table ahead of time as well as place your order for this dish at least a couple hours ahead of time (since they have to go get the right amount of lobsters and steam them for each serving).
There were 3-4 restaurants to choose from in Rinlo, and all served the arroz caldoso but we liked the look of a place 'Porto de Rinlo' the best (away from the perfectly painted harbor side restaurants). It also doubles as a cafe earlier in the day (lunch starts at 1:30).
Lunch was great: Pulpo a la Gallego (served with paprika and boiled potatoes), razor clams, arroz caldoso and house Albariño. We were so impressed by the arroz caldoso when it arrived that we forgot to take photos.  Suffice to say, we really did not need to order other food we could have easily both left stuffed to the brim if we'd only ordered the arroz caldoso for two (you can't order it for 1).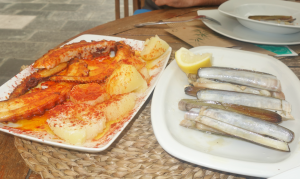 We took off from the restaurant at about 2:45 to start on our walk towards Cathedral Beach. The signs said it was about 6 km (or 3+ miles) so we knew we'd need to kill some time before the high tide time of 5pm. Luckily there were other beaches and lots of cool, misty, green scenery to enjoy on the way to Playa de las Catedrales.  
We stopped at all the other beaches along the way, and there were some beautiful ones (like Playa de Esteiro). Though I don't have photos of all of them (we were having far too much fun climbing rocks and laying on deserted beaches to remember to take them). The Cathedral Beach was definitely the show stopper, but we enjoyed our peaceful time at the other beaches as we had them all to ourselves. When we reached Cathedral Beach there were many hundreds of people (who had come in from the opposite direction on buses or in cars) there.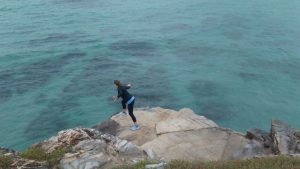 I definitely recommend visiting this part of Galicia (and Spain!) and if you do go, stay in Rinlo (I'll add the name of some apartments we found there that can be rented which was the only accommodation we saw) or in a casa rural near Ribadeo and hike from Rinlo to the beaches. It's a great way to experience the area.
Resources for Visiting this area of Galicia
Accommodation:
Toprural.com (for booking casas rurales)
Apartmentos Rinlo (basic but well located): Email: info@rinlo.co  Phone: +34 670 646 980
Tourism and Access to the Cathedral Beach (they have started limiting visitors to 4800 people per day in the peak months July-Sept):
Xunta de Galicia (for reservations)
Turismo Galicia (for info on the area)
Restaurants: 
Porto de Rinlo (in Rinlo)
Note: when you book a casa rural in Spain you often have to send in your request through the website (Top Rural is the best) and then wait for a response from the owner. It is also quite common for them to ask you for a deposit of a % of the total booking to secure your reservation. Since most casas rurales are literally just people living out in the country and running their own small little B&B business you may have to put the deposit into their bank account (or if you're Spanish you can send a check). Don't let this deter you. If they are on Top Rural and have a bunch of reviews, you can assume that they don't make a practice of stealing people's money.