A Scandinavian cruise to the Baltic Capitals sat on our travel list for several years, while easier and less expensive trips took precedence. For us to set sail towards our Viking roots, we needed a big occasion—like a 50th birthday.
I think of 50 as an easy going innocuous number.  It's neutral (fifty/fifty), romantic (Fifty First Dates), and even sexy (Fifty Shades of Grey). But for my husband, 50 conjured dark and disturbing thoughts—colonoscopies, the potential need for Viagra, and the fact that he would be eligible for membership in AARP. So, when it came time to plan his birthday trip, we needed something big, adventurous, bold and fearless.  We needed… Scandinavia!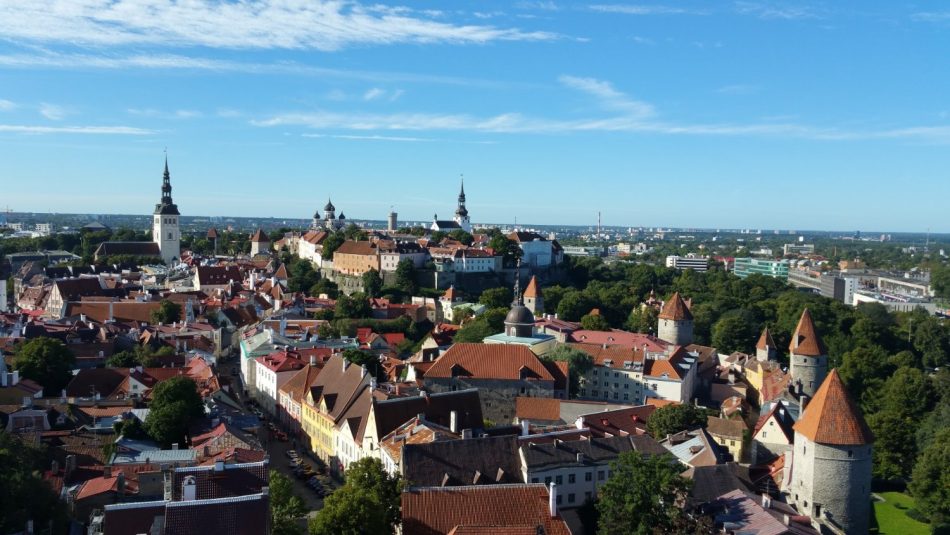 The last Baltic Capitals cruise of the season sailed September 5th-14th aboard NCL's Norwegian Star cruising roundtrip from Copenhagen and porting in Warnemünde, Germany; Tallinn, Estonia; St. Petersburg, Russia; Helsinki, Finland and Stockholm, Sweden.
Note:  September is a good time to travel to Scandinavia.  It's the end of the busy tourist season and brings with it cooler temps (High 60's/Low 50's), cheaper lodging, and smaller crowds.
Day 1-Copenhagen, Denmark
Arriving into Copenhagen two days before our cruise we stayed at the ideally located Scandic Palace Hotel. This historic hotel is located on the Rådhuspladsen (the City Hall Square and heart of Copenhagen), and is walking distance to many attractions including Tivoli Gardens (a historic amusement park and botanical garden) and the Strøget (a pedestrian street and shopping area). We stayed in a Superior Plus room that was spacious and stylish with a private terrace that opened onto the Rådhuspladsen.
Note: I booked our hotel through Hotels.com and used points to get one of the nights for free.  Average nightly rate $321
The Strøget
The Strøget is one of Europe's longest pedestrian streets. It's lined with shops and restaurants and is buzzing with people and street performers.  There's a wide range of shopping from Prada and Louis Vuitton to H&M and touristy trinket shops.
Note: The many side streets off the Strøget offer more unique and hand-crafted items.
Nyhavn Harbour
The Strøget leads to the postcard harbour of Nyhavn.  A 17th century waterfront canal and entertainment district, with brightly colored building and restaurants along the water. It's a great place to sit and relax with a beer or coffee and soak up Copenhagen.
Day 2-Oslo, Norway
The next morning we hopped on a short one hour-and-ten minute flight to Oslo to tour the city Viking Biking style…
Since we only had a day to spend in Oslo, we wanted to see as much of the city as we could and still get a real feel for the culture.  What better way to do that than on a bike wearing Viking helmets?  Viking Biking offers several different guided tours.  We chose the three hour Oslo Highlights Tour that included:
The medieval/rennaissance castle of Akershus Festning
The City Hall (home of the Nobel Peace Prize ceremony)
The main street of Karl Johans Gate and the Royal Palace gardens
Vigeland Sculpture Park
Frogner neighborhood, home to Oslo's most impressive 19th century neo-classical architecture
The harbor area Tjuvholmen/Aker Brygge
Note:  We booked our tour online at vikingbikingoslo.com about a month in advance- $30/child, $50/adult
Day 3-Copenhagen/Embarking  
Final boarding for our cruise was at 3pm, so we requested a late check-out from our hotel and spent a few hours at Tivoli Gardens.
Tivoli Gardens
Opening in 1843, Tivoli is the second oldest amusement park in the world. While it does have a few thrill rides, it's more of an embellished carnival than an amusement park.  It's worth spending a few hours there, especially if you have kids, but not a whole day.
Note: I didn't feel like I had enough time in Copenhagen.  In hindsight, I would have spent an extra day in Copenhagen and saved Norway for another trip.
Embarking in Copenhagen
The Norwegian Star is a mid-size ship among Norwegian's fleet with a guest capacity of 2,348.  While it doesn't have the bells and whistles of larger ships (rock climbing wall, zip-line, etc.), the food is good, the staff is friendly and attentive, and it was refurbished in 2015.
We opted for a balcony room that included an Unlimited Open Bar promotion. We enjoyed the balcony (especially when sailing through the archipelago).  And having an open bar was a big savings.  Ten days of afternoon cocktails and drinks with dinner for two people adds up—and who doesn't like free drinks?
Note: The Star has moved on to warmer waters and has been replaced by newer and bigger ships, the Breakaway and the Getaway.
Day 4-Warnemünde

, Germany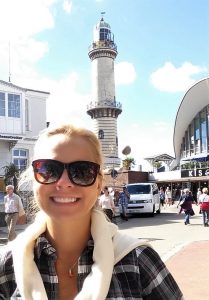 We took along a copy of Rick Steve's Northern European Cruise Ports Guidebook—a handy tool that includes self-guided walking tours from the cruise terminal to points of interest in every port.
Warnemünde is a small, seaside resort with a wide sandy beach, and a shopping district mostly filled with over priced tourist shops.  The beach is by far the best feature of this town with  ice cream shops and outdoor cafes along the boardwalk.  You can also take a short walk into town and climb to the top of a 19th century lighthouse.
If you skip the tourist shops, you can tour the entire town in about an hour and spend the rest of the day at the beach if the weather permits.  It was warm and sunny the day we were there and several people were sunning on the beach and swimming in the Baltic.
Note: You can take a two-hour train ride to the capital city of Berlin.  We had toured Berlin before and opted not to spend four hours in transit. But if don't enjoy the beach, it may be worth the travel as there is not much else to see or do in Warnemünde.
Day 5- At Sea
It was nice to have a day to relax with no agenda.  It was warm enough to get some sun by the pool and take advantage of the Unlimited Open Bar. 🙂
Day 6- Tallinn, Estonia
Tallinn was my favorite city on this tour. There's something surreal about walking through a town that has existed since the 13th century. It's as if you've stepped through a portal and are getting a glimpse at the ancient life of man.
Old Town is one of the best preserved medieval cities in Europe, and is a UNESCO World Heritage Site. We did the self guided tour outlined in Rick Steve's guidebook, and walked along ancient streets filled with history, browsed merchant shops, toured grandiose churches, and lunched at the touristy but fun Olde Hansa restaurant. Olde Hansa stages period themed musical performances and all of the staff dress in medieval costumes.
In contrast to its medieval origins, modern Tallinn is widely recognized as one of the world's most technology-oriented cities.   It's the birthplace of Skype and home of the NATO Cyber Defense Centre of Excellence. And according to Inc.com, Tallinn is among the 5 Global Cities of the Future.
Days 7 & 8- St. Petersburg, Russia
St. Petersburg is touted as the highlight of the cruise. Two full days are devoted to exploring the treasures the city has to offer.  There is undeniable beauty to be found in St. Petersburg such as: Catherine's Palace, The Hermitage Museum and Peterhof.  But, don't expect to get to a warm welcome when entering Russia.  There's a dark undercurrent that pulses beneath the beautiful façade that's difficult to pinpoint—anger, resentment and cynicism come to mind.
The social and political turmoil of the 2oth century may not be evident in the shining grandeur of the city, but it is very much present in its atmosphere.  I don't regret visiting St. Petersburg. In fact, I'm grateful for the experience and appreciate my own country so much more.
Note: You must have a Russian Visa to tour the city on your own. However, if you book a guided tour through the cruise line or a local tour company you do not.  We booked our excursions through NCL to avoid the hassle, and consequently paid 40% more and spent two full days on a bus with about 70 other people.
Neva River Tour, Rasputin & Church on Spilled Blood Excursion
The first day included a boat tour on the Neva River, and tours of the Church on Spilled Blood and Yusopov Palace (where Rasputin was killed).
Although the grey and gloomy weather seemed to permeate the overall vibe of the city, the Neva River tour was informative and offered a general overview of St. Petersburg.
While lavishly decorated in intricately detailed mosaics, there's nothing holy happening in the Church on Spilled Blood.  It has never been used as a public place of worship and is actually a museum of mosaics.
Yusopov Palace is worth visiting because it is one of the few remaining aristocratic homes to have retained its decadent interiors after the revolution.  The tour included a re-enactment of the murder scene of Grigori Rasputin.
Note: Excursion price- $249 adult/ $155 child
Catherine's Palace & The Hermitage Museum Excursion
The second day included traveling to Pushkin to tour Catherine's Palace and then returning to St. Petersburg to tour the Hermitage Museum.
Catherine's Palace was taken over by the Nazi's during WWII, stripped of anything of value, and left in ruin.  It has been meticulously restored over the last several decades.
After Pushkin we returned to St. Petersburg to tour the Hermitage Museum.  We waited 30 minutes to get in the museum, which wasn't bad considering the wait can be 2-3 hours in the summer months.  We spent about 3 hours in the museum, but that wasn't nearly enough time to even attempt to view the over 3 million pieces of art.
Also, the museum staff (curt, elderly Russian women), don't have time for you to dilly-dally around—and don't even think about getting near a roped off section.  (They were amusing rather than offensive—reminded me a little of my mom.) 🙂
Note:  Excursion price-$265 per person(no discount for kids)
(We spent $1448 for two adults and one child on shore excursions in Russia.  Using an outside source such as viator.com would have saved us about 40%.  Check other sources before booking through the cruise line.)
Day 9- Helsinki, Finland
Helsinki is a laid-back, compact and easy to get around city.  You can board a hop-on hop-off open top bus at the cruise terminal, that stops at main attractions like: Senate Square (a big open square that's home to Helsinki Cathedral), the Rock Church (an underground church carved from solid rock), the 1952 Olympic Stadium, and Market Square (a large flea market that offers fresh foods, handcrafted items and souvenirs).
Next to Market Square, you can take a turn around the Skywheel and get a 360 degree view of the city.  From there, walk down the tree-lined Esplanade Park flanked with outdoor cafes and high-end shops.
Note: Hop-on Hop-off Bus- $30 adult/ $15 child     Skywheel- $13 adult/ $10 child
Day 10- Stockholm, Sweden
Sailing through Sweden's archipelago is one of my fondest memories from this trip.  The rugged beauty of the rocky cliffs and wooded islands dotted with quaint cottages is compelling.  But, there is also something nostalgic and mystical about gliding through waters that have been sailed by mankind for hundreds of years.
Our plan was to visit the Vasa Museum, do a walking tour of Old Town, and check out the Icebar. We began by walking from the dock to the Vasa which was a mistake.  It was farther than we expected (1.8 miles)— and we got lost, which ate up a lot time.
The Vasa—a 17th century warship—sank in Stockholm harbor on its maiden voyage in 1628. After 333 years on the seabed, it was discovered and raised, preserving an iconic piece of Swedish history.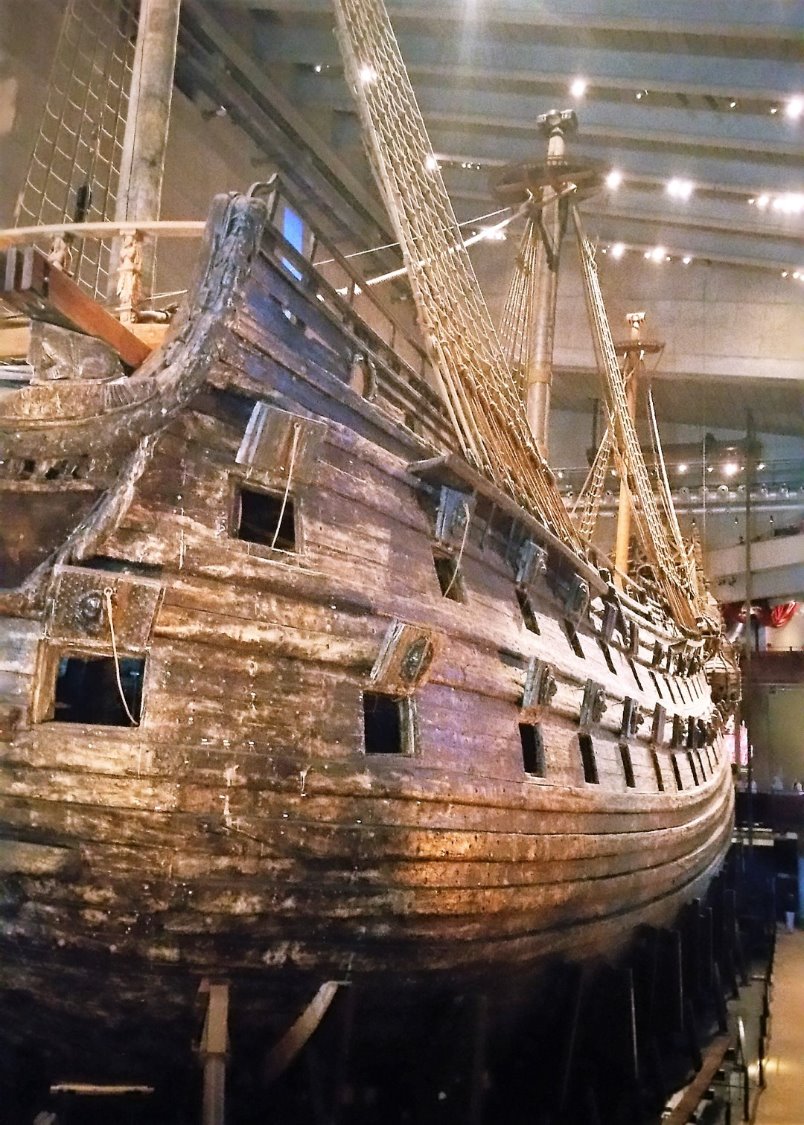 Old Town (Gamla Stan) dates back to the 13th century. Cobble-stone streets and medieval alleyways wind through burnt orange and mustard colored buildings housing cafes, tourist shops and art galleries.  This is a good place to have lunch and take in Old Town.
We didn't have time to visit the Icebar, but we did take a hop-on hop-off boat from Old Town back to the cruise terminal.  It's an easy way to get around Stockholm, and stops at several main attractions.
Sailing out of Sweden and the archipelago as the sun was setting was…enchanting.
Note:  Vasa tickets- Adults $14/ Kids 0-18 Free    Hop-on Hop-off Boat- Adults $16/ Kids $8/Age 0-5 Free
Day 11- At Sea
The BIG 5-0 happened today with lots of sunning by the pool and toasting to the next 50 years.
Happy Birthday, Ryan!
See…it wasn't so bad after all.
Day 12- Disembark in Copenhagen
We're usually ready to return home by the end of a long trip.  But, we weren't ready to leave Scandinavia and began planning our return trip before we even got off the ship.
A Norwegian Fjords cruise is now on the list. 🙂