Greece is one of the most beautiful, not to mention historical, countries in the world. From the beautiful, white-washed, winding pathways to the black, volcanic, sand beaches of Santorini, its sure to be a bucket-list destination for any traveler. With so much to see and do, it's important to experience its ancient history, dine on traditional Grecian fare, and take in what is widely known as one of the most beautiful sunset views in the world.
Santorini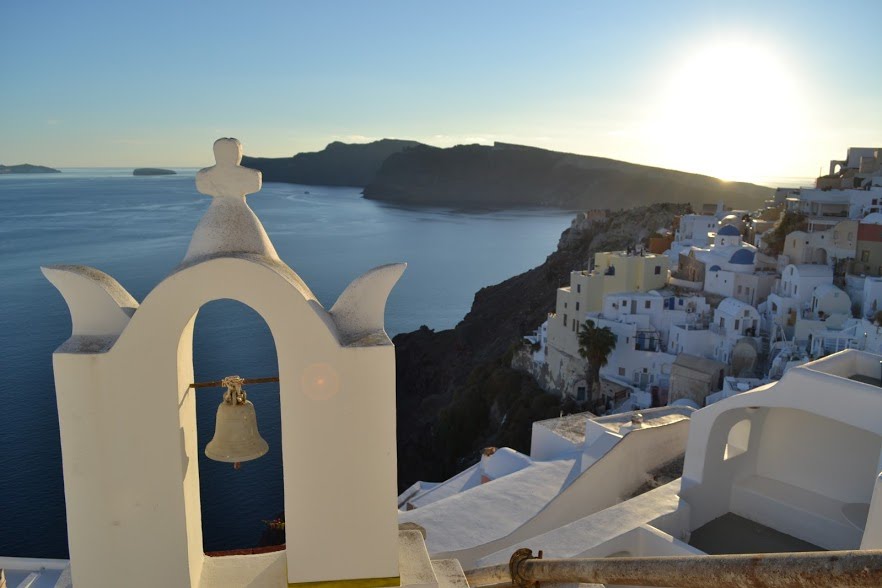 The beauty of Santorini can only be explained by experiencing its cliffs, winding roads, and good-natured people. Your first day in Santorini should be taken slow – walk around, find a great local eatery, and grab a glass of Mythos, a great Greek beer! Or, if shots are more your vacation speed, don't miss your chance to cap off a night next to the Caldera with a traditional shot of Ouzo!
During the Santorini night, you'll find yourself walking through the meandering roads, up and down, as the landscape rises and falls to meet you. A location with little shops such as Fira Town, in the center of the island, has restaurants that cater to your expectations of Greek food and scenes that don't disappoint. Don't be afraid to lose yourself as you explore, no matter how narrow the pathways. You'll always find your way back to square one!
Santorini Day Trips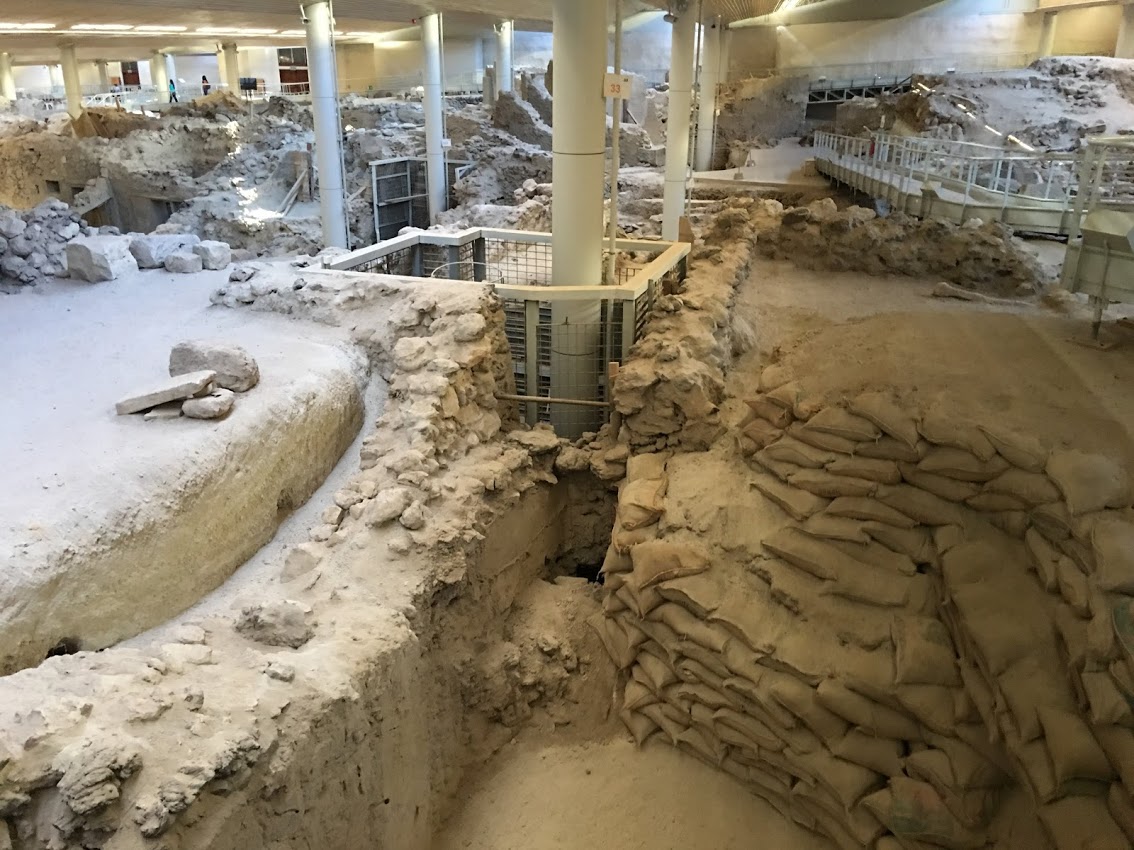 A full day in Santorini is best spent with a day trip. There's really no need to rent a car on this beautiful and accessible island; its much easier and cheaper to book a ride on a bus with your fellow travelers to unbelievable places.
Akrotiri, located in the south of Santorini, is one of the oldest and best-preserved areas of Greek civilization with uncovered ruins that date back to the famous eruption which created the caldera more than 3,000 years ago. Akrortiri is conveniently covered for preservation purposes, with pathways that allow you to view the ancient city from up close as well as far above, marvel at the dusty stones and pots that have been perfectly preserved for centuries. Before you go, bring a bottle of water or two, as there is only one vending machine on site with tea and sodas. There is also a beautiful gift shop where you can peruse hand-made jewelry and replicated relics that you can bring home to remind you of this ancient place.
If you book a day trip that includes Akrotiri (as most of them do), you'll also have chance to take a simple walk down to one of the gently lapping black pebble coasts of Santorini. Though not a beach where you can necessarily swim during parts of the year, the water moves peacefully over the well-washed volcanic rocks, and is faced with quaint seasonal eateries. Take a stroll along the black rock coast and breathe in the air, sit along the sea, and make sure to take lots of pictures while the sun begins to set.
Most often on these day trips, of which there are numerous providers, you will spend time in the morning working from the central town of Fira south toward Akrotiri by first stopping at the traditional Greek village of Megalochori. After taking some time strolling in this casual villa, you'll continue working south toward Akrotiri, but what awaits you at the end of your day is possible the best part of the trip – and one of the most beautiful views in the world.
Oia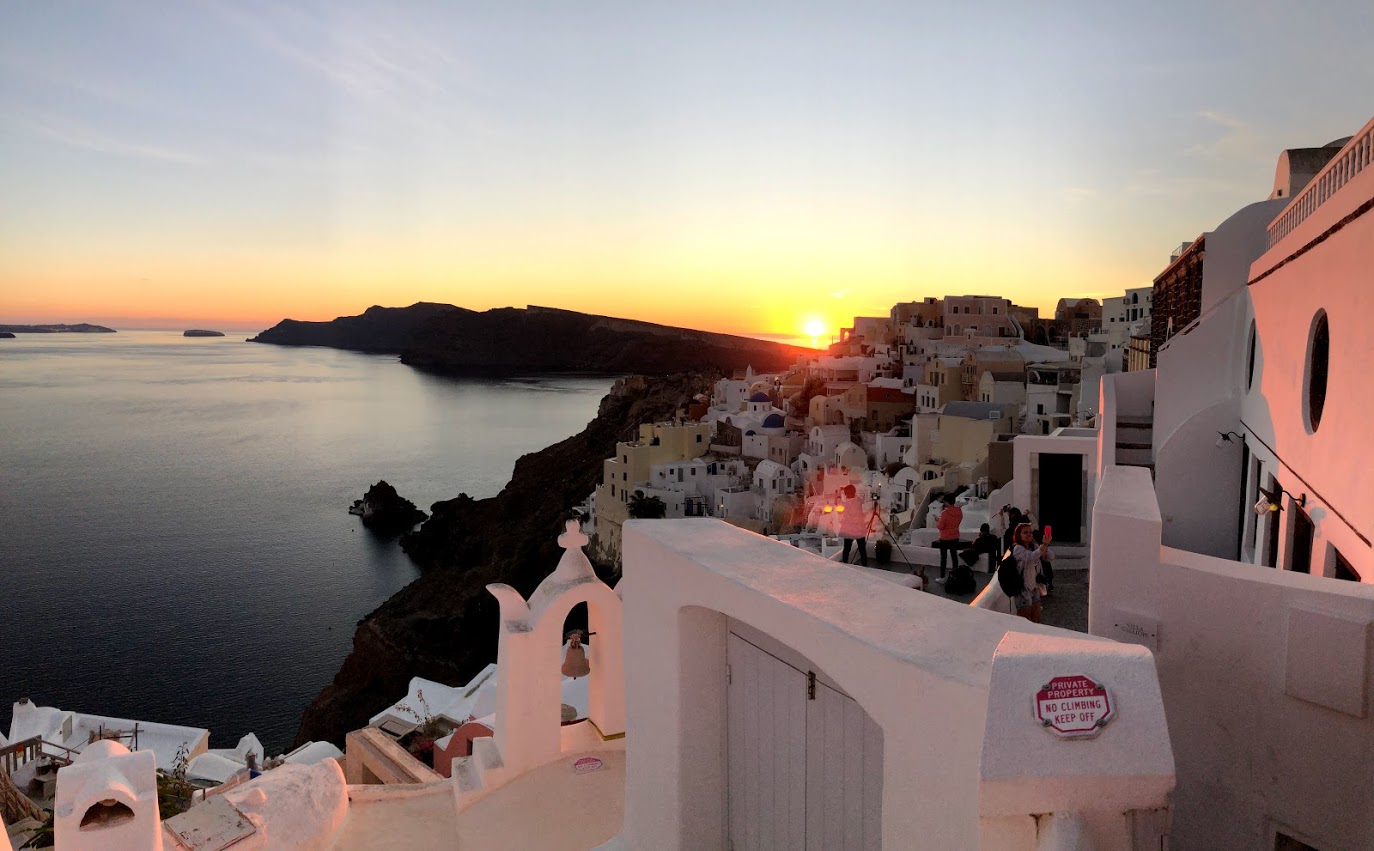 On your day trip around the beautiful city of Santorini, you'll find yourself watching the sunset in Oia (pronounced "EE-YAH"), and be glad you planned your trip around such an idyllic island. The many paths and streets will bring you up to astounding vantage points, one or two of which will perch you not only looking towards the setting sun, but at the classic Santorini view – the blue domed chapels and the pink bell tower. With the caldera directly in front of you, there is no better view on this indescribable island. Be mindful of the residents as you take your pictures, however, as the pathways are also entrances and porches to local homes.
After the Sunset
The next day in Santorini, take a walk down to catch the cable car which brings you to the Old Port. This super steep trip will bring you to and from the deep coast of the island, where you can catch a boat, if you so choose, to tour the Caldera. There are also donkey rides, but they're used to the trek and thus can be a lot quicker than expected. Also, why use an animal when you can just let them rest and take in a scenic panorama from a higher viewpoint! For only about six euros each way, it's worth it, even if you don't have a boat trip planned.
High and low, Santorini offers incredible views from various points of the island. From the belly of the Old Port to the highs on Oia, you'll want to make sure to have a camera handy anytime you're in Santorini!