The two most striking characteristics of Venice are its extremely romantic appeal and the picturesque canals that are like the unique equivalent of streets in other cities. The biggest of these canals is the Canal Grande (in Venetian referred to as Canalasso). At a length of 3800 meters it stretches through the whole city in the shape of an 's'.
Curiously enough there are only four opportunities to cross the Canal Grande throughout the city, which are all worth visiting for the time when you rent Venice apartments.
Ponte della Costituzione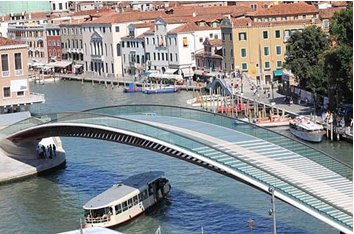 Now this bridge is more commonly called Ponte di Calatrava a Venezia after the architect who built it. Out of the four bridges it is the most recent construction opening for the public in September 2008. Before construction began it caused a lot of criticism for its modern design which did not seem to fit with the elaborate designs and pattern from past periods, but also it is difficult to access for the elderly or people in a wheelchair.
Ponte dell'Accademia
This bridge gets its name from the Accademia galleries close by. When it was first constructed in the 1850s it was made of steel but the construction was very poor lacking stability. A couple of decades later the bridge was built again with wood. One can imagine that the wood construction wasn't built to last either and the construction had to be supported by steel. Plans to build a bridge out of stone haven't been put in action thus far.
Ponte degli Scalzi
Before the construction of the Calatrava bridge this bridge connected the Santa Lucia railway station Chiesa degli Scalzi (Church of the Barefoot Monks). It earns its name from the monks. Literally translated it is 'The Bridge of the Barefoot'.
Ponte di Rialto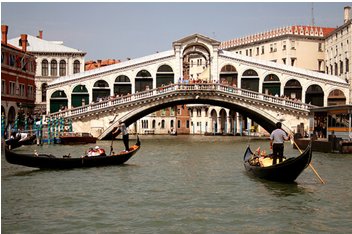 This is the oldest bridge that is crossing the canal and without a doubt an icon of the city of Venice. Precursors of the stone version that still exists today were made of wood and the main purpose was to connect two of the most frequented zones in the city.
All of the bridges are very picturesque and unique in their architecture and history. It is very recommendable to hop onto a vaporetto, a water taxi, or one of the gondolas to explore the Canal Grande. And crossing at least one of the four bridges walking is an absolute must when you rent one of the apartments in Venice. There are many other bridges in the city that bear a lot of history and are beautiful constructions.