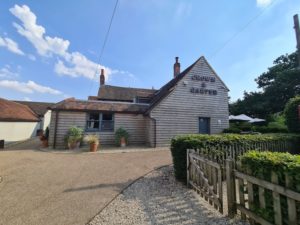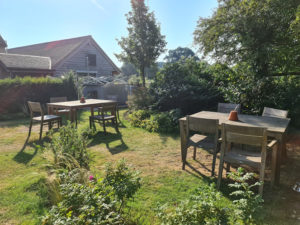 Deep in the Berkshire countryside, through winding narrow lanes, in a small village named Inkpen, there is a 17th century inn called The Crown and Garter. This inn has a deep and sometimes dark history, connected to a nearby gibbet high on a hillside that tells us of a time long ago when our punishments for crimes were brutal and ghoulish.
But thankfully that's all behind us and this is now an area of bright bursting flowers pots and English village charm. There's even an old red phone box directly outside the inn.
The Crown and Garter today is an historic old inn with a modern interior, set in beautiful gardens. The barn at the back of the pub, which was once the setting for the fitting of a hanged couple's gibbet irons, is now a set of modern and stylish rooms. We were staying in room number 3.
My email confirmation told me to head straight to the room, the door would be unlocked and the key inside the room, avoiding the need for any check ins at reception, so minimising our contact with people. When we arrived everywhere was very quiet. A sign on the door of the bar told us the area was closed through the middle of the day for deep cleaning. We headed to our room where we found the old barn arranged in an L shape around a pretty courtyard of plants and flowers and patio tables and chairs. There was a little mix up with the rooms at this point with another guest arriving and thinking they also had our room, so we knocked on the bar door to find someone to speak to. Out walked a tall Frenchman, the chef, and this would be my first encounter with the man who crafted the most wonderful hotel breakfast I've just about ever had (at least I'm presuming it was him) – but more on that later.
First of all, we drove around the narrow country roads and up to the gibbet on the hill. If you come here I'd definitely recommend seeing this. I do perhaps have a particular interest in this macabre piece of history, but for a start, the views from the top of the hill where the gibbet stands are incredible. And this really is a fascinating relic from our brutal past. It was still and so quiet up on that hill it was hard to believe we once actually left people to hang up there!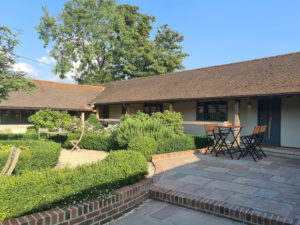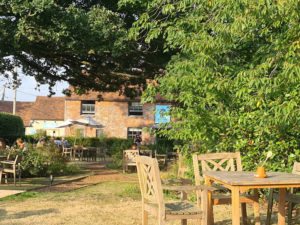 But back to the here and now, and it was time for us to get ready for dinner. Tables are to be booked ahead in the current situation, and the Crown and Garter have the most beautiful garden area for a relaxed socially distanced dinner. The sun shone down as the late afternoon turned to evening and our waitress arrived wearing a visor and a warm and welcoming smile. Everyone we encountered at the Crown and Garter was happy and eager to help and we really got the feeling they are pleased to have you there. And now onto the food. I've got to say, I wasn't expecting such delights at dinner, as I hadn't heard of this inn winning any awards for its food, but if it hasn't, it should. We spent a lovely relaxing evening in the garden enjoying our leisurely dinner, gazing out over the fields and the quiet country roads. And the next morning, after a good sleep, we had the joy that is the breakfast at the Crown and Garter. Maybe you think I'm overstating this, but as a vegetarian, hotel breakfasts are rarely this good. Again, the seating is in the garden, which is a lovely setting for breakfast, especially on a glorious sunny morning like we had. The breakfasts are menu and table service only during the pandemic and the waiting staff all wear visors and gloves. And now this breakfast that I'm raving about so much. I ordered the veggie cooked breakfast, no eggs. This comes attractively arranged on the plate and includes button mushrooms, grilled tomatoes, steamed spinach and home made baked beans. If that doesn't sound so special, believe me, it is! The home made baked beans I could have just eaten all day, they were so good (we're not talking supermarket beans here, this is another level entirely!), and the spinach, I don't know how the chef cooked it but I've never had spinach that tastes that good before. All this with a side of toast and home made jam and marmalade, and as much tea and coffee as you can drink.
There's also a cute coffee shop onsite that sells cakes and bread, drinks, and some lovely gifts and souvenirs. Currently they are operating on a basis of one person only inside the shop, but once you've bought your drinks and cakes in there you can walk straight out of the back door and into that pretty courtyard I mentioned earlier.
Full up from breakfast we went for a walk through the woods opposite the inn. There isn't a lot at Inkpen, but there's some pleasant walks through the woodland and you get to view some incredible large houses with tennis courts and swimming pools!
The Crown and Garter is more like a mini holiday complex and my one night away felt like a true break and much longer than it really was.
The PPE worn by staff and the limits on numbers of guests and where you can sit etc, didn't take anything away from what was a peaceful and relaxing stay in a beautiful place. If anything, it made me feel secure and very welcome there.