Upon exiting the Venice train station travelers are greeted by turquoise canals and a stunning church. This is like a scene from a movie; one cannot have arrived in a more picturesque setting. As you lose yourself in the narrow streets it can be easy to forget the sites and attractions that lay within. In order to help with planning your trip to this storied city, we have picked our top 10 things you must do in Venice.
TOP 10 THINGS YOU MUST DO IN VENICE
1. GETTING LOST IN THE CITY
Before going to Venice I was most nervous about getting lost and not being able to navigate my way around the city. However, after traveling in Venice, getting lost was the most amazing thing about my experience there. There is nowhere else on earth like the City of Bridges; it is truly a special place. Seeing the snaking canals, crossing the many bridges and stumbling across hidden masterpieces is what Venice is all about; exploring with the intent to get lost is the best way to get a feel for this iconic city.
2. ST. MARK'S SQUARE
The most memorable spot in Venice is St. Mark's Square, primarily due to St. Mark's Basilica and the architecture surrounding it. While there take a short walk to the nearby canals and soak in the views. If you can ignore the people trying to sell you useless items and the flocks of pigeons, this place will simply mesmerize you.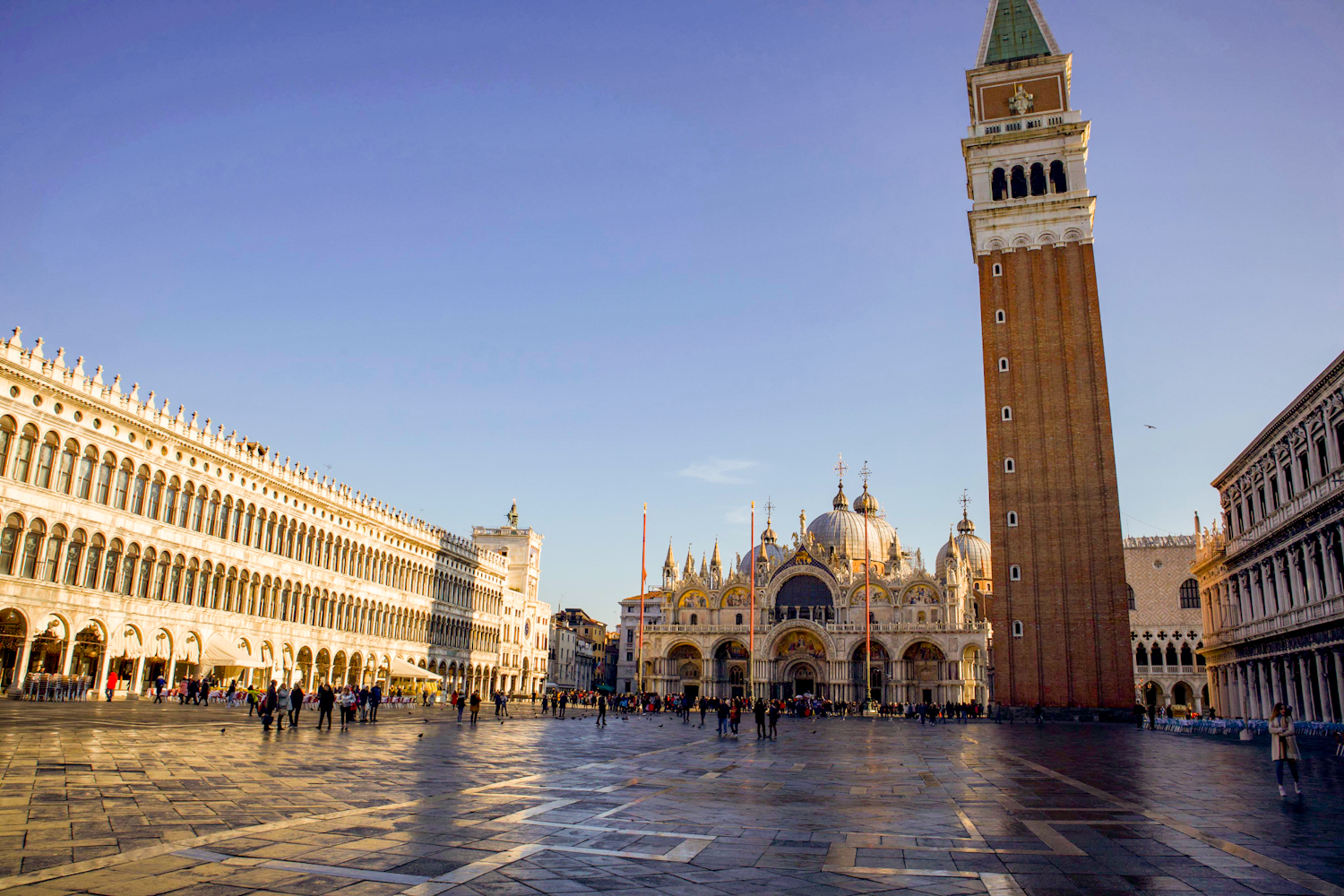 3. VISIT MURANO AND BURANO
Even though this one isn't actually situated in Venice visitors can catch a boat from the city to these small islands. It will only cost 20 euros each; it is definitely worth the money. You can see the glass-making factory in Murano and buy some glass at discounted prices. Next, walk around the colourful town of Burano and explore the small shops. We also went to Torcello, with a population of 11, it is located on a quiet and secluded island.
4. THE GRAND CANAL
The Grand Canal is a very romantic and stunning part of Venice not to be missed. Go here in the afternoon to enjoy a spectacular sunset casting hues of orange and pink across the water. You will find many spots to sit along the waters edge, so have a bite to eat while enjoying the scenery. Although watch out for the seagulls as they do like stealing food out of your hands as we discovered. But needless to say, this is a must-see site in Venice which you don't need to pay a cent to enjoy.
5. DOGES PALACE
This museum contains an extensive historical representation of Venice; if you want to discover the stories behind the city come here. Included in the ticket to Doges Palace is the Bridge of Sighs – an iconic landmark. Not only are there heaps of history but the building itself is absolutely breathtaking. Every room is covered in artworks encrusted in gold or marble detailing.
6. LA FENICE
The Opera Theatre of Venice is a grand building with an incredible story of survival and endurance. After destroyed by a fire multiple times it was always rebuilt – earning the name The Phoenix (La Fenice). The theatre itself is magnificent and contains beautiful frescos and interior decor. Its been maintained exceptionally well which means the experience of being inside is very authentic. Be sure to explore the Royal Box and learn about the story of opera singer Maria Callas.
7. EXPLORE DORSODURO
This district in Venice is the location of several prominent sites. These include Santa Maria della Salute, Peggy Guggenheim and Gallerie dell'Accademia. But this part of the city is also ideal for walking around and exploring and is is not as crowded as other parts of Venice. Look for beautiful coffee shops, all offering great service. We highly recommend exploring this area with coffee in hand and watching the locals go about their day.
8. ST. MARK'S BASILICA
Take a peek inside this incredible basilica and admire the dark gothic-byzantine artwork and architecture. It's unlike many other churches in Italy due to its unique style. This is why we put it on our top 10 list; we love discovering unique churches in all cities we visit.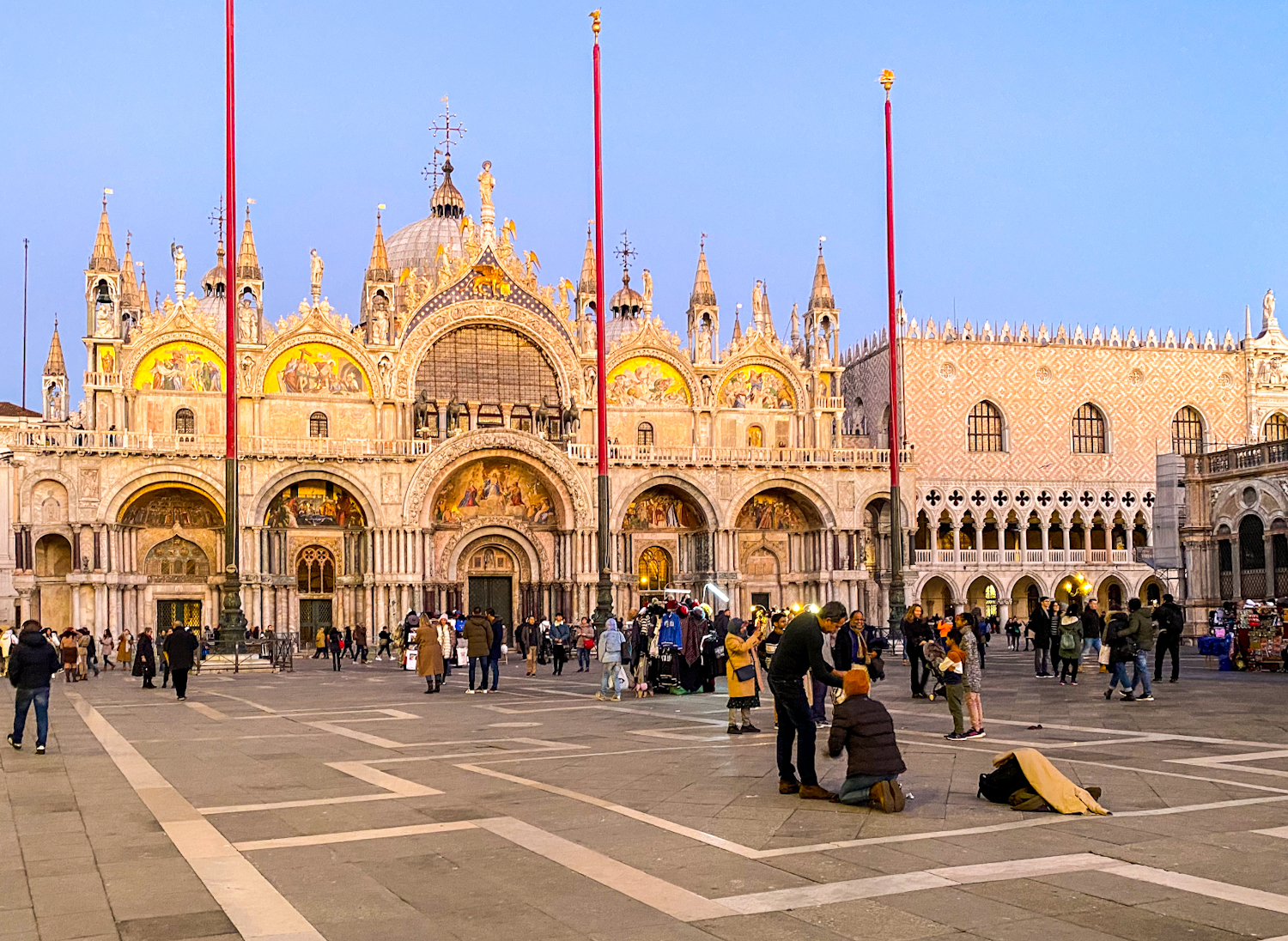 9. AQUA ALTA BOOKSHOP
This cute bookshop is hard to find as it is hidden deep within Venice but you will know when you have found it. Books are piled high in every corner and wall of the shop. The owner's cats roam around freely but won't bother you. At the back of the shop, one can climb the wall of books and take in the incredible view from the top. A visit to this bookstore is a very unique and quirky experience that is just so "Venice".
10. RIALTO BRIDGE
The Rialto Bridge is one of the most recognisable sites in Venice; this means big crowds and heaps of people trying to sell you things. This is why we would recommend viewing the Rialto from along the canals instead of trying to walk over it and fighting through the crowds. The beauty of the Rialto is in the architecture – this is best viewed from either the canal or from a distance. If you want to get some good photos of the canals from a bridge go to Ponte dell'Accademia. This bridge is less crowded and the views are even better.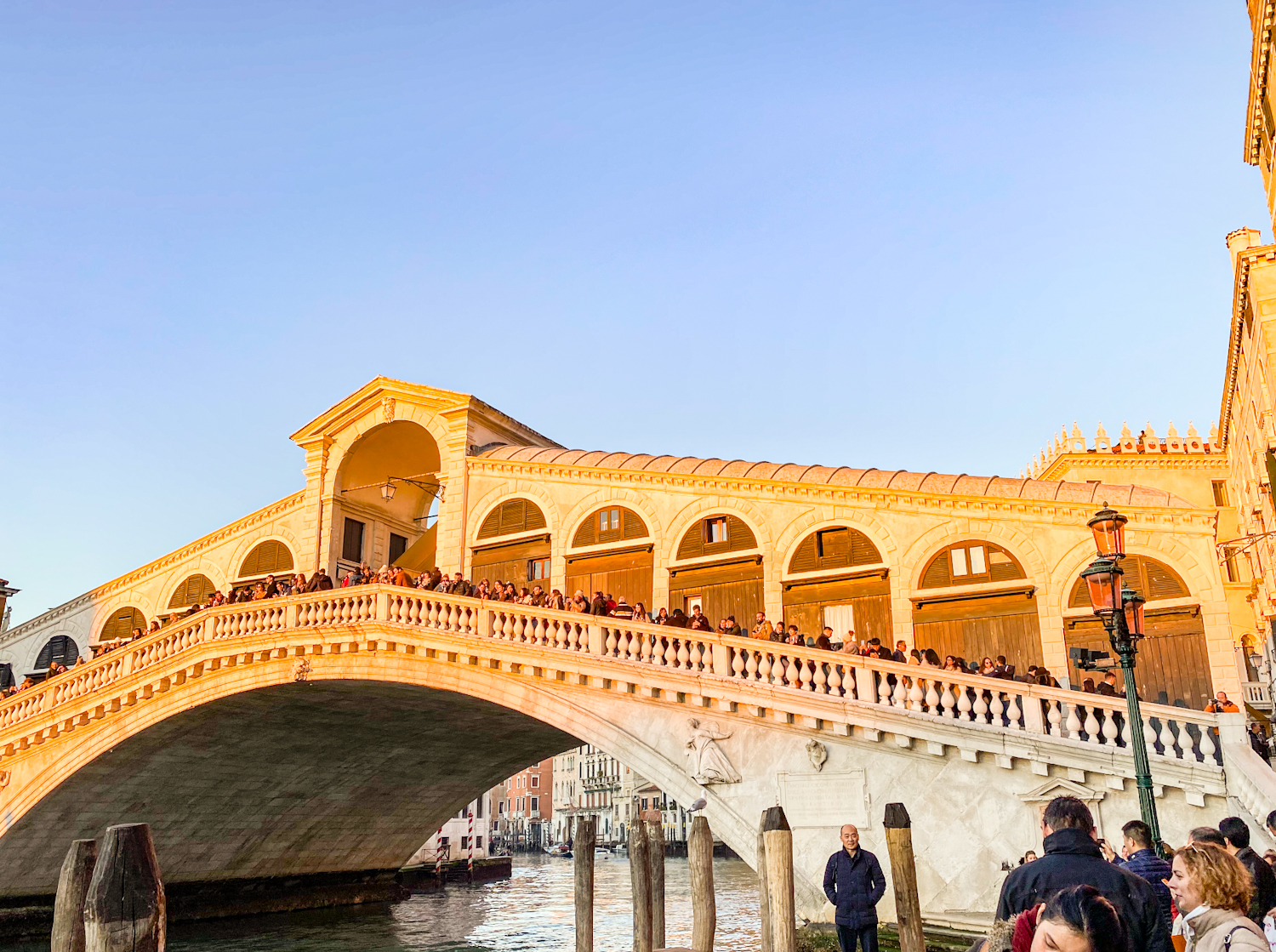 This is our top 10 things you must do in Venice. Would you have a different list? Then let us know in the comments below. What would make your list? Share your photos with us. We'd love to see them.
If you want to read about more places in Italy then check out our Top Tips for Visiting Assisi.
Thank you for reading.