Besides telling us about the adventures of a year abroad it takes us on a tour of magnificent Barcelona. So next time we are staying in Barcelona accommodation, let's explore the city through the eyes of Xavier, the protagonist of the story.
On his search for a place to stay Xavier, a French exchange student, ends up moving into an apartment in the Raval district with 6 other international students. As you can imagine, things could get a little crazy when 7 people from different countries live together barely speaking the same language. By the phone, for example, they hung up a poster with the same phrase in different languages.
When Xavier first arrives, he is a bit disoriented walking down Via Laietana with his entire luggage trying to find his way to the apartment where he is going to stay until he finds his own place. The following scenes will show Xavier crossing Plaça Reial. It is a beautiful square in the center of the city, a great meeting point full of live day and night.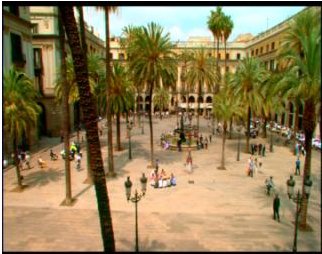 Xavier comes to Barcelona leaving his girlfriend in Paris. Being in a long distance relationship he wrote letters to his girlfriend for which he often went to Barceloneta Beach to sit on the promenade. However, over time and distance the relationship ran its course and made room for a chaotic love adventure with Anne-Sophie, a married French woman that he felt very attracted to. The movie shows several scenes of the two of them at important spots in the city or passing by them, for example Park Güell, the MACBA (Museu d'Art Contemporani de Barcelona) or the Sagrada Familia.
He becomes good friends with all of his roommates but his confidant is Isabelle who gives him advice on how to seduce Anne-Sophie. In the movie you will see them strolling down Las Ramblas, passing some of the mime artists that perform there.
But not only Xavier finds himself in tricky love affairs. His English roommate Wendy met someone in Barcelona, but she has a boyfriend in England who decides to come on a surprise visit. In a group effort the roommates cover up while Wendy is in bed with her affair. Xavier frantically runs home talking on the phone to one of the other roommates while the rest of the roommates also rush home from other parts of the city before Wendy's boyfriend gets there.
The movie takes the viewer on a roller coaster ride in Barcelona where the common language spoken is friendship. If you haven't seen it yet, I highly recommend this movie. It is funny, relatable and after watching it you will definitely be in the mood to book a trip and find apartments in Barcelona.