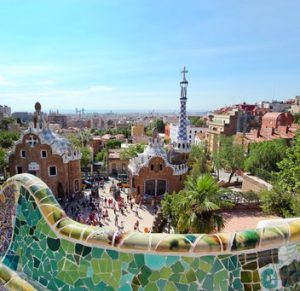 I had never stayed in a hostel before, and that was why I committed a cardinal sin when it came to booking a hostel room. Instead of booking a bed for one night and given myself an opportunity to see what the hostel was actually once I got there, I reserved – and paid for – a bed for multiple nights going by what I saw of the hostel on its website. (Please. Don't get out that wet noodle to give me a whipping just yet. There are more reasons to come.)
It happened six years ago. I'd never been to Spain and thought I would pay the country a visit. From what I had read about Spain in the guide books, Barcelona seemed like a good introduction to the country. There was the Gaudi Museum to see. There was the famous Las Ramblas quarters of the city to check out. And there was also the Pablo Picasso Museum (outside of which I had my backpack stolen out from under my nose by a few brazen thieves, but that's another story altogether).
A regular hotel room was beyond my budget, so I chose to go the hostel route. I went online and found a bunch of them. The plethora was too overwhelming, in fact, and it took me some time to narrow it down to one. What was the deciding factor? The hostel I chose was new and boasted of cleanliness – a quality I looked for in a hostel, and any other place for that matter. Once I got there, I would discover that the hostel lived up to its billing as clean. That was a plus, but it was a plus that paled in comparison to the minuses.
The Las Ramblas section swarming with tourists that I walked through to get to my hostel made my visit seem promising. The area was lively, spirited, inviting. Then I reached my hostel.
The place was new all right, and the person who did the interior decorating must have been an ex-con. Prominently displayed throughout the place were stark beams of steel and somber tones of stone. The mood of the hostel was so depleting, in fact, that while a handful of us tourists were sitting around the lobby waiting for our turn to use the computer and get on the internet, one of the other hapless tourists was compelled to remark as he surveyed the hostel's alienating interior: "I've never been in prison before, but this must be what it feels like."
The rest of us could only nod in agreement.
Despite the confining facets of the hostel, it didn't enter my mind to go elsewhere. I wasn't thrilled about sharing my room with five other people, but from what I'd gleaned on the net about other hostels in the area, that was pretty much the norm. Besides, since I was only going to be there for five nights and since I was going to spend most of my time out and about, I figured I could overlook the hostel's hostage-taking scheme.
That afternoon, I went out to explore. I merged in with the massive crowds that rambled around Las Ramblas. I marveled at the street performers, particularly a guy who'd transformed himself into a picture-perfect devil. He was seated on his throne. He was red all over from head to toe, and he was sporting horns that protruded from the back of his head. With a pitchfork at his side, he was captivating the encircled crowd of awed onlookers as he sat and grinned and sneered at everyone around him in good, clean, malicious fun.
Moving on, I walked past a police station, or "Policia," as the sign above the entrance read, and I stumbled upon a pension (pen -see on).
What the difference is between a hostel and a pension, I really couldn't tell you. All I know is that this gem I found was warm and inviting instead of cold and forbidding. Plus, the pension was set up so that each guest had a small room to himself, whereas the hostels I had looked into were set up to stuff as many people as they could into their dorm-like rooms. (Hhhmmm. Maybe that's the difference between a pension and a hostel.) But anyway, after I inquired with the front clerk who was a balding, older gentleman with a no-nonsense air about him, I learned that the price for a room at the pension was about the same as a bed at the hostel. I made up my mind then and there to switch my living quarters for the next five nights. I would be losing the cost of one night's stay as was the hostel's cancellation policy, but it would be worth it to have a room to myself. That's what I assumed, and that was how I set myself up for a rude awakening.
"What do you mean no?" I asked the plump woman back at the hostel.
"No, we cannot refund your money."
Maybe she misunderstood me, I thought. The cancellation policy stated on their website said if I cancelled my reservation, they would keep the cost of the first night's stay. That was fair enough, I conceded, as long as they returned the cost of the remaining four nights to me. Maybe this woman was thinking that I wanted the cost of the entire five nights returned to me.
I tried to clarify myself. "I don't want you to refund the entire five nights' stay. Just the last four nights. You can keep the first night."
"No."
I expected more of an explanation. When I saw there was none forthcoming, I pressed her. "But that"s what it said on your website!"
Her reply came prickly and abruptly. "No! No refund!"
A few seconds ago, I was dumbfounded. Now I was getting mad. I was about to ask her why again, but I saw that that would have been a continuation of the vicious circle. It was time to alter the course of this exchange. "I would like to talk to your supervisor," I told her.
"Why?"
It was my turn to answer prickly and abruptly. "Because!"
She kept her frozen stare on me, daring me to back off. When I didn't, she went and got her supervisor.
The second woman was as plump and uncooperative as the first. When she stepped up to the counter with the first woman behind her, I could tell from the callous countenance on her face that I would be getting more of the same treatment. Despite that outlook, I went ahead and gave it my best shot.
"Hi," I greeted the supervisor.
"No refund!" she spat out. Apparently, she'd been briefed on the situation, and apparently prickly and abruptly had given way to combative and angry.
The brick wall was looming in front of me. But if I was going to hit, I was going to hit it trying. "But your policy said . . ."
"No!"
I was at a crossroads. Here I was, a tourist in a foreign country. I didn't want to start any trouble. I could simply walk away, cut my losses, and absorb the $120 loss as a lesson learned. But, I couldn't bring myself to just walk away. There was a principle at stake. Moreover, the way these two women were talking to me was really goading my gall. If they didn't want to give me back my money, then maybe a body of law enforcement known as the Policia could persuade them to.
I squared my sights on the supervisor. I told her, "If you don't give me back my money, I will report you to the police."
Without blinking her eye, she shooed me away with her hands and snorted, "Fine. Go to the police!"
"I will," I promised her.
The "Policia" sign over the door was inconspicuous. I was afraid I would have a hard time finding it again, but luckily, I didn't. The officer at the front desk exuded the air of a veteran cop, i.e., you don't break the law and he won't break you. The man was in his fifties and had a headful of salt and pepper hair to go with his paunch of a stomach. (I can't recall his name, so I'll take the liberty of making his alias as "Bruno.")
As I approached Bruno, I didn't want to do what so many Americans I've come across in my travels have done – expect a person in another country to speak their language. I have never, and will never, say to someone with a demanding tone, "You speak English?" What I have done, and will always try to do, is to greet them in English. That way, not only is my greeting the start of a proper introduction, but it is also subtly saying to the other person, "Sorry. I don't speak your language. Can you speak mine?"
"Hello," I offered to Bruno.
He looked up from his desk. "Hola," he returned.
Uh-oh, I thought. This wasn't a good sign. I got the impression he was tired of English-speaking people coming into the station and expecting him to accommodate them in their language. I also got the feeling that if I pressed on in English, Bruno was going to be more than resistant. Be that as it may have been, I didn't have any choice. As much as I wanted to explain my predicament to him in Spanish, I couldn't. The only Spanish I knew were the words from a TV advertisement of a popular Mexican food chain in the U.S.A., and I was pretty sure "Yo quiero Taco Bell wasn't going to cut it.
"Um" I edged forward, "hablas Ingles?
Bruno gave me a grin I couldn't place. "No, hablas Espanol?"
I asked him if he spoke English. He said no and asked me back if I spoke Spanish. We were not off to a good start. He had a chip on his shoulder all right, but I could see where he was coming from. If I was at my work place in the U.S.A. and someone came in expecting me to speak their foreign language, I'd have a chip on my should too. Having said that, however, I have to admit the man was also irritating me. It seemed like he was going out of his way to be unaccommodating.
I was born in Vietnam and immigrated to America at a young age. English, for all intents and purposes, has become my native tongue. But, I still can speak a smattering of Vietnamese. When Bruno tossed out his ornery "Hablas Espanol?" (I now understood the nature of the grin), I was tempted to toss back, "No, hablas Vietnamese?" That, of course, would have gotten me nowhere. I needed his assistance and alienating him would not have been in my best interest.
"No, I don't speak Spanish," I replied, purposely putting a neutral tone in my voice while confirming that if we were to move forward, it would have to be in English. Two things could have happened at this point. Bruno could have insisted we speak in Spanish, and that would have thrown me into a roadblock without any detours, or he could have relented and opened up an avenue for me in English. Fortunately for me, he chose the latter.
Bruno raised his forefinger and said something that I understood to mean, "One moment, please." He went back to one of the offices behind the front desk and came back with a colleague. This officer was younger, probably in his late twenties, and a few decades away from the paunch that typically appears at middle-age. (I never got his name either and again, for the sake of convenience, will have to come up with an alias for him).
"Can I help you?" Carlos said.
Relieved that I could speak freely in English, I explained to him what had happened at the hostel and asked him if he could accompany me back there to help me get my due refund. Before he answered, he turned to his older counterpart and relayed in Spanish what I'd just said. To my gratification, Bruno was nodding his head as he listened to the translated account of my incident. Judging by his body language and facial expression, he seemed to be coming over to my side of the fence.
When Carlos finished his translation, he turned to me and said, "Okay. We go." By "we," I assumed he meant him and me. Subsequently, I was surprised to see Carlos and Bruno accompanying me out the door.
The lady who initially denied me my refund registered a look of shock when she saw me returning with two policeman in tow. She didn't even wait for one of the policemen to greet. She immediately hightailed it ran to the back and called out to her supervisor. Together, they returned to the front, both of them appearing more than apprehensive about this turn of events. (Did they think I was bluffing when I said I was going to the police?)
Carlos initiated the contact. In Spanish, he asked the supervisor what had happened and, in Spanish, she told him. Their dialogue was long and drawn out, but already, I saw the tide was going my way. Had it been an open and shut case on behalf of the hostel, I'm sure Carlos would have turned to me after he got the supervisor's version and said, "Too bad, so sad. You don't get your money back." As it was though, they were going back and forth, which told me that it wasn't a black and white case as far as Carlos was concerned. Furthermore, I could tell from Bruno's facial features that he didn't like what he was hearing coming out of the woman's mouth. His eyes never shifted to me to size me up. He stayed transfixed on the supervisor, his face growing darker by the minute.
Finally, Carlos brought the discussion to an end. He turned to me and said with resignation, "She said the rules on the website is wrong. After you pay, there is no refund." My hopes deflated faster than you could say, "Nice try. Better luck next time."
I turned away the brick wall I was flying towards and gave it one last shot. "You mean they can put the rules on their site and then ignore them?"
Carlos gave me a sympathetic nod and added, "Sorry."
That was that, I concluded. I tried to get the refund back myself. When that didn't work, I called in the police. Now that that didn't work, what else was I supposed to do? Take the hostel's management to Small Claims Court?
I shook my head and relinquished a rueful laugh. "Okay," I told Carlos, "thanks anyway." I started to turn away to go get my belongings out of the room when Bruno, the officer whom I'd started off with on uneven footing, unexpectedly came to my rescue. He swiveled towards the supervisor and tore in to her like a starving pit bull going after a juicy slab of raw steak. His attack and her defense was entirely in Spanish, but I could tell in essence what each was saying, and if I were to take the liberty of translating what they said in English, I would characterize the exchange as . . .
"What do you mean you won't give him his money back?" Bruno snarled at the hostel supervisor.
She hurriedly threw up her defense. "Like I just told the other officer. We don't give refunds!"
"Was it true what this Chinese guy said?" Bruno demanded to know as he pointed to me. "Does your website say you would keep the first night's stay and refund the rest?" (I can safely assume I was referred to as "Chinese" because I could have sworn I heard "Chino" – the Spanish word for "Chinese" in there somewhere.)
The woman's response was weak and kept getting weaker. "Yes, but . . ."
"But nothing!" countered Bruno, pounding his fist on the counter. "If that's your policy, then you give back the refund you owe him!"
At this point, I caught the expression on the faces of a few other guests of the hostel who happened to be present at the moment. By the look on their faces, I could tell that they and I were sharing a mutual concern; we were actually becoming alarmed that Bruno was about to lose it.
I was glad he was fighting on my behalf and all, but he was now leaning in, yelling at the supervisor, and practically frothing at the mouth. It'd gotten so bad that Carlos was stepping in between them and patting his colleague on the arm, saying something of a soothing nature to calm him down.
Whether the woman finally saw the error of her ways or was becoming fearful for her safety at the hands of the renegade policeman, she abruptly did and about face.
"Okay, okay! I will give him the refund!" she capitulated.
Bruno ceased in his attack but remained where he was, eyes still transfixed on the culprit of the day, nose still flaring at the offense she tried to inflict on the poor, innocent, unsuspecting tourist. (Hey, it's my story and I can heap as much sympathy on myself as I want to.)
The next thing I knew, the woman was cranking open the register and yanking a bunch of bills out of the drawer. Hastily, she counted out a sum that gauged to be the correct amount and slapped it down on the counter. "There! Your refund" she told me.
"Thanks," I said as I collected what was rightfully mine. With the money safely in my hands, I turned to Carlos and Bruno. "And thank you," I offered to the two of them.
Carlos nodded a "You're welcome" at me, but Bruno didn't say anything. He was still holding the supervisor in his angry stare, probably disappointed that she'd given up so easily and denied him the full wrath of his fury.
The younger Carlos patted his partner on the arm and gestured towards the door. With great effort, not unlike that of a wisdom tooth getting yanked out of its socket, Bruno released the woman from his stare and allowed himself to be guided out of the hostel.
An awkward moment ensued. Once the officers were out the door, it got icily silent in the hostel lobby. I could feel the two women of the hostel looking at me. I turned to them, surprised and yet not surprised, that the fear that was in those eyes moments ago when they were on the receiving end of a policeman's angry rant, were filling up with a new anger of their own. I was tempted to tell them, "See? If you had given me my money back at the beginning, none of this would have happened." But I'm not one to gloat (at least not outwardly). I knew when to take my money and run. Without a word, I went to the room in which I'd put my bags, loaded up, and left.
The stay at the pension turned out to be quite nice. Having the room to myself gave me a peace of mind that wouldn't have materialized at the hostel, and I have the Barcelona Policia to thank for that. For the remainder of my stay, it was comforting to know that the local Policia was always there should I need their assistance.*