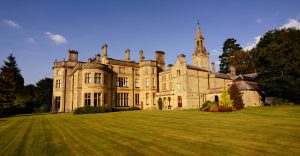 If Wales isn't already marked on your map for its luxurious lodging options, two North Wales hotels aim to persuade you otherwise. Country house hotels are riding a wave of popularity in the United Kingdom and Wales is on the crest. With televisions shows like Downton Abbey and The Crown basking in the global pop-culture limelight, Brits and foreigners alike are flocking to elegant, small hotels to feel pampered in a discrete environment. If you've always wanted to be treated like a royal, read on.
Palé Hall
Located in the tranquil Dee Valley in North Wales, Palé Hall opened for business in autumn, 2016. A country house hotel and gourmet restaurant in the classic British tradition, the 18 sumptuously appointed guest rooms are loaded with creature comforts that will satisfy the most discerning travelers. The common areas are perfect to relax with a cup of tea or a good book in front of the fire, perhaps with the owner's pup obediently at your feet. The extensive grounds are lush with perfectly manicured gardens creating a fairytale setting awash with serenity.
The Food
The property is already winning accolades for its fine dining. With Michelin-star Chef Michael Caines serving as culinary mentor and advisor, the luxurious menu utilizes the best seasonal produce, locally raised meats and just-caught fish for elevated farm-to-table dining.
Welsh cuisine's calling card is fresh ingredients prepared with a light touch to showcase their innate flavors. Don't expect molecular cuisine, foams and fluff. The kitchen is committed to nose-to-tail cooking so offal takes its place next to elegant items such as caviar.
Hands-on owners Angela and Alan Harper have spared no expense in getting this Victorian manor house in tip-top shape. Angela has spearheaded the decorating and she has true talent. They are committed to sourcing local yet they don't hesitate to scour the globe to find just the right piece to add the proper decorative touch.
You're in the shadows of Snowdonia here, so there are scenic views from nearly every window and plenty of natural splendor.
Portmeirion
Located along one of the most stunning swaths of coastline in North Wales, Portmeirion is like nothing else you've ever seen. This otherworldly village was built and conceived by visionary architect Clough Williams-Ellis. It presents a highly original fantasy of eye-catching architectural styles. Italianate piazzas that wouldn't be out of place in Portofino and classic Georgian and Arts and Crafts-style buildings are somehow a marriage made in eclectic architectural heaven. This Disneyland of brick-and-mortar glory is nestled among natural woodland trails, verdant gardens and seascapes worthy of as many Instagram posts as your followers will tolerate.
If you're old enough to recall the influential 1960s BBC television program The Prisoner, the exteriors were shot here. Viewers of the show (even The Beatles were fans) tend to be passionate and many make pilgrimages here to witness the rich imagery in person.
The village offers overnight accommodations, shops and restaurants, making Portmeirion an excellent base camp for exploring the region. Choose one of the distinct rooms in the village, the main hotel or in the castle, all oozing character and charm. They feature classic touches such as complimentary in-room beverages and delectable sweets. There are self-catering cottages as well. Pop culture vultures may select the room where George Harrison celebrated his 50th birthday.
If you lean literary, book the swanky room where Noël Coward wrote Blithe Spirit. I did and won't soon forget it.
Dining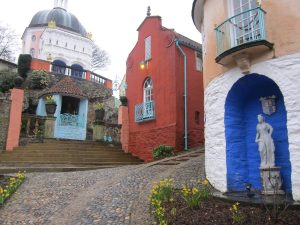 When it's time to eat, you're in luck. The dining room weaves regional ingredients into delectable food that looks like edible art. The kitchen offers tradition presented in new ways will tempt your palate without startling you. Head chef Mark Threadgill aims to please diners and he succeeds with plenty of panache. The tasting menu is guided by the season.
Wonders of North Wales
If this is your first visit to North Wales, get ready to be wowed. Majestic landscapes, rugged coastlines and castles as far as the eye can see make for stunning views. With Snowdonia at its breathtaking center, you'll never tire of the scenery.
If you're interested in history, you'll need to visit at least one of the Ring of Iron Castles. These four medieval fortresses were built by English King Edward I. They are very well preserved and well worth your time.
If you crave active adventures biking and zip-lining are just a few ways to soak in the landscape and breathe the fresh air.
Wales Coast Path
For hikers, the 870-mile Wales Coast Path is a dedicated footpath that follows the Welsh coastline. It offers an up-close look at local communities as well as unforgettable natural sights.
Keep your ears open and you'll hear the locals speaking Welsh, the ancient Celtic language that is experiencing a resurgence. Welsh people are a friendly lot. Strike up a conversation and you're likely to get a range of opinions on everything from Brexit to rugby.
For more information, go to www.visitwales.com
Photo credits: Palé Hall Hotel/Small Luxury Hotels of the World, Portmeirion and the author