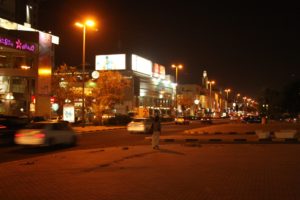 Staring out at the blackened waters of the Persian Gulf from high atop our hotel room near old town Kuwait City. The sun has obviously set and we are free to go out on the streets and eat food. 8 more days of Ramadan await us and our daylight appetites.
Upon flying in our flight attendant enthusiastically made an announcement, "If you would like to see a spectacular view of desert sand, please pull down your window shades". Based on her tone of voice we thought we were going to be seeing something truly special and quickly sat on the edge of our seats with our anticipatory positioning.
The second announcement was, "we will slowly be increasing the power of the air conditioning as we fly closer to the earth, the temperature outside right now is 46C or 115F.
Nice! This is dry dessert heat – the best and it feels **awesome**. Heck with the damn fog. It is the middle of date season and driving into town we've already seen our share of date palms.
Have to fly entirely around the world in order to see the effects first hand of global warming, b/c we sure as heck aren't seeing these affects along the cold coastal regions of western USA.
First international country I've been to where NOOOO paperwork required to fill out on the plane before getting here. For US citizens visas issued on arrival. Very simple!
Tons of shopping here with folks from all over the world. Many people in the service jobs from Asia and India – seems to be many people from Philippines.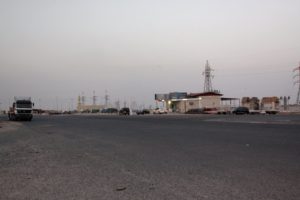 Today we crossed 12 lanes of traffic courageously or stupidly, (either way we made it and that is the important part to understand) to get over to the beach on the Persian Gulf side. At 1130pm tonight it was still well over 100 degrees with at times warm wind blowing.
Now watching Arabic soap operas at 4am. Still trying to recover from jet lag!!
We are ducking into large bushes and behind trees in order to drink and or nibble a snack. The heat here is incredible, like Las Vegas in the summer during a hot spell. We see people using umbrellas.
We rented a car and made a beeline for Iraq. As you know us we are not good with directions, and as you may also know Kuwait is a very small country. It took us almost 3 hours to figure things out and get on the right road to Basra, Iraq. Somehow we ended up driving the entirely wrong direction and ended up in southern Kuwait when we wanted to be in the northern part of the country. After about 2 hours we finally hit upon the "sun direction" technique and figured out what direction we were driving in.
Driving in Kuwait is very exciting and on the open roads people really air it out. There are traffic cameras but people seem to know where these are and slow down at the camera and then speed up again immediately after. Hey, there are EVEN signs warning you in places that there are cameras ahead!! Nice. We were really humming along at 155km/hour and then in blink of an eye a red Mercedes shoots by us like we were standing still…this car was going way over 200 kmph. Gas $1 a gallon….cheaper than water.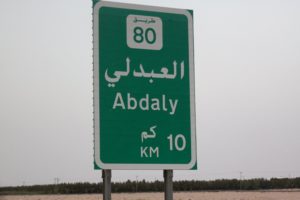 Also challenge because when you are driving at fast speeds there are bound to be slow cars in the lanes and have to quickly swerve around them all the while blinking your lights. Apparently after accidents the mangled cars are not removed from the sides of the road as we saw some real messed up pieces of metal on the sides of the road not even identifiable as vehicles
anymore…true roadside monuments to the hazards of driving here.
It is a lonely road late in the afternoon to Abdali, Iraq on the border. Its all desert, flat, smoky from the nearby oil wells which we could clearly see pouring their black smoke into the sky with the red fires coming from the pipes. Several permanent road signs indicated "god bless USA troops" along the way. Finally we arrived at the border at dusk – this particular border was ringed 200 meters with nasty looking barbed wire a few years ago as supply trucks were randomly being bombed on the side of the road as they passed into Iraq. We talked to fierce looking guard carrying big weapon and all he said was, "dangerous, go away now" – we talked to another Kuwaiti who spoke broken English and he indicated there was a bad problem at the border so it will be closed for maybe a few hours – normally the border is open.
We need to get Iraq visa to cross over – and then apparently its not much trouble to get across.
Several farms at border growing melons in the desert. Good stuff and will bring in our "Iraq border melon seeds" for attempt to grow during upcoming growing season. Stopped to use sand bathroom and someone sped away in cloud of dust leaving me all alone in vastness of desert.