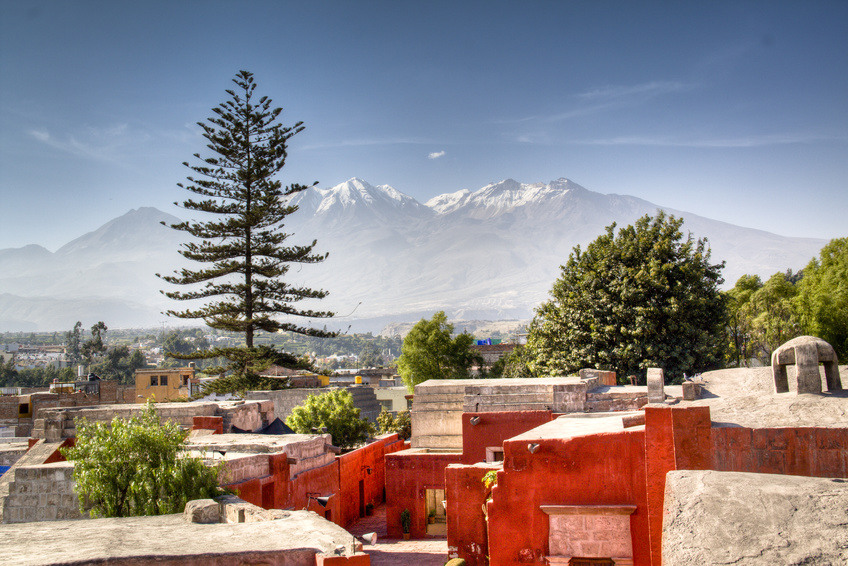 I just returned from watching the sun set on the sandstone cathedral in Arequipa's Plaza de Armas. I sat on the bench with ice cream cone in hand watching the trabajadores on their 3rd day of a hunger strike. Some hung on large crosses with steps to hold their weight and others lay on the ground in sleeping bags. This visual is a good entry point into the realities of South America.
After so many trips to lesser developed countries I find myself becoming inured to the poverty. I pass the beggars with a determined stride, knowing full well I can't possibly give money to every person who needs it. But last night I paused in the road, and a girl no more than 15 years old with her 2 year old son strapped to her back approached me. In that brief pause, my heart couldn't ignore her reality in the same way that is possible when I stride by full speed ahead. I handed her a few soles.
Yesterday we spoke to a 28 year old man in a small village in the heart of one of the driest desserts in the world. He passes day after day, stuck in a small shed, collecting the entrance fee to some old petroglyphs from the handful of tourists who wander through. In his free time (which is most of the time) he studies English and French from a book. His eyes sparkled when he heard we were from California. Television and internet are not a part of his reality, and yet he somehow held grandiose dreams about the United States. He treasures a US dollar in his wallet for good luck in life. He yearned to have a few US coins for a little more luck. Unfortunately, the only US coin I had was a penny, but his eyes lit up and he excitedly added it to his store of luck. To him California seemed to be the same mythical land of plenty first coined by the Spanish writer Montalvo in the 16th century. He told us he feels ¨stuck'¨ – literally trapped in the middle of the barren wasteland, with a mind holding potential for something far greater than his reality would allow. He has been saving $200 a year and in one more year he will have saved enough to buy a $2200 car which he will then use to start a chauffeur business for tourists. His goal motivates him to pour over his language books alone in his shed day after day. What a good reminder of how our lives are simply the luck of the draw!
In all my travels I have never seen such arid, dry, downright ugly landscape – such a contrast to the awe inspiring mountains I hiked through last year in this same country. Outside of the verdant river valleys, absolutely nothing grows in the desert, not even cactus. I served as my mother's personal stenographer yesterday during our tour through the dessert. The following were her comments along the way:
– This place is like Nevada on steroids. Makes Norway look like the Garden of Eden. I'll never complain about Nevada again.
– Jesus, there are a lot of dead bodies here (referring to the crosses on the side of the roads, where cars flew over cliffs and plunged down sand dunes to their deaths)
– Peru not only invented potatoes, they invented rocks. (At times our narrow road meandered through mountains of rocks just waiting to fall in a massive slide and obliterate our source of transportation)
– I can't imagine my Mom (my grandmother) surviving this trip.
– I can see why the battles of the future will be over water.
At our final destination through this barren wasteland, we arrived in the middle of a sand dune with boulders strewn on the hills and wind fiercely blowing. 10,000 petroglyphs were carved into these rocks 1200 years ago. As I imagine the Wari tribe climbing into the mountains above their verdant river valley, braving the fierce elements of wind and sand, to draw these crude pictures of daily life, I am struck by a certain poignancy and sadness. Amidst the daily grind for survival, the Waris found time to artistically convey something of their reality, over and over and over again, on 10,000 rocks. And yet their artistic expression was so primitive, capturing nothing but the bare outlines of animals and human stick figures in scenes that still exist today across the world – shepherds with staffs herding their sheep.
With just a few days of Peru under our belt I am reminded how getting by down here is all about entering into the Circle of Trust, building connections with friends of friends of friends. We are staying with David's friend in her 3 story flat. We have access to a private chauffeur who takes us wherever we wish to go at any time of the day and to the friend's maid who caters to our every whim. This way we avoid the bad taxis. Get into the wrong taxi and you may not get out alive, they tell us. A little money too helps when the Circle of Trust doesn't extend where it needs to go. The other night we had dinner with the Peruvian ambassador to Finland. The ambassador paid the waiter in the restaurant to watch his car so that it wouldn't be stolen. Another day, while dining we needed a cell phone, so we told the waiter we would give him a few soles if he could lend us a phone. He ran out onto the street flagged someone down, and she brought us her cell phone and we exchanged some soles.
For as much as we hear about muggings, theft, robbery, murders, etc., we come across genuine integrity. People will tell us if we are giving too large of a tip, and that they simply can not accept our generosity. Others come up to us to assist us when we look dazed.
Our dinner with the Peruvian ambassador (who also seems to own half the businesses in this area, including the famed Najar alcohol for which his last name derives) proved quite interesting. He was passionate about politics and in no uncertain terms he told us that it is ¨time for the US to eat it's own soup.¨ If the soup were as good as the Peruvian Chuppe de Camarrones, this wouldn't be bad punishment. Mr. Najar is astounded by the fact that the corporate corruption that has led to our recent decline goes unchecked. In Peru those businesses would have been left to fail. The US, he says, has lost all moral authority. And China, the next empire, is not a good role model either. Unfortunately, he doesn't speak like this, he says, when he meets with the US ambassador to Peru. Unless the masses speak out, who will?
Tomorrow we are off to the Sacred Valley and Machu Picchu, into the mountains and the jungle. Buying tickets today for MP was one of the bigger headaches in my travel history. This is a country where things don't always work, but everything always works out. First, the internet at the local cafe wasn't cooperating, so we went to the Peru Rail office, which turned out to be the train station, but with no office. Then we went to a local travel agency which took 2 hours to communicate our needs with a 3rd part via instant messenger. The 3rd party kept getting distracted, and our internet kept shutting down. Finally, out of exasperation, I burst into tears. After 3 hours everything worked out.
Saturday, November 21
Greetings from the Sacred Valley
Estimado amigos,
It's pouring right now in the mountains of la Valle Sagrada, and so its a great time to muse on the day's experiences. I hope you enjoy entering into my musings.
La Valle Sagrada reminds me a bit of the mountains in southern Laos, with green mountains jetting into the sky, and an aura of mystery with the shroud of clouds. Today we took off for the mountain villages. First we stopped to watch a village wedding. Two Inca ancestors stood with their wizened faces from a life of hard labor, dressed in the traditional colorful hoop skirts but for the occasion the woman had removed her cowboy like sombrero – an appendage from the Spanish conquest, no doubt. They were probably younger than me, but here women age quickly from the elements and hard labor. While their youth dissipates rapidly they never lose the genuine, forthright expressions that so frequently get lost among twenty somethings adapted to citified life at home. What you see is absolutely what you get with these women.
The bride and groom stood unsmiling, holding a beautiful bouquet of flowers, waiting for the civil ceremony to begin. They were surrounded by village women in the same colorful skirts, with their characterful top hats, and wool blankets tightly draped around their backs, with their infants inside. For any American the tightly wrapped up baby in the blanket on the back would be considered abusive. To the unsuspecting tourist, one might think these women were carrying vegetables or firewood on their backs. But then amazement dawns, when I hear the babies cry from within. The mothers shake their baby packs on their back, then swat them with their hands. If the baby continues to cry they take their pack off and lay it on the ground. At that point, I realize those babies are tightly wrapped up from head to toe in thick wool blankets. They are introduced to the intense physicality of life from the moment they are born. Perhaps the tight wrap limiting their oxygen might quickly adapt them to the high mountain life as well.
After the wedding we stopped to help till the fields with my dad holding the till behind the cattle. Entire families hike up the hills from the village to their field, and spend from dawn to dusk tilling and planting. The man drives the cattle, plodding in a long straight line back and forth, slowly creating one new row of tilled land after another. The women follow with potatoes in hand throwing each one into the field about a couple feet apart. Who knew for us citified folk that potatoes grow from potatoes. But of course, with a little thought, that makes absolute sense! At lunch, a few additional women drive the home cooked food and some chiccha morada up on donkeys to their family in the fields. Thus goes life, day after day. These women here seem to carry the burden of survival on their shoulders. Literally they carry a papoose on their backs for probably a good 10-20 years. While the men might show up to till the fields, the women cook the food, hike to the fields, knit in their downtime, tend to their children, hike back home, and make dinner too. And then of course, there must be laundry somewhere in the daily grind. I can't help but think that a similar burden at home, without the same intense physicality of daily life, still falls more on the woman of a family with two working professionals. No wonder the founder of the Grameen bank purposefully gave his micro loans only to women around the world!
It seems strikingly odd to be able to communicate perfectly well with these villagers. I am so accustomed to marveling over the lifestyles of villagers across the world, without ever being able to communicate.
I am absolutely disgusted by the segregated life down here. It doesn't take a genius to figure out that white Peruvians are generally the wealthy class and darker Peruvians are part of the poor class. While in Arequipa we passed our evenings dining in very fine restaurants. Most of the white Peruvian businessmen would eat there as well. Every time a new group of men dressed in business suits entered, they would scan the room to see who might be more powerful than themselves dining in the same establishment. A clear pecking order exists, and when our Peruvian ambassador friend unexpectedly walked in and greeted us, we became a part of the circle to be eyed. Sort of like some women do at home when they scan the next lady to check out what she's wearing and to figure out whether they can be at ease or threatened in her presence. I'm afraid I am not too open minded to the possibility that these men are doing good work down here to bring the poor out of their plight. I wonder how it's possible to live in this Peruvian world and not be deeply affected by the poor and driven to positive action for the good of the people. But then I suppose as happens to the best of us, including myself, we slowly over time get inured to uncomfortable realities. It's easy for any of us to turn an eye away from discomfort, to be complacent in our privileged life, to focus on growing our own wealth, to be blinded by marketing messages that define our life's aspirations, and to lose awareness that our privilege is at the expense of another's poverty.
I can't help but find irony in the masses from around the world thronging to Machu Picchu, romanticizing the place and reveling in the beauty and mystery of the lost culture, when the reality is the Incan ancestry still lives on today in Peru. The largely unnoticed indigenous poor, the ancestry of the Incas and the many preceding empires, live in poverty, the result of a conquest more than 500 years ago and continued inequality. On that note, we are off to Macchu Picchu tomorrow to revel in the aura of the place that draws so many!
November 24, 2009
Greetings from Cuzco!
Buenas tardes, amigos,
The travel tales continue… Today we meandered through more of the Sacred Valley and climbed the Incan ruins.
My mom and I are both fascinated by family life here. Today we sat next to some women, their children, and their lambs. During the spring time as it is down here, all the Quechuan women carry baby lambs for photo opportunities with tourists. Whenever we take a picture some Quechuan woman pops in with an adorable lamb for me to hold. As we sat next to the women and their animal and human offspring, we were struck by how tenderly these women nursed their baby lambs with bottles, caressing them and holding them endearingly. For these young women who are sometimes no more than 15 years old, the lambs seem to capture their tenderness in a way their children do not. Contrastingly, their children seem like no more than a sack of potatoes in a blanket on their backs (I think I would suffer from suffocation anxiety for the rest of my life). The mothers know instinctively what their children need, when to change their pants (no diapers ), when to take them out of their suffocating wool sacks, and when to feed them. There is no sense of walking on egg shells around their new borns. Babies seem as common to daily experience as computers are to our lives. To the casual observer, there appears to be nothing tender or endearing in the way the Quechuan women treat their children. The children are part of their daily life, but certainly not the focal point of their attention, like young children often are at home. Likewise the children seem to pick up some instinct for survival at a very early age. Two year olds were crawling around the cliffs, while their mothers sat nonchalantly nearby. The toddlers also don't seem to stray too far, sitting quietly next to their mothers as they knit or nurse their lambs. We couldn't help but also notice that these toddlers didn't seem to have much spirit in their faces, sort of like they had adapted themselves to the sack of potato treatment.
Funny thing happens here that have never happened on my other travels. Three times now I have been walking in silence and within seconds I am swarmed by teens and twenty somethings sort of like one might be mobbed by hungry pigeons. At first I assumed they wanted me to take their picture, but no. I quickly learned that each one of them wanted their individual portrait with me. The first time this happened a teacher sat down next to me and asked her colleague to take a picture of us. Within seconds their entire class of teens swarmed me and all wanted pictures. I was struck by how kid like the teachers were, enjoying themselves as much as their children, and acting about as silly. No professorial austerity for them. The class whistled and hooted when I put my arms around the teachers. Today, the same thing happened with a bunch of teens and families. One family wanted their picture with just me and their 2 year old and the rest of the teens wanted individual shots. My poor Dad was left in the lurch. I suppose I should capture my Hollywood moment wherever I can get it!
We enjoyed a wonderful visit to Machu Picchu the other day. The views were incredibly spectacular. The Incan emperor built his winter retreat home here, with the same sort of bold brazenness that the US displayed when building Las Vegas in the dessert. In my wildest dreams I can't even fathom moving hundred ton rocks at a time up steep cliffs, and then shaping them with simple tools into incredible walls. The Incans are known for their masonry, and it really is mind boggling. I can only imagine how many serfs died in the process of building Macchu Pichu in the same way that thousands died in the making of Diocletian's palace in Croatia. Decadence anywhere seems to breed the same inhumane treatment of the less fortunate.
I am always struck by the mentality of massive tourist groups who wander through spectacular beauty such as Machu Picchu with their cameras plastered to their faces. Some were even sitting in lotus positions with their hands face up, meditating, and others were doing Tai Chi. When people come all the way to Macchu Picchu to meditate, I cant help but think they may be trying too hard at life. All you really need to do is pause in silence, throw the camera over the cliff, open your eyes and look. The Latin American poet, Pablo Neruda got it right when after a fallow period in his writing, he wrote about Macchu Picchu as that which gave him `la proffesion de fe para la continuacion de mi canto' (the profession of faith for the continuation of my song). Such beauty can inspire the song in any of us if we just pause to listen.
A little about Incan history: When the Spaniards arrived they were already weakened by the epidemics the Spanish brought to Mexico which were making their way south to Peru. Additionally, two competing heirs to the Incan thrown threw their empire into a Civil War. In addition to already being weakened, this empire that was no more than 200 years old was definitely not ready for the Spanish fighting tactics. While the Incans always paused fighting with the enemy during harvest time, the Spaniards plowed right on through. Even more shockingly the Spaniards ignored all etiquette of proper treatment toward enemy emperors when no more than 200 Spaniards captured the Inca emperor Atahualpa in front of 40,000 fighting Inca warriors. Perhaps Pizzaro and his men were emboldened by Cortez's brass move in Mexico when he captured Moctezuma in a similar way. The Incans realized too late that the Spaniards were most vulnerable when they had to disembark their horses to climb the steep steps up the mountains. Had they realized this earlier, history might have been different, for at least a time being. When on their horses and with their steel weapons, the Spaniards were impossible for the Incans. Only some 200 Spaniards successfully fought up to 100,000 Incans!
Saturday, November 29
Happy Belated Thanksgiving!
Thank you for your notes. I hope for those interested that you've been able to enjoy a glimpse of Peru through my adventures. I am pleased to report that we are now safely back stateside. Twice in a row now I've celebrated Thanksgiving in Peru, and the glaring contrasts between life in Peru and California prompt some reflection on what I and my parents are most thankful for.
I know my mother is most grateful to be at home with a toilet that accepts the toilet paper. She plans on hibernating in our home for a week before she is ready to face the world again. I know my father is grateful for having successfully avoided all the dangers our guidebook warned us about, including "choke and grab" attacks," surprise yankings of tourists out of stopped taxis, and pick pocketers. And I am most thankful to live in a country where even suburban sprawl looks beautiful, where homes exist with yards and without iron rods and barbed wire around the property and windows, where traffic is linear and sane, where stop lights actually exist, where poverty and shantytowns and half built buildings aren't the 100% norm, where trees and flowers line freeways, where the coastline is still beautiful, where car fumes mixed with dirt aren't the common public smell, where the wealthy can pursue daily living without needing to avoid routine in order to avoid kidnapping, and where in the Bay Area all ethnicities can enter a discoteca without being discriminated against and where there is no stark segregation between wealthy whites and the rest.
Travel is also an excellent source of critique on our own culture. I am not grateful for a culture that subtly programs and manipulates its people in ways that usually go unnoticed unless afforded a contrasting experience. With only a relatively short plane ride between Peru and California, I was bombarded with noticeable and disturbing contrasts between the two places as soon as I arrived at the LAX airport. I was thirsty so I immediately sought out a Starbucks for orange juice. In Peru street vendors are everywhere selling cherimoya juice, mango juice, papaya juice, lucma juice, orange juice, pineapple juice, maracuya juice, etc. Peruvians (and many other tropical places in the world) enjoy these juices because they taste great and over the centuries these juices clearly have proven a nutritious record too. There is no mind boggling selection of juices with various energy and vitamin supplements manipulating people into believing that something more is needed in their juice. There is no marketing pitch screaming out the nutrition details with the breakout of calories and carbohydrates. However, back in California at LAX, I read that Odwalla proudly "blends the best ingredients from nature with the latest learning in nutrition to create products bursting with living flavor that nourish your body, mind, and spirit." Odwalla's mission statement is "nourishing the body whole." How does orange juice accomplish such preposterous claims? I also can't help but notice a cultural proclivity for using words that are often nothing more than jargon masquerading as meaning. And I also wonder what sort of deep seated control freakishness the food industry might be responding to in our culture by creating pitches that leave us believing in "energy additives" and dissecting our food into calculable quantities. Ironically, Americans are the ones who suffer from obesity and poor diet.
On that note, I always remain grateful for the perspective travel provides and for the desire to bring that perspective to my daily life. Thank you for always accompanying me on my trips and providing an outlet for my thoughts.
Biography
Elizabeth is an avid and introspective traveler and a regular contributor to Dave's Travel Corner.