During a busy and fun-filled getaway weekend, my husband ("Mr. TWS") and I visited El Dorado County, South Lake Tahoe, and Carson Valley, Nevada. These three Sierra Nevada locations, easily reached from the San Francisco Bay Area and many other places in Northern California and Nevada, can be enjoyed as individual destinations or an itinerary trio. We packed a lot into three days (and would recommend taking much more time), but we got a good feel for what each area has to offer. Here are some of our recommendations for things to do during your visit to El Dorado County, South Lake Tahoe, and Carson Valley.
Head for the hills: El Dorado County
Only a bit over a two-hour drive from the San Francisco Bay Area or Reno and less than an hour from Sacramento, El Dorado County, California is convenient for a break from bumper-to-bumper, rush hour traffic, and metropolitan area daily life.
Drive
A leisurely drive through the hills of El Dorado County north or south of Highway 50 and east of Highway 49 is worth the visit alone. There are easy two-lane roads that wind through the woods, farmland, orchards, and vineyards. The drive was beautiful in November but would be lovely any time of the year. It would be enough of a reason to take a detour off the highway, but there's much more to enjoy in El Dorado County.
Taste
Visit some of the 70 wineries of El Dorado County and do some wine tasting. Though Napa and Sonoma may be more well-known, El Dorado County was producing wine in the mid-1800s and has two of its own appellations. The wine industry here declined after the Gold Rush, but it was reinvigorated in 1973 when the Boeger family started their winery, followed by four others by 1980. However, many of the vineyards in this wine region were established in the 2000s. Most of the vineyards produce small lots with the primary varietals being Cabernet Sauvignon, Merlot, Syrah, Grenache, and Barbera. Although the reds are most popular, the Viognier and Roussane white wines are also excellent. Currently, tastings are free at the El Dorado County wineries.
We visited these two wineries:
Miraflores Winery overlooks 40 acres of estate vineyards and is beautiful inside and out. The tasting room has a 16th century Provençal countryside design combined with modern art pieces, ceiling beams constructed of historic salvaged wood from the Port of Oakland, and Mediterranean stone flooring. We tried their award-winning Viognier, Zinfandel and Barbera wines on the terrace overlooking the vineyards and while admiring the art in the bright and pleasant tasting room.
Narrow Gate Vineyards, a Demeter Certified Biodynamic® farm, is a lovely small winery just down the road from Miraflores. Narrow Gate's tasting room has an intimate French ambiance and cozy décor. We enjoyed their signature red wines, but my favorites were the 2012 Estate Viognier Rousanne and the unique Chocolate Splash, a blend of six Port varietals with bittersweet, natural chocolate essence.
Get fresh
Taste apples and other local produce at the orchards and bake shops of some of the 50 farmers of the Apple Hill Growers Association. The area is informally referred to as "Apple Hill", a name taken from the association of apple farmers, but it fits the peaceful rural setting in the hills. Not all of the apple farms are open year-round, but from early September through December the area really comes alive with out-of-town visitors as well as local residents visiting the ranches for apple picking, picnics, music festivals, baked goods, and entertainment for the kids.
Larsen Apple Barn is one of the oldest of the Apple Hill™ growers going back six generations.They also are proud of being the "Home of the Original Apple Turnover on the Hill". Larsen grows over 20 varieties of apples and we sampled several delicious slices.
Rainbow Orchards is a family-run farm since 1977 that is popular for its Hot Apple Cider Donut as well as musical events. There are also activities for the kids including their "Hay Bale Hop".
Explore
Take the self-guided tour of an authentic hard rock gold mine at Gold Bug Park and Mine. Although I'm not a fan of close spaces, I had no problem taking this tour that goes 352 feet back into the mine. The tour was well done, pointing out key aspects along the way with a combination of humor and authenticity provided in the voice of an old Gold Rush prospector. There is also a working blacksmith shop located in the park where you can watch two blacksmiths at work using equipment that would have been used in early days.
Stroll
Originally known as "Hangtown" during the Gold Rush, there are numerous historical landmarks and several of California's oldest buildings in Placerville. The name comes from the history of hangings that took place there in the town's first years; sentences were determined by an informal citizens' jury and the hangings were performed promptly. You can see the "Hangman's Tree" landmark on Main Street. Other notable structures to see in town include:
The bell tower on Main Street – a monument to the city's volunteer firemen.
Placerville City Hall — built in 1860, originally housed the Confidence Engine Company.
Placerville Hardware — oldest hardware store west of the Mississippi, first established over 150 years ago.
Robinson's Pharmacy — established in 1932, the shop still has its iconic Rexall drug store sign.
Fountain-Tallman Soda Works — Placerville's oldest building (1852) with 2-ft thick brick walls to keep ice and soda cool.
Dine
Smith Flat House, about three miles east of the historic downtown, supports local farmers, winemakers and other food producers in its homemade seasonal dishes (our lunch selections shown above). Originally a hotel built in 1853, there is an opening in the cellar to the old Blue Lead Mine which you can view through a hole in the wall. The beautifully well-preserved building has also served as as a stage coach stop, general merchandise store, post office and community hall during its 135 years.
In downtown Placerville, the menu at Bricks Restaurant includes burgers, sandwiches, pizzas, steaks, and comfort food like meat loaf. I chose Chicken Cavatappi, a pasta dish with grilled chicken, bacon, artichoke hearts, tomato, basil & smoked Gouda. Mr. TWS had shrimp sauteed with cognac, butter, shallots, and garlic. Both entrées got our top ratings.
For breakfast, try Sweetie Pie's located in a lovely Victorian building, one of first homes on Main Street, presumably the home of the sheriff of Hangtown. I had Olallieberry pancakes and bacon and Mr. TWS had a vegetarian omelet. Thumbs up all around for the food and the homey atmosphere.
Sleep 
The Historic Cary House Hotel is conveniently located in downtown Placerville for all of the activities in the area. Nicknamed "The Jewel of Placerville", the hotel lobby is decorated with period pieces, antiques, stained glass windows depicting the four seasons, and a mahogany staircase leading to the guest room floors. It's said that the hotel is haunted and we talked to staff about very interesting and eerie tales, but our stay was uneventful. While our suite on the 4th floor (a newer addition supposedly not inhabited by spirits) was comfortably equipped with modern conveniences, it was furnished in period décor that made us feel like we stepped back a century. Haunted or not, the hotel is a lovely place to stay.
On the waterfront: South Lake Tahoe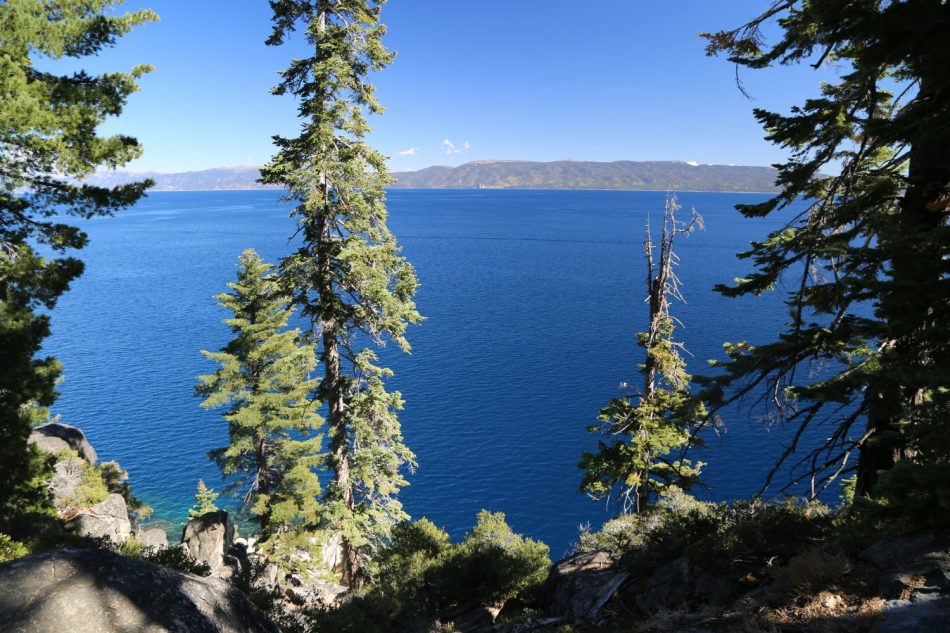 Many people think of South Lake Tahoe as a skiing destination – and it is a great one with Heavenly Valley's slopes and other resorts nearby. But you should definitely consider it for a great getaway any time of year.
Cruise
The "Scenic Emerald Bay" cruise, one of several tours available through Lake Tahoe Cruises on either on the M.S. Dixie II or Tahoe Queen, is a great ride and provides awesome views of Lake Tahoe and its surrounding hills and mountains that can only be seen from the water. The cruise starts from the harbor at Zephyr Cove, Nevada and heads west across the southern end of the lake toward Emerald Bay on the California side.
Reaching Emerald Bay, the boat does a slow circuit around Fannette Island, the only island in Lake Tahoe. The tour narration points out interesting aspects and tells many Tahoe stories, including one about Vikingsholm, the "summer home" of Mrs. Lora Josephine Knight on the shore of Emerald Bay and the tea house (slightly visible on top of the island in the photo above) she had built on Fannette Island. On the ride, you'll also hear the odd tale of the Hermit of Emerald Bay, 10-year (1863 to 1873) inhabitant of the island Captain Dick Barter (and his ghost).
Drive
After the boat cruise, take a scenic drive on Highway 89 to the top of the cliff above Emerald Bay. The road is scenic, fun, and even exciting at some points with hairpin curves and steep drop-offs (some without guard rails).
Spa and Stay
Directly on the south shore of the lake and convenient to area restaurants and nightlife, Tahoe Lakeshore Lodge and Spa has an ideal location. Our Corner View Room was spacious (with a full kitchen) and yet cozy with a fireplace, and it had an awesome lake view.
Pamper yourself with a spa treatment at the lodge's Elements Spa. We had a couples massage (Mr. TWS's first massage ever). Our skilled masseuses met us in the lobby and walked us to a couples massage room, nicely appointed with calming scents and sounds. Casual and relaxed (not at all pretentious), it was perfect for Mr. TWS's first spa experience.
Dine
Get a table by the window at the Riva Grill (just a short drive from the lodge) to get lovely views of the lake as you enjoy a delicious meal. It was Pan-seared Wild King Salmon for Mr. TWS and Seared Diver Scallops for me. A specialty, their Banana Cream Pie was unlike any other I've had, especially because of the graham cracker shortbread crust.
Take in a show
Just a short way down Lake Tahoe Boulevard across the state line to the aptly named, Stateline, Nevada, is Harrah's Lake Tahoe. Besides the games in the casino, Harrah's has plenty of entertainment. In the South Shore Room all the seats appeared to provide a good vantage and there was a small service bar on either side of the room. We saw a great performance of The Spinners, the popular 1970s group who had hits such as (my personal favorite) "I'll Be Around".
Down in the valley: Carson Valley, Nevada
Come here to relax, hike along the river or into the foothills, breathe the fresh mountain air, and enjoy a Basque experience.
Enjoy the scenery
Get a glimpse of the Carson Valley from the summit of the Carson Pass Highway (CA 89/NV88) where the scene evokes thoughts of the early West. You may also see some amazing cloud formations as we did; we later learned the unusual, smooth flying-saucer-shaped formations are lenticular clouds.
Hike
From easy to advanced, there are about 16 miles of hiking trails in the Genoa Trail System for hikers, mountain bikes, and horses, each accessible from the historic town of Genoa. Just east of town at the Nature Conservancy's River Fork Ranch is an easy nature walk meandering along the Carson River to the confluence of two of its branches.
Imbibe
After your hike, head into town to the Genoa Bar, the oldest bar in Nevada. Sit at the old bar sipping a beer or cocktail while watching a lively game of billiards or exploring the many artifacts of the old west. Behind the bar is a huge mirror that was made in Glasgow, Scotland using diamond dust and installed in the bar in the late 1840s. The bar has been a movie setting for such films as The Shootist and Misery. Several famous people have visited over the years including Mark Twain, Presidents Ulysses S. Grant and Theodore Roosevelt; Carole Lombard and Clark Gable; Lauren Bacall, Willie Nelson, and Charlie Daniels. Its history and fun adornments make stopping for at least a quick drink a must do.
Stroll 
Minden, Nevada is an old railroad town that was created when the Virginia & Truckee Railway was extended from Carson City to Carson Valley terminating on the location that became Minden. Construction began in 1905 and the first train arrived in 1906.
The Farmer's Bank of Carson Valley is on the National Register of Historic Places. It was town's second building, built in 1909. The bank was relocated to a larger building across the street in 1918. Since then, it was the Minden Post Office until 1974, and is now the Bank Parlor and Pub.
Dine
Have breakfast at Woodett's Diner in Gardnerville. Don't be dissuaded by its location at the end of a small strip mall along Highway 395. They serve a very good breakfast with many menu options. I really enjoyed the pancakes, which are huge, and Mr. TWS had an omelet — perfect comfort food (particularly on a chilly morning like the one when we visited).
Minden Food Company is a large modern restaurant and bar along historic Esmeralda Street. It has three dining sections, two bars, and a private lounge. A mural painted by San Diego artist Kathleen King in one of the dining areas (partially shown top right above) grabbed my attention.
Dining at J.T. Basque Bar and Dining Room, a vibrant restaurant in Gardnerville (a town adjacent to Minden) is more than a meal – it's an experience. There is an immediate sense of being in a rustic European setting, where friends and neighbors gather together to enjoy hearty meals and wine. The experience starts in the bar where you can enjoy Picon Punch, a traditional beginning to a Basque dinner, particular to the American West, made with brandy and Picon, a potent orange-flavored bitters prevalent in the Basque Country and France. Each meal includes a choice from a list of about 10 entrées each of which is part of a full multi-course dinner including soup of the day (this day's was delicious, chock full of fresh vegetables in a beef broth); salad and French bread; stew of the day (this day's was beef tongue and carrot stew); followed by the entrée with Basque-prepared beans and French fries; and ending with ice cream, a perfect desert after such a hearty meal. Mr. TWS had a type of bass for his entree. I had a top sirloin with lots of chunks of fresh garlic.
Stay
Carson Valley Inn is a popular establishment in the valley with 150 rooms which were remodeled in 2011 and 2012. Our deluxe room on the 2nd floor was spacious and had a view toward the Sierra Nevada beyond the parking lot below. The king size bed was very comfortable, the wi-fi was free and reliable, and the location is convenient to the Minden and Garberville downtown areas. The inn has a large bustling casino which was completely remodeled in 2010 and includes the Cabaret Lounge with nightly entertainment. It's important to note that since this is a Nevada hotel and casino, smoking is allowed in the casino and in some rooms. If you are a non-smoker, be sure to ask for a non-smoking room.
Sierra getaway round up
El Dorado County, South Lake Tahoe, Carson Valley – choose one or visit them all. One could easily spend a few days or longer exploring more of each of these Sierra foothill, valley, and lake destinations. We'd like to visit all three again and take more time, knowing there's more to explore and enjoy year-round.