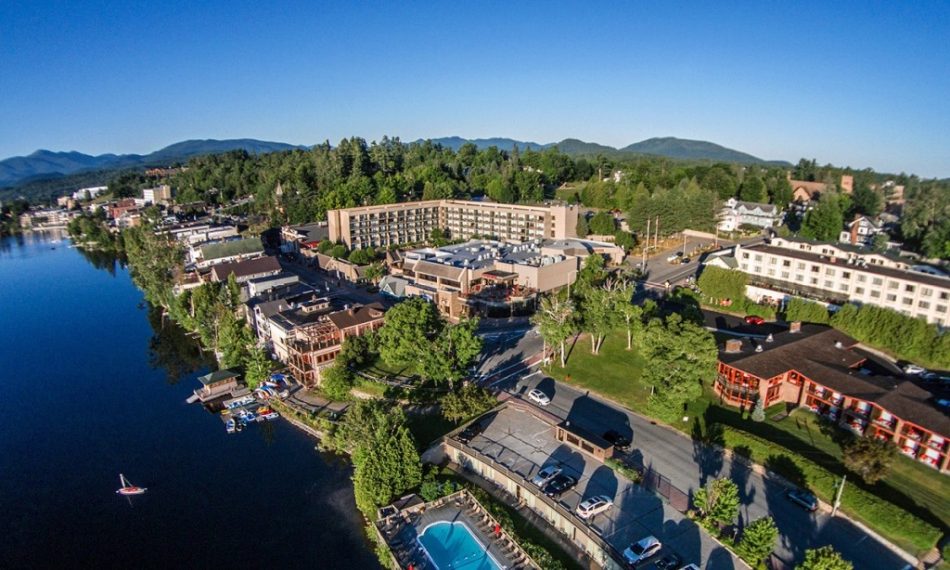 Tucked above Main Street overlooking the shores of Mirror Lake The Resort at High Peaks was originally built as the Lake Placid Hilton in 1980 to accommodate Winter Olympics crowds. Much later in 2008 it experienced a rebirth with a complete overhaul redeveloping every aspect of the property except its original footprint.

The Resort at High Peaks exudes a lake front retreat vibe rather than in-town hotel until you descend a stairway to the street below putting you in the thick of all the action within walking distance including coffeehouses, ice cream shops, restaurants, sports bars, The Olympic Museum, and a 2.7-mile path encircling Mirror Lake while also leading past the town boat dock along the south shore of Lake Placid itself.

Although rooms very much reflect their original Hilton footprint, the interiors are now completely modernized with Adirondack meets Modernist furnishings. Walk-in rainfall showers tiled in natural stone, private balconies, writing desks and tawny leather seating accented with autumnal colors with wood & granite finishes are standard while suites come with jetted tubs, fireplaces, and of course more room to stretch out.
The extensive main lobby features a stone mantled wood-burning sumptuous seating that encourages you to curl up with that novel you've been attempting to finish, play a game of chess, or enjoy a craft cocktail from the

High Peaks' main restaurant, offers a full breakfast menu including fresh baked pastries and locally roasted coffee. Lunch and dinner offers scratch made pub fare like Chicken Pot Pie as well as locally farmed T-bone steaks, seared pork loin, and chicken wings. A seasonal outdoor patio with a fire pit and stand-up heaters are perfect for hanging out during the warmer months while in the depths of their Olympic worthy winters, The Den is perfect for camping in with a regional beer on tap like a Saranac Pale Ale or a craft Dark & Stormy cocktail.
Lake House
High Peaks Resort acquired and converted a motel across the street in 2010 into what is now known as Lake House with an Adirondack-style Great Room centered around a fireplace and The Bar at Lake House with floor to ceiling windows overlooking Mirror Lake.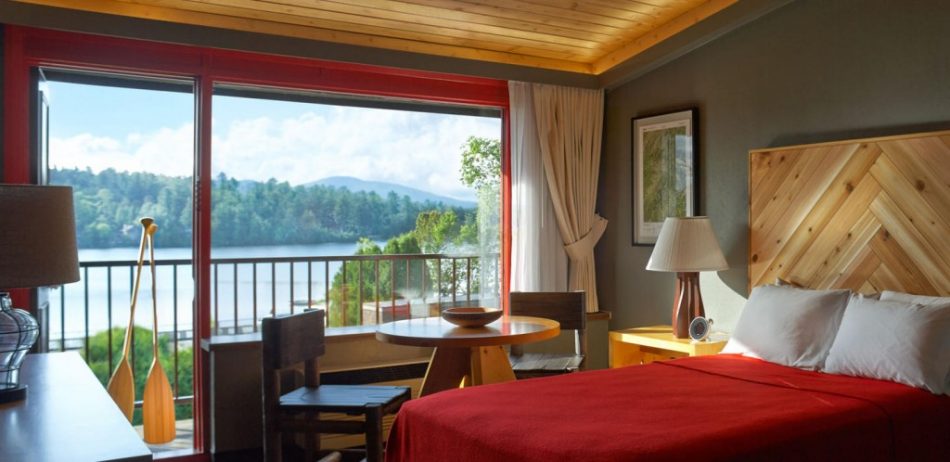 Essentially a retro motor lodge with red doors and carpet in the narrow hallways, the 44 rooms here sport wood floors with either balconies or back doors opening onto the communal lawn overlooking the water. Rousing games of croquet and badminton are common, a rotating lineup of craft beers await on tap, and an onsite expedition planner give Lake House a more rustic down-to-earth base camp feel.
Waterfront Collection
The more luxurious 28 Waterfront Collection rooms directly below Lake House perched above the water's edge of Mirror Lake include King and Queen Suites with fireplaces, balconies, and plenty of privacy. Your room feels like the cabin of a cruise ship with a horizon filled with paddlers, and small sailing & fishing boats.
You can literally step outside and cast a line for trout in the morning, dive into the onsite pool, and explore town during the day while at night you could simply retreat to your porch for a serene sunset reveling in the moment of being away from it all or head to one of the many local hangouts like Top of the Park or Roomer's Night Club for some spirited relaxation.

Amenities
During summer, High Peak's lakefront area features a dock where kayaks, canoes, row boats, stand-up paddle boards, and paddle boats are available while during winter when the lake freezes over, Norwegian kick sleds and ice skating are popular. Nearby, the Lake Placid Toboggan Chute attracts more ardent winter enthusiasts along with throngs of children onto a platform high above the frozen waters of Mirror Lake from which they plummet into the great wide open when snow and ice conditions permit.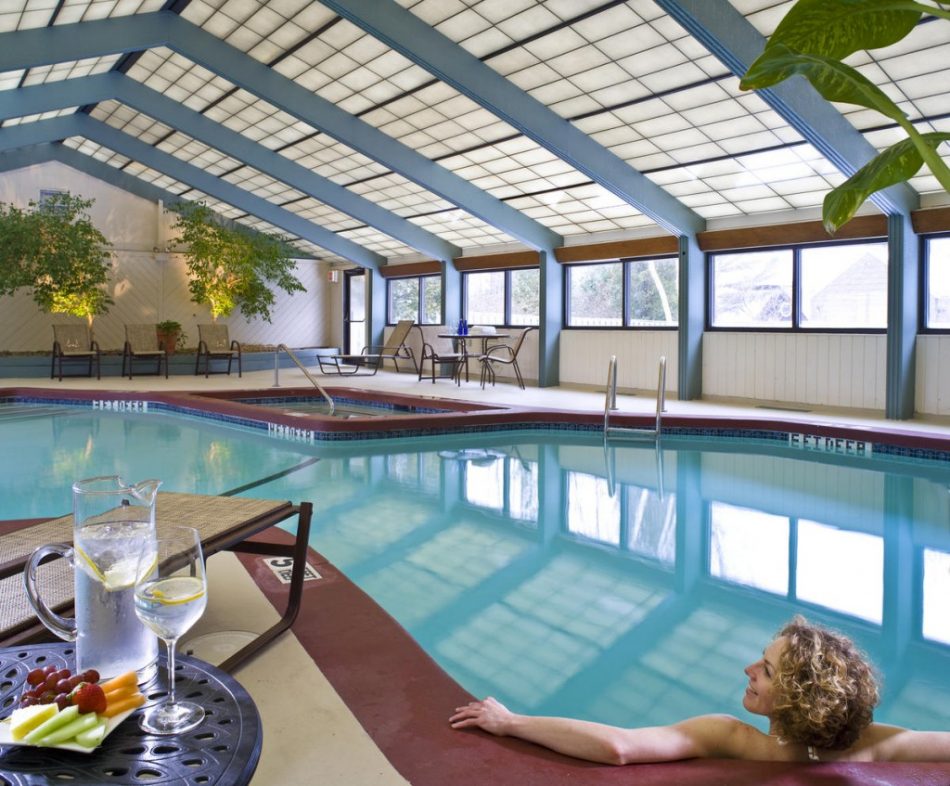 The main indoor pool & spa tub located on the fourth floor of the main resort offers year round swimming & soaking. For those accompanied by dogs, a special room package is available which includes keepsake bandannas, dog bowls, place mats, dog beds, treats, and maps of dog-walking routes.
Photos courtesy of High Peaks Resort. Coverage made possible by participating in a sponsored visit.