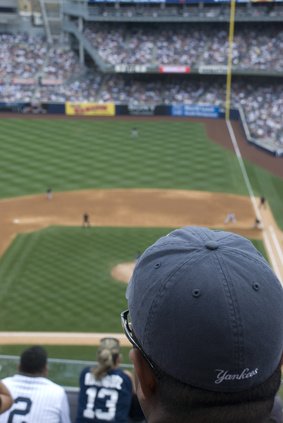 While there is plenty of theater, art and music to enjoy while visiting New York City, you'll also find that this is a popular place for sports fans as well. Sure, it's nice to visit the museums, enjoy the music scene and take in a show or two while vacationing in the city. However, while you're vacationing in the area and staying in apartments in New York, don't forget about the rich sports experiences that can be found in the area. The city is especially great for those who enjoy baseball. Here is a helpful guide you can use to enjoy this "All-American" sport while you're visiting the Big Apple.
Baseball fans probably already know that New York City is well known to one of the biggest rivalries in baseball. In fact, the rivalry between the New York Mets and the New York Yankees is almost legendary. Both teams have passionate fans and you can enjoy becoming a fan while you're visiting as well. Check out one of the Yankee's or Met's game, or if you prefer something on the low-key side, you can check out one of the minor league teams that play in the area. The two big minor league teams include the Staten Island Yankees and the Brooklyn Cyclones.
For those who are big Yankee's fans, you'll definitely want to check out Yankee Stadium while you're in New York. It's easy to get to the stadium by using the subway or the metro, although you can drive there as well if you're brave enough to drive in the traffic. You can enjoy touring the Yankee Stadium while you're visiting, which costs about $20. This history behind this team is rich. The team has been paying since back in 1903 and it's important to note that the original name of the team was the Highlanders. If you want to see the team that has won 26 World Series in action, you can check out the game schedule on their website and even purchase tickets to the games online.
Of course, while the New York Mets haven't been around as long as the Yankees, they are still a popular team and have been playing in the National League of baseball since back in 1962. It was 1969 when the team won their first World Series, although they won another World Series much later. The team plays in Citi Field, which is located in Queens. You can drive, take the Long Island Railroad or you can travel by subway. Check out the Met's schedule and book your tickets in advance if you want great seats.
The two minor league teams are worth watching if you get the chance as well. If you plan to be around Coney Island, you can go to Keyspan Park to see the Brooklyn Cyclones play baseball. Tickets to these games are reasonably priced and it's a great family activity to enjoy. The Staten Island Yankees are also a minor league team that you can enjoy checking out for a reasonable price as well.
New York is definitely the place to be if you're a baseball fan. While you're staying in one of the New York apartments, make sure that you add a baseball game or at least a tour of Yankee Stadium to your itinerary while you're visiting. You're sure to have a wonderful time while enjoying all the excitement that comes with the great game of baseball. Just make sure you plan in advance if you want tickets to one of the big games, since they are very popular in the city.
Author Bio
Hans Beltran is a world traveler, who enjoys writing everything regarding holidays and vacations. Passionate about SEO and world history, found in writing the perfect way to share his experiences with his fellow travelers.