We started our 3-week stay in Australia with 3 days on Kangaroo Island. The appeal of Australia was without surprise its rich and unique wildlife. Kangaroo Island seems to encompass many of what we looked for.
Why Kangaroo Island?
The third largest island in Australia with 155 km long and 55 km wide (96 miles by 34 miles), Kangaroo Island is not on the tourist trail and has stayed untouched from the big tourism. Indeed, a third of the island has been set aside as a Natural or Conservation Park, and the rest of the island is composed of farms, wineries and sanctuaries, and a couple of tiny towns. Kangaroo island abounds with fantastic wildlife, including the obvious kangaroo which the island takes its name from, but also wild koalas, short-beaked echidnas, tammar wallabies, and brushtail possums. The wildlife population is thriving as it was spared from the damages occasioned by foxes and rabbits on the mainland, and its isolation reduced the European settlements impact.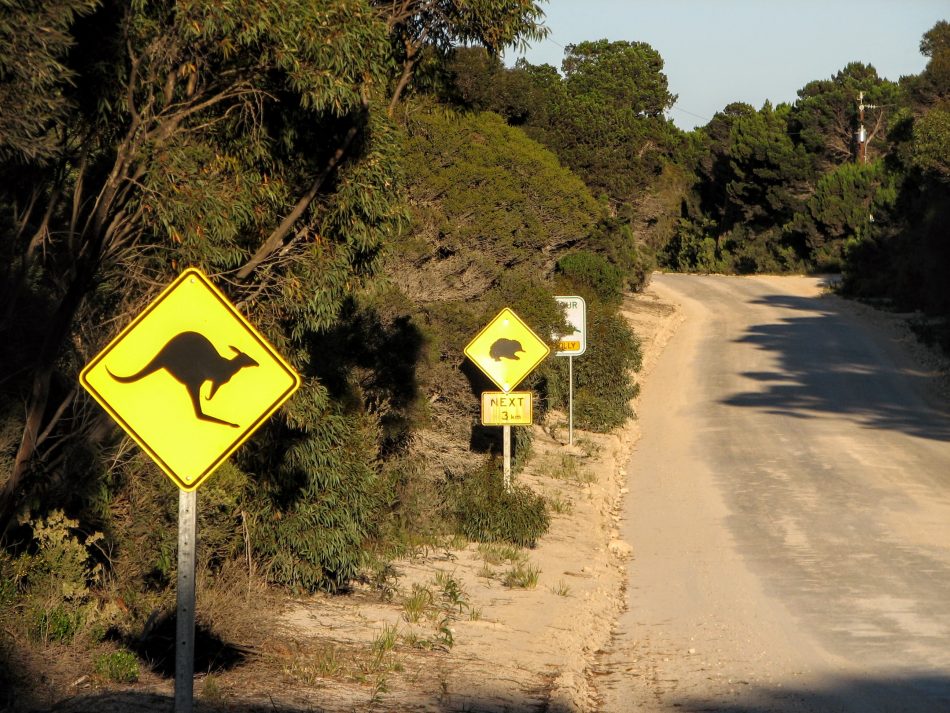 With over 540 km of coastline, Kangaroo Island offers great views of the ocean and a chance to observe colonies of sea lions or penguins or surf impressive waves. Kangaroo Island has a wide network of unsealed roads that allowed us to experience off-the-beaten-path driving which translated as our first outback experience.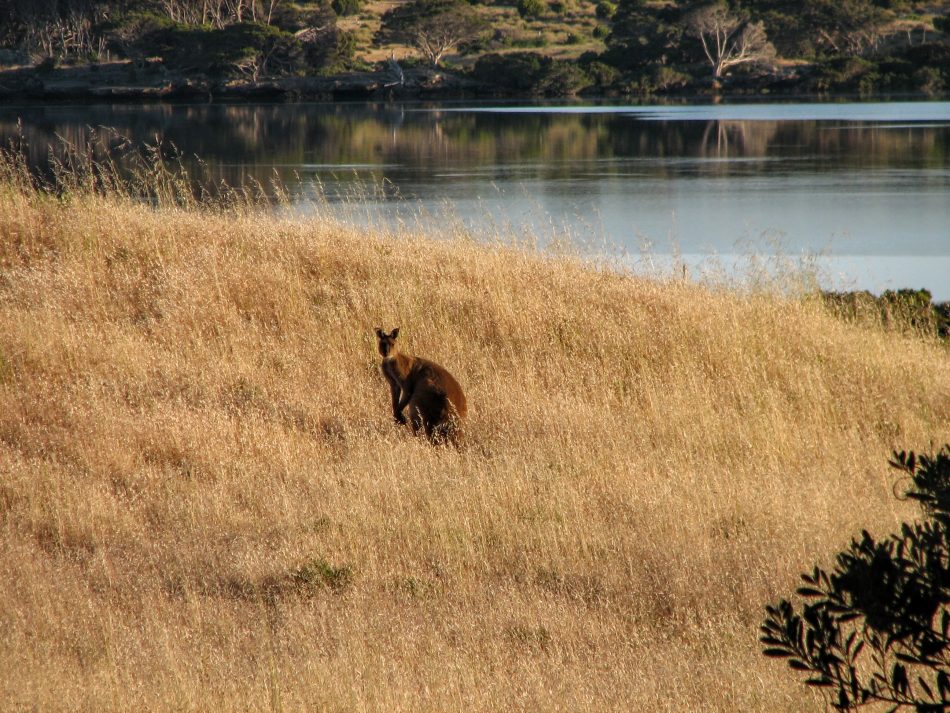 The island is so big it is divided into seven regions: West End, Dudley Peninsula, Heartland, North Coast, American River, Kingscote and Districts, and the South Coast. A quick visit can be done for an overview but three days would be the minimum length to explore!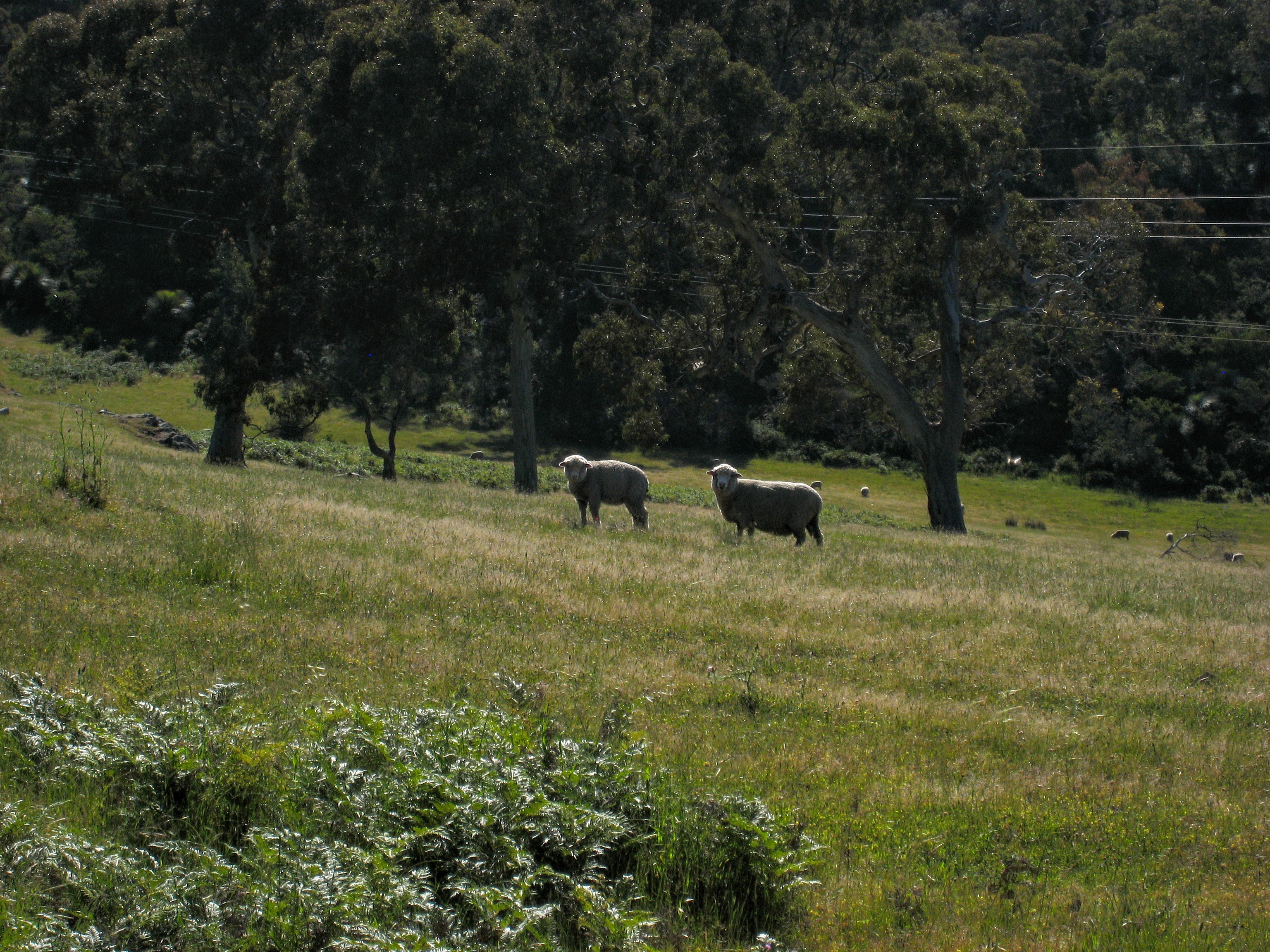 Day 1 – North Shore, Emu Bay, and Stokes Bay
We had arrived the night before at Penneshaw from Adelaide and toured the town composed of a few streets and quaint little houses. As we traveled budget, we normally cooked our own breakfast. We, however, wanted to breakfast by the ocean and headed to Emu Bay. The drive felt long on an empty stomach but it was so worth it! The bay is just gorgeous, a large beach of white sand and calm warm waters. We set our blanket, cookies, and hot drinks, and enjoy our bread and jam while taking the scenery in. The water was incredibly clear, probably the clearest I ever saw.
As we left Emu Bay behind, we decided to explore the island's smaller roads on the way to Stokes Bay. We took the North Coast Road, where red dirt awaited – our first taste of the Australian outback, even if outback is usually reserved for the desert area of the Australia's interior. The road ran mostly parallel to the coast, ridged with eucalyptus trees that provided contrasting shades of red, blue and red. Several side roads brought us down to sea level to  littles coves and beaches.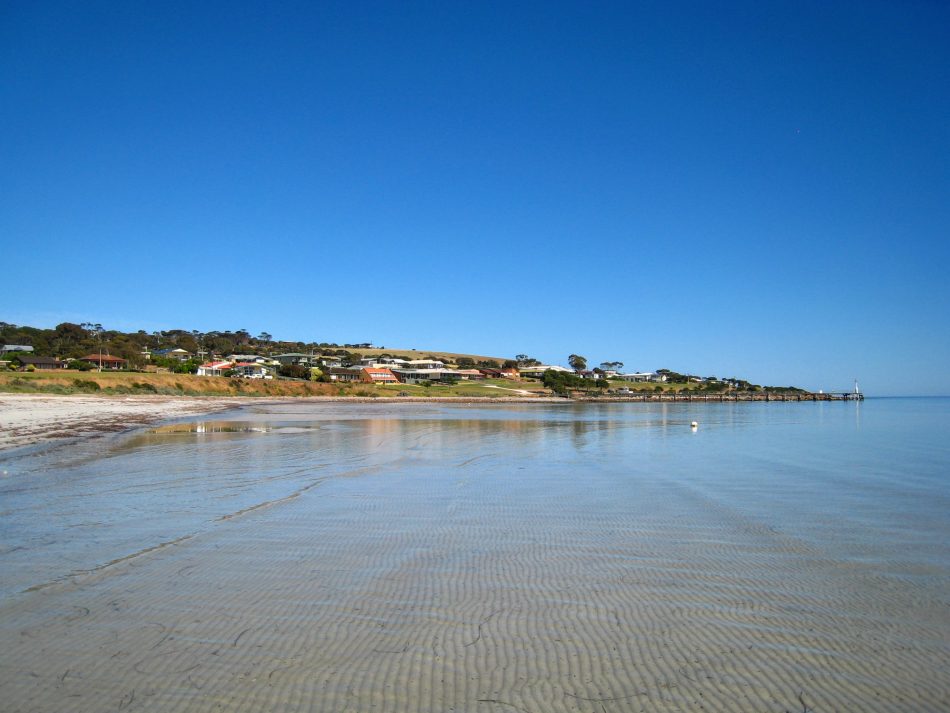 We finally reached Stokes Bay, again by ourselves. The bay was quite large with rough waves except a giant pool created by surrounding rocks. The big boulders held large cracks that allowed for hide-and-seek! The water in the pool and surrounding the rocks was also crystal-clear with small fishes moving around. Though the water depth was not high enough to swim, it felt great to wade in it, refreshing and relaxing.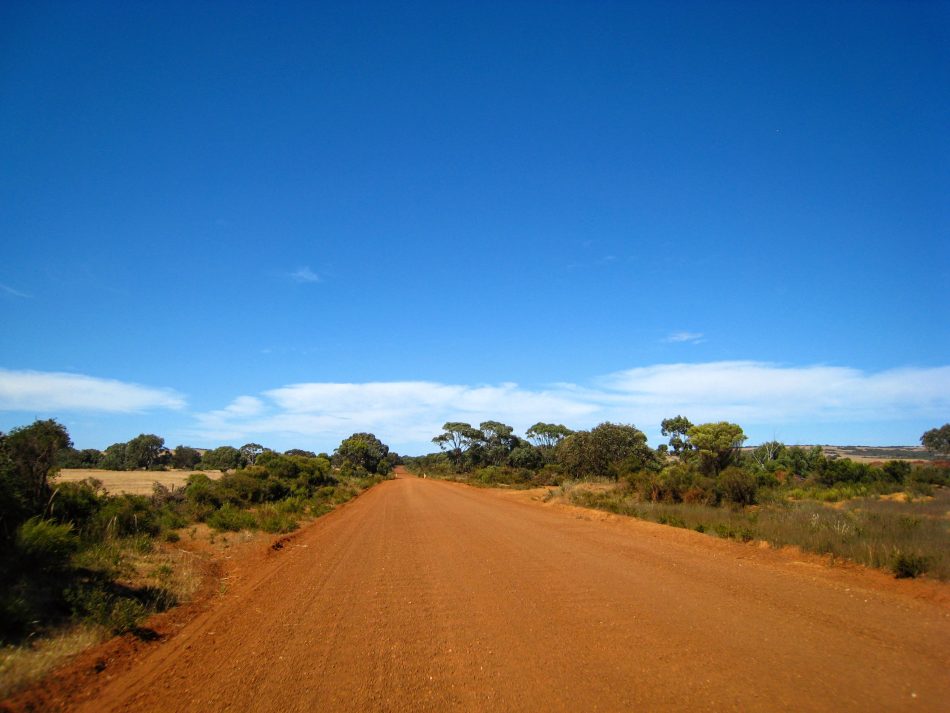 The North Shore Road continued past Stokes Bay and treated us with fantastic views. We rejoined the main Playford Highway after a while, which led to the Cape Borda Lighthouse at the west end of the island, about 70 km (44 miles) opposite to Kingscote. The lighthouse was officially located within the Flinders Chase National Park and lit the first time in 1858. A unique square shape, it stood perched on cliffs above the Investigator Strait. The location was the departing point of several walking trails including the Cliff Top Hike. Try to time your visit to be there around 12:30 pm to hear the daily cannot shot.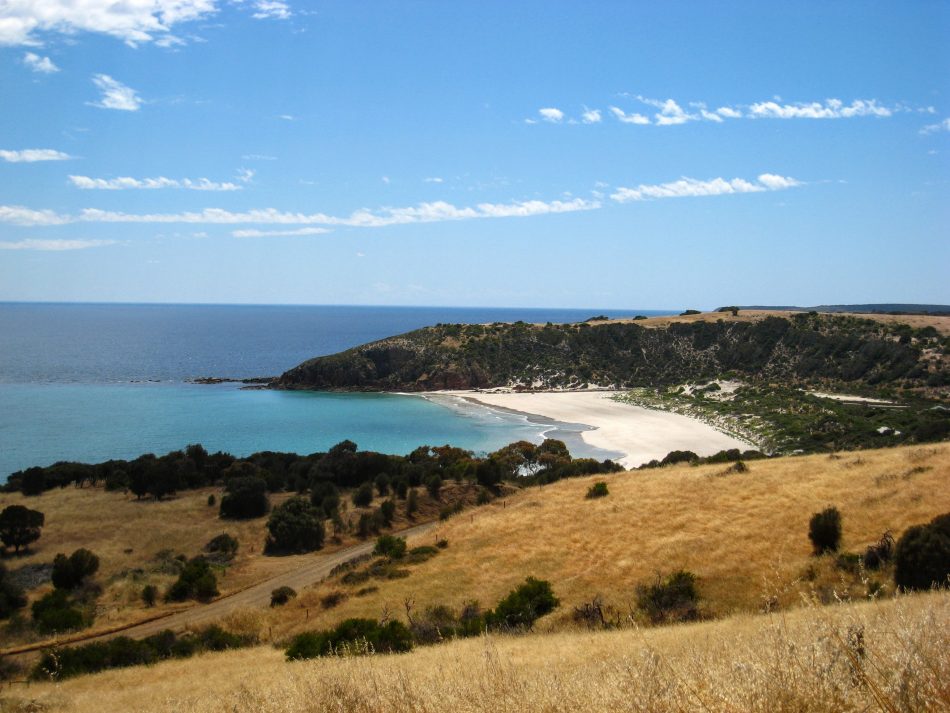 We finished our scenic drive through the north side of the Flinders Chase National Park to reach our camp for the night. This was however not the end of our day as we reserved a night walk at the nearby Hanson Bay Sanctuary, where koalas could be found live in their natural habitat. The 90-min tour proved to a great introduction to the island's wildlife as we observed several koalas, kangaroos, Tammar wallabies and even the elusive Echidnas during that night.
Day 2 – Flinders Chase National Park, Hanson Bay Sanctuary, and Vivonne Bay
We woke up to the sounds of several birds around our camp, enjoying our own birds' paradise. Our first visit for the day led us to the Platypus Waterholes where we hoped to find the shy animals. Early morning and dusk are supposed to give a higher chance to view them – unfortunately, we lucked out that day (we would be luckier later on during our Australia tour!). It is, however, a nice 2-hour walk and worth exploring, with our without platypus sighting!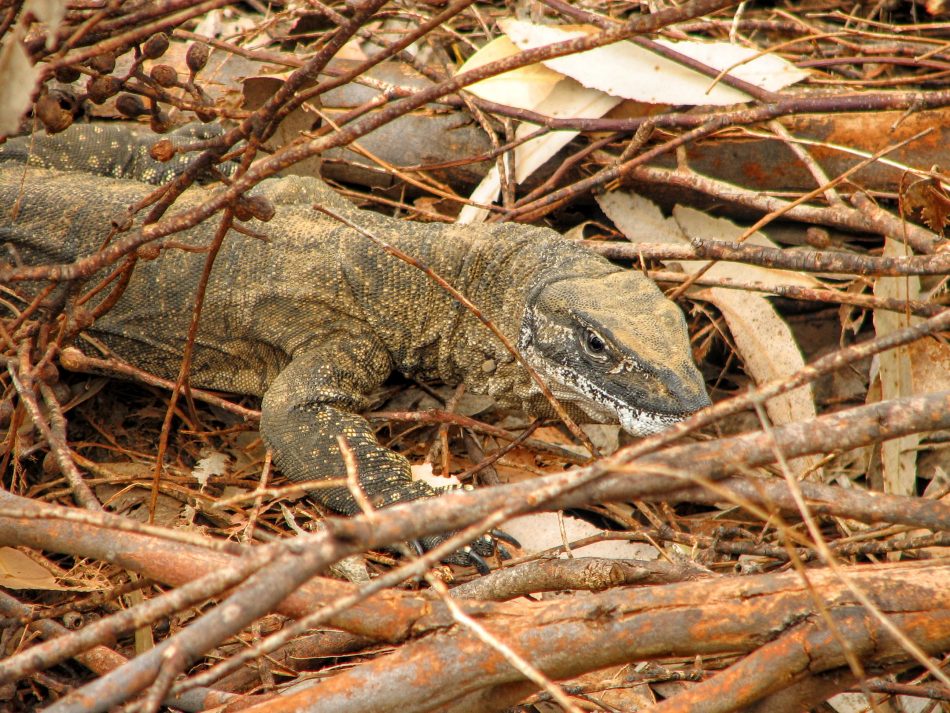 Our next stop continued to Admirals Arch, one of Kangaroo Island's most impressive landmark created over thousands of years of erosion. A boardwalk allowed us to access the Arch where we admired New Zealand fur seals that resided there. Admirals Arch is also known to be a good area to spot whales between the May to October migration, as well as dolphins. Several hikes across Flinders Chase national Park start from the Arch area.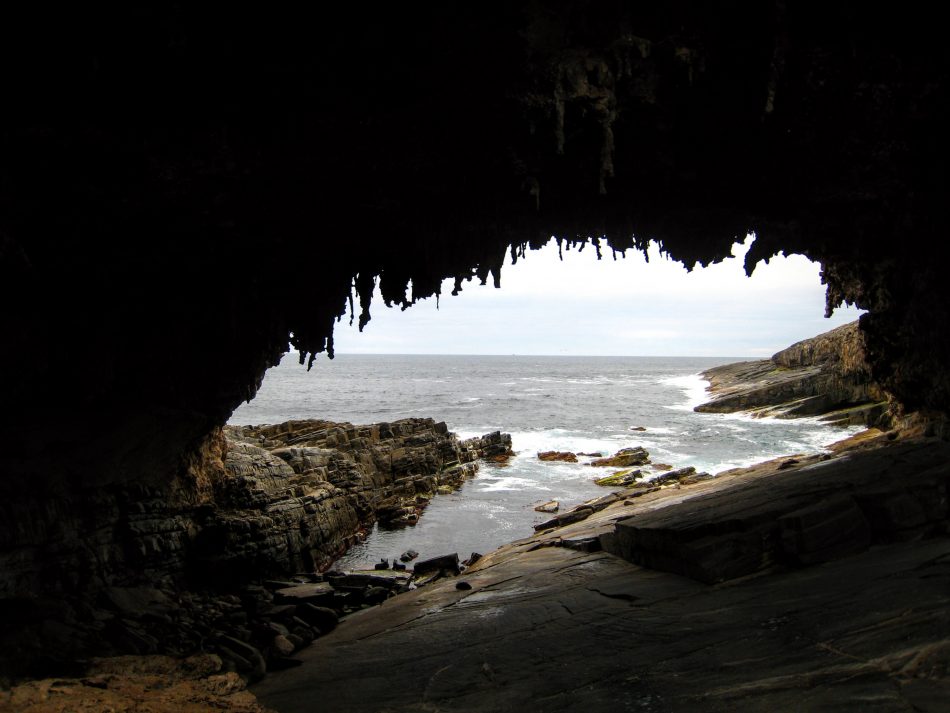 We carried on our drive to the nearby Remarkable Rocks. And no pun intended, but these are really remarkable and a must-see while on Kangaroo Island. These granite boulders gained their unusual shapes through 500 million years of wind and rain. The contrasting colors of their components of black mica, pink feldspar, and blue quartz, many also covered by orange lichen gave them their special characters. Early mornings and evenings are the best time to go to avoid the crowds but also catch fantastic sunrises and sunsets. Watch for the rock surface that might be slippery when wet.
The enjoyment of our previous night walk still in mind, we returned to Hanson Bay Sanctuary for another chance to see the koalas, in daylight this time. We were welcome by wallabies, parrots and, of course, koalas. We stayed several hours at the sanctuary, and enjoyed a nice walk among huge eucalyptus, looking for the koalas hidden among the branches.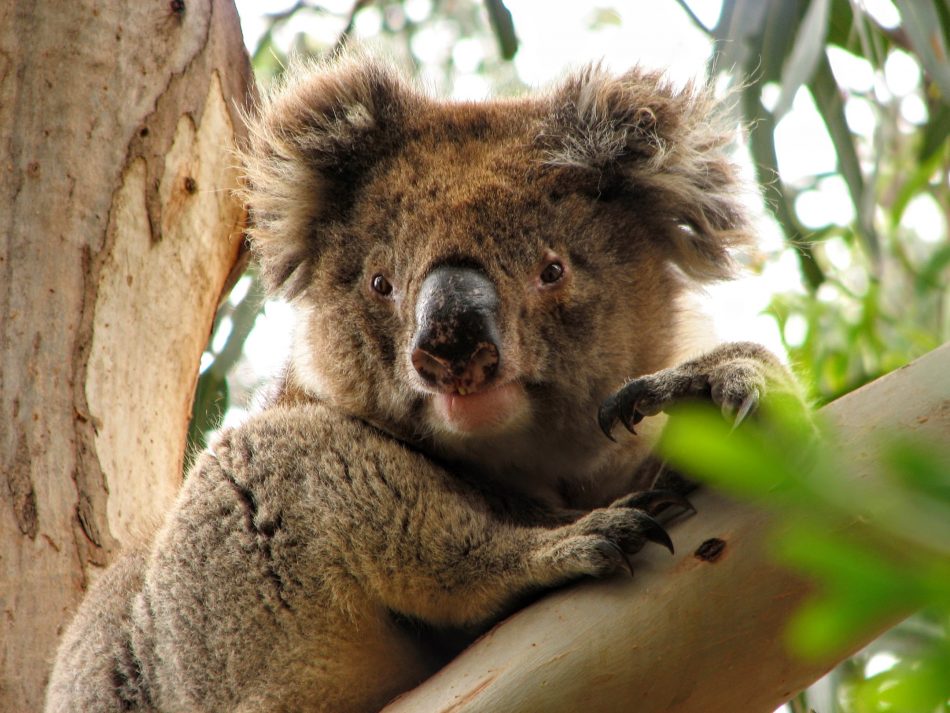 Vivonne Bay was next on our drive, a wide expanse of white sand and blue water and is considered of the best beaches in Australia. A popular spot for a picnic, surfing or simply sunbathing, or watching the local sea lions. The bay is known for its strong undertow and potential high swell, making it better reserved for experienced swimmers.
Day 3 – Southern Shore, Cape Gantheaume National Park, and Cape Willoughby Lighthouse
Cape Gantheaume National Park was a continuity of Vivonne Bay shores and a vast wilderness area. The park offered plenty hiking options, from established trails at Murray Lagoon to unmarked ones like the Coastal Trek. We drove along the d'Estrees Bay Road, which scenery was different than the Flanders Chase National Park, and a great supplement to better understanding the diversity of Kangaroo Island.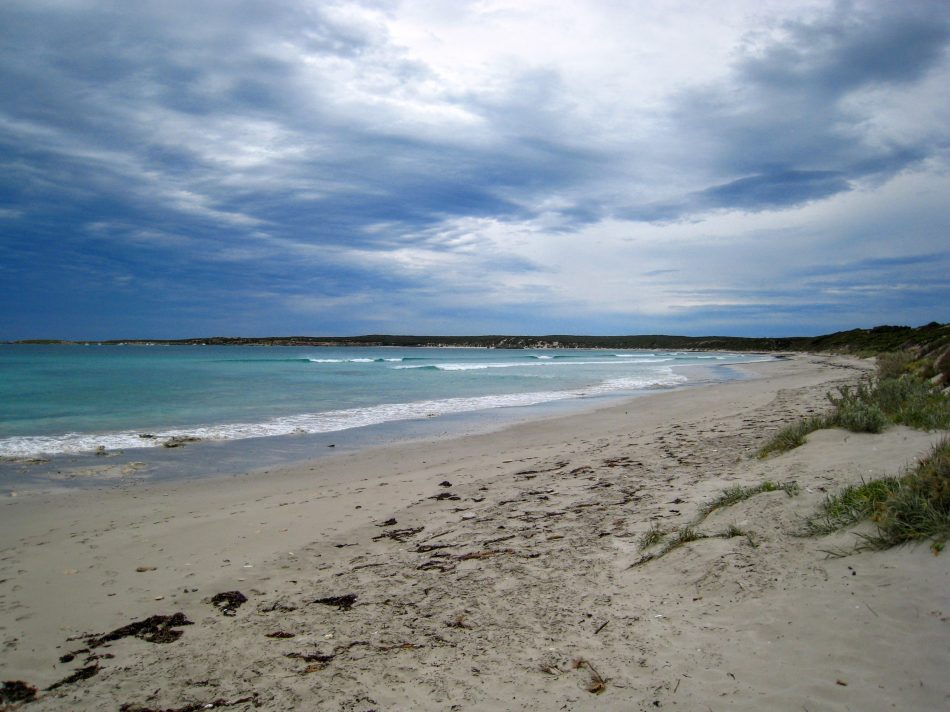 Prospect Hill was our last stop en route to Penneshaw, a great way to say farewell to the island. Also known as Mount Thisby, the 512 steps take you to a 360-degree view of the island. Captain Matthew Flinders hiked this exact trail when he surveyed Kangaroo Island in 1802. Once at the top of the hill, the panorama is fantastic! The trail has signposts featuring interesting information about the flora, fauna, and history of the island, which could make it a good point to start your discovery of the island.
We reached the end of our stay on Kangaroo Island and we headed back to Penneshaw to take the ferry, and to Adelaide.
Things to Do on Kangaroo Island
Wildlife

: Penguins on the Kingscote foreshore, Australian sea lions on Seal Bay, koalas at Hanson Bay Sanctuary and at Koala Avenue outside Flinders Chase National Park, echidnas, and goannas by the side of the road, and New Zealand fur seals at Admirals Arch. The island is a bird paradise too. Kangaroo Island Penguin Centre hosts a colony of fairy penguins.

National Parks and Conversations Parks:

Flinders Chase National park is the most popular, about an hour and a half drive from Kingscote. Other parks include Seal Bay Conservation Park, Kelly Hill Conservation Park, Cape Borda Lightstation, Cape Willoughby Conservation Park, Cape Gantheaume Conservation Park and Lashmar Conservation Park

Water Sports:

Surf with the locals at Vivonne Bay, Sail around the island, fishing, dolphin cruise, Kayak tours preferably from sheltered locations

Outdoor activities:

Kelly Hills caves, horseback riding, ATV and Sandboarding at Little Sahara off the South Coast Road

Landmarks:

Emu Ridge Eucalyptus Oil Distillery, using a very old furnace and the only commercial eucalyptus oil distillery in operation in South Australia, Cape Willoughby Lighthouse

Culinary Experience:

Food tour, market walking tour and cooking class, or wine tasting

Diving

: Western River Cove is a popular spot to dive with Seals. Other encounters might include the famous Leafy Sea Dragon, Blue Devil, Harlequin, and more. Dive among one of the 50 recorded shipwrecks. Conditions might be challenging due to rip current and undertow and might be better reserved for experienced divers.
How to Get There
We flew to Adelaide where we rented a car. As we traveled budget and camped most of our trip, our first order implied to grocery shop and find a gas canister for our stove. This was quickly done and we eagerly left the city and headed to Cape Jervis. Located about 1:30-hour away from Adelaide, this little town is where we would board the ferry to Penneshaw on Kangaroo Island. The drive was scenic and we enjoyed our first appreciation of Australian countryside.
The ferry terminal was small, packed with cars, trucks and passengers. The sea conditions were relatively calm though the wind was rather strong.
We made sure to arrive early enough for boarding though as we wanted to catch the last ferry of the day. The SeaLink ferry ride is rather pricey (AU$98 per adult), especially with a car (AU$ 198), but we felt this would be the best way to explore the island at will. There are three departures daily in Summer, and only two in Winter and other occasional departures.
It is also possible to fly directly from Adelaide which will bring you to Kingscote Airport in 30 minutes.
When to Go
The Austral summer is from October to April, with usually dry weather and warm temperatures around 95 ºF. The winter lasts from June to September, with mild and wet conditions, and average temperatures around 57 ºF.
Where to Stay
Camping on Kangaroo Island: We camped all the way. Our first night on arrival was at the Kangaroo Island  Shores Penneshaw Camping, just outside the ferry terminal. This was perfect since we arrived late and allowed us to set the camp quickly. Our campsite was located on the hills nearby the terminal and offered fantastic views of the ocean. We remained the only ones at the camp, and as we set our tent, a Kangaroo stood less than a few steps away!
We then camped in the Flinders Chase National Park which allowed us to get access to the park and go to wildlife night walks.
The island offers several camp options and gave us a great feel for the environment. Note camping and campfires are only permitted at designated sites on Kangaroo Island though no wood fires are not permitted in any of the National or Conservation Parks. Gas and liquid fuel stoves are permitted, however, check each park for individual permit requirements.
Besides Camping: A wide variety of accommodations is offered throughout Kangaroo Island, from luxury suites, hotels, beachside cottages, bed and breakfasts to caravan parks, eco-lodges, and lighthouse keeper shacks.
What to eat
The island has a lot of fresh seafood like freshwater crayfish locally called marron, as well as dairy products such as cheese and yogurt thanks to the local farms from the Island Pure Sheep Dairy. Try the local honey ice-cream made with the local Kangaroo Island Ligurian honey. Formal dining, picnic basket, and local stores offer something for everyone. The island also holds about 30 winegrowers and 12 wineries.
This post was originally posted on ZeWanderingFrogs.com.
All photos are copyright of Ze Wandering Frogs unless otherwise stated.