The black jaguar strides agitatedly back and forth in a small corner of her otherwise large enclosure, occasionally stopping to sniff the air, then quickly resuming her search. Something has piqued her interest. She stoops down to take a view from a different angle, brushing her snout through the tall green grass. Her deep emerald eyes flare like Saint Elmo's fire as she continues to hunt for the elusive source of her interest. This is Mystique, the female black jaguar at the San Diego Zoo, lovingly referred to as either "the skull crusher" or "the black beauty." Turns out, she is both.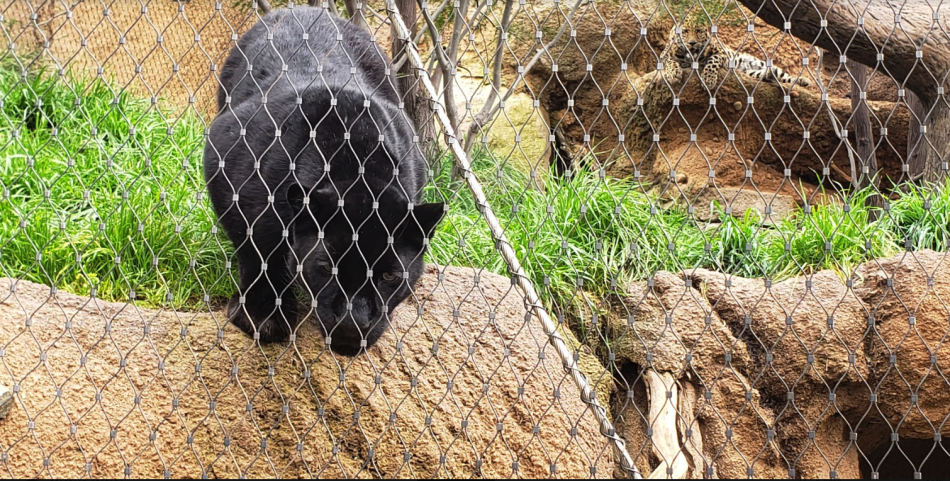 I'm part of a small group of lucky visitors here to see the big cats at San Diego's world-famous zoo. The "Crazy About Cats" tour takes us on a guided, 2.5-hour behind-the-scenes visit of a variety of large cats housed here. We start our day early before the park is even open to the public. I've never been here at this time and find that the cats are highly active in the cool, dewy morning. I stare at these magnificent animals, my jaws agape. Our guide shares all about the particular habits of the individual animals, their lives out in nature, and some of the stunning numbers that drive the zoo's active conservation effort.
Opened in 1916, the San Diego Zoo is considered one of the premier animal conservation facilities in the world. Conservation and public education go hand in hand, we are told, as we view two Amur leopard cubs chase and wrestle each other. "They're play fighting, but this is also how they learn to hunt," says Sr. Animal Trainer Kelly Salamone. The cubs were born here last summer and are among the rarest of all felines. There are a total of eight Amurs here, which are critically endangered in the wild. "We estimate that there are only about 40 animals left, most of them living in Russia Leopard National Park." Hunting for their beautiful pelts, as well as habitat destruction, have driven them to the brink of extinction. "Our cubs are part of the species survival plan for Amurs and we plan to pair them with other males."
"There are as many tigers kept illegally as backyard pets in Texas alone as there are tigers left in the wild."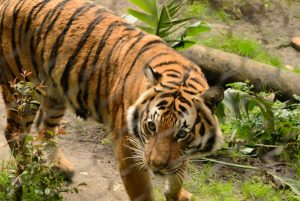 But leopards are not the only endangered animal that can be seen here. I don't often think of tigers as endangered yet their numbers in the wild are rapidly dwindling. In fact, there are as many tigers kept as illegal backyard pets in Texas alone as there are tigers left in the wild. It's a significant problem for conservationists and the longer I linger over that statistic, the more disturbing it becomes. I am enraptured by the tiger walking around in his enclosure, marking his territory as he conducts his own morning patrol. Then, suddenly, he lets out a simultaneously mesmerizing and terrifying primal growl that shakes me to the core. Standing within just a couple of meters from him, I come to realize the awesome power of this animal. It's astonishing! A shame that there are so few left in the wild.
Which brings me back to Mystique, the endangered South American jaguar. Of all the animals at the zoo, she is the most respected and feared among the staff. Her beautiful black coat shimmers in the morning light, though if you look carefully, you'll find that she has spots on her coat also. Sleek and powerful, she seems to be bound with muscles. And utterly confident. I can understand why she demands so much respect. Jaguars lurk in treetops and attack their unsuspecting prey from above, crushing the spinal cord. They are, pound for pound, the most powerful cats in the world and can kill much larger animals, such as tapirs and caymans. Keepers describe Mystique as "highly intelligent and very calculating." Caring for her requires extra attention. To me, she is absolutely incredible.
We see a number of other felines, such as the native California mountain lion and the water-loving "fishing cat" of southeast Asia – which I've never even heard of. Finally, we close our tour with a very special up-close visit with a cheetah named Llangha and her canine companion friend, Elvis. Llangha is walked on a leash in front of us as she casually sniffs and purrs, completely relaxed. The good-natured golden retriever's role is to provide a level of comfort for her cheetah-friend around humans, explains Kelly. "These two are best friends and spend practically all waking hours together."

Cheetahs are famed for being the fastest land animals in the world, going from 0-60 mph (100 km/h) in an astonishing 3.4 seconds. That's fast enough to compete with a Tesla in ludicrous mode! "Everything about Llangha is designed for speed," says Kelly. Compared to the other cats we've seen, her physique is much more slender, her legs are proportionally longer and her snout is shorter – traits optimized for an explosive burst of speed. Her long tail is used as a rudder during the hunt. "A flick of the tail allows her to change directions without slowing down." I highly recommend watching the daily cheetah run to the San Diego Zoo Safari Park in nearby Escondido – it's breathtaking. Meeting Llangha was an incredible experience. There was no better way to finish up our tour.
If you find yourself in southern California, be sure to make your way to the San Diego Zoo Safari Park for this special tour and find out why everyone is going crazy about cats.
A special thanks to the staff and animal trainers at the San Diego Zoo for making this amazing visit possible.