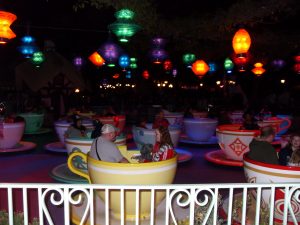 Having recently married, (an unlikely side effect of Obamacare) I seem to find my brain stuck in amorous overdrive – the unlikely beneficiary being my husband, with an impromptu trip for two to the Magic Kingdom.
It's true that many react incredulously to the idea of adults wanting to frolic in a place so firmly aimed at the juvenile but, as a child from Southern California, I have always loved Disneyland and my affection hasn't waned one bit. Don't get me wrong, I'm not a plushophile and I've never bought an annual pass, but every few years I find myself nostalgic for this place that features certain immutable pleasures, like the Pirates of the Caribbean Ride (barring the unfortunate insertions of Johnny Depp) and the pleasant chill of the Matterhorn Bobsleds, with its employees clad in lederhosen.
The Disneyland Resort Park Hopper pass enables a whole lot of options, including the relatively new wonder that is California Adventure Park. Like Cinderella, this overlooked step-sibling to the establishment that is Disneyland, has way more to offer than first meets the eye. Though we were comped two passes, at 137.00 each, I think the value for the money is pretty good – especially when I realized we were there for ten hours (I definitely recommend bringing a spare pair of shoes BTW).
Like Elisabeth Kubler-Ross's Five Stages of Grief, I think there are Five Stages to a Great Date: thrills, romance, sentiment, food, and sex appeal. The sex part you pretty much have to come up with on your own but the rest can be had, with very little effort on your part, within the confines of the parks.
First thing's first, one of my favorite things to do at Disneyland is eat at the Blue Bayou, which is inside the Pirates of the Caribbean ride. It can be hard to get a reservation but if you book over to New Orleans Square you can pick a time for lunch or dinner and then mosey over to your first ride. (I think you can make reservations online as well but I like to go old school). The café is lit in the inky dark blue haze of the swamp with charming twinkle lights and a cool, mossy smell that delights me each and every time I encounter it. While the Monte Cristo sandwich is admittedly rich, I still eat it compulsively. The deep-fried ham-and-cheese comes with an irresistible blueberry jam dip. Way to fall in love with love.
Starting with a bang is my favorite way to go and I love the roller coasters at Disneyland. Savvy reality shows, like The Bachelor, are always thrusting couples into faux danger to generate a bonding experience, and while this is obviously cheesy, it also works. Space Mountain is probably my favorite of the fast ones and I also think it serves up maximum amour. Extremely dark, with only the galaxy to serve as a backdrop, it's easy to lose yourself. Go ahead and scream, I promise you will feel exhilarated after.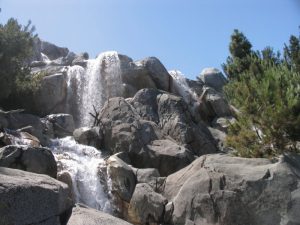 If the day is warm, I love Splash Mountain (Disneyland) and Grizzly River Run (California Adventure) for fun and a little cooling off. They both serve up that je ne sais quoi Walt created – and that I never find at other amusement parks – of mood and smells and a completely inauthentic authenticity. The attention to detail is astonishing, like a method actor who refuses to break character. It turns the experience from merely thrilling to immersive, as if you too are a part of the story. As a lifelong reader and moviegoer, I love getting to walk inside the world of Lightning McQueen (Cars) or Alice (Alice in Wonderland). It never gets old.
Another fun place to eat is the Golden Horseshoe in Frontierland. They have a live show throughout the day and it can be a perfect place for a bit of respite from the fray. The Crispy Chicken Mixed Green Salad falls (barely) in the healthy column of eats and is affordable at 8.99.
California Adventure is a relatively new experience for me and my favorite ride is probably Soarin' Over California in Condor Flats. I have never gone hang gliding but I imagine it feels something like this ride. The simulation begins with a foggy look over the Golden Gate Bridge and continues on, showing off the beauty of both Northern and Southern California's oceans, deserts and mountains. It's truly stunning and surprisingly romantic as great beauty can be. They pipe in scents like orange, evergreen and a salty smell that evokes the sea.
As it gets dark, Cars Land lights up and is the perfect place for a neon-lit stroll under the moon. The Twilight Zone Tower of Terror is just a bit further away in Hollywood Land and will probably make you squeal – at least I did – as you plummet thirteen stories.
More evening delights can be had at both parks in the form of ridiculous water and light shows. There are fireworks shows throughout the year, fun to watch from different viewpoints scattered throughout the resort. One terrific spot for amour is Mickey's Fun Wheel in California Adventure's Paradise Pier – the view is expansive. Also located in Paradise Pier is the World of Color. The attraction, which involves fountains (1,200!), lights, laser effects, fog, music and even a screen (19,000 square feet!) projecting Pixar and Disney movies, promises to "inspire [you] to reminisce about romances" and "look back at past friendships." While this may overstate things a bit, it is spectacular and somehow the extravaganza of it all is a perfect end to a day of childish amusement.
A couple of things we couldn't really afford to do but are decadent and ooze romance were a stay at the Disney's Grand Californian Hotel & Spa and dinner at the hotel's restaurant, Napa Rose. The spectacular lobby of the hotel resembles Yosemite's grand Ahwahnee Hotel, with dark mission-style architecture, Tiffany lamps and immense stone pillars. The dining room of the Napa Rose is equally tasteful in an Old California way, and serves things from the 21st Century like farm-to-table fare and wine! Two things I never pictured consuming in the Magic Kingdom. Another thing I never imagined in the land of Disney, the Aroma Stone Therapy Massage at the Mandara Spa located in the Grand California Hotel. I can't wait to plan my next visit and make it a weekend.