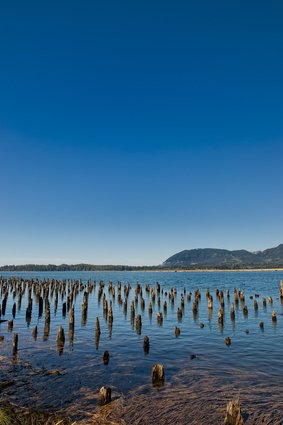 On Oregon's northern coast, the tiny town of Wheeler sits at the edge of a pristine bay that cloisters all sorts of wonders, which stay even more secret because they often get passed over by the major tourist publications. A mere few blocks long, if you blink you may miss this diminutive gem, where antique shops seem to be the number one industry (there are four such shops, yet only two lodgings and two restaurants). All of this looks out over the Nehalem Bay, where mysterious Neahkahnie Mountain hovers in the distance, looming over the immaculate beaches of Manzanita, some four miles away.
Another spot from which to get a stunning view of the bay sits at the center point of Wheeler: the Old Wheeler Hotel. At the corner of Highway 101 and what is called "Artisans Row," Old Wheeler has five cozy and luxurious rooms, all of which have windows to the always-unforgettable bay.
Beauty and romance resonates and oozes from this place, with soothing, Tuscan-inspired color schemes, hardwood floors and a classical decor that's warm, inviting and imparts luxury.
The best of modern conveniences – and a few surprises – await you. The common room serves up breakfast in the morning, and comes with a microwave and high-speed Internet access. Walk down chandeliered and candlelit hallways to the "piano lobby," decked out in a lush, warm pepper-red, stuffed with oversized comfy couches and containing a nifty hammock-like seat. There's also a vintage Wurlitzer piano.
Each room has a vibrant charm to it that's the result of a myriad of nice little details – from the bedspreads and the art on the walls, to the light fixtures and the stuffed animal you may find on your bed. Some rooms have a Jacuzzi and some have a claw foot bathtub.
There's also a masseuse in residence.
On top it all, enjoy free popcorn and movies – thanks to owner Winston Laszlo's history with the film industry. His father was a screenwriter in Los Angeles, so Winston grew up with the world of movies all around him.
A quick stop for coffee on an extended motorhome vacation resulted in a major life pathways change for this family of Coloradoans, and for an old building in Wheeler. Winston and wife Maranne Doyle-Laszlo visited here in 1998, and were charmed to the bone. Within months, they had acquired the building – back then a dilapidated eyesore that typified the downturn of this town at the time. After a year and a half of restoration, it became the flagship of the turnaround this burgh began experiencing around 2000, and which has continued ever since.
While Wheeler is still not a major destination on the coast – and regulars are thankful for that – it is coming into its own. It has a funky, slightly off-kilter vibe that is delightful and addictive. The somewhat infamous "Artisans Row" contains new age shop Gypsy Fire Spirit Gallery and the legendary cuisine of Treasure Cafe, as well as a few other gems. On this tiny side street, local characters gather to chat and mingle with the tourists, making everyone feel at home. Sometimes, oddball impromptu art events pop up, like the time Winston kick-started a barbecue by projecting movies on the wall across the street from the Old Wheeler Hotel.
The bay is known for its fishing, boating and lounging opportunities, and sunsets on these placid waters are famous for being consistently dazzling. The beach is a short drive away – and the town is just far enough inland to be blessed with somewhat warmer temperatures and sunnier skies than the surrounding beach towns.
Rates at the Old Wheeler Hotel for double occupancy range from $75 to $110. On weekends, two night-stays usually required. All rooms are non-smoking. Hwy 101 and Rorvick. www.oldwheelerhotel.com. 877-653-4683.
More on the Nehalem Bay can be found at www.beachconnection.net/vtour_nbay.htm