During our eight days in Alaska, I don't think we had a single bad view, and the Denali Highway was no exception. The 135 mile, mostly-unpaved road connects the town of Cantwell to Paxson and was once the only road providing access to Denali National Park. Due to harsh winter conditions, the road is closed from October through mid-May, but if you have the opportunity to drive this road during the summer months, it will not disappoint. If you don't believe us, back in 2010, National Geographic ranked the Denali Highway the #2 "Driver's Drive in the world (not entirely sure what a "driver's drive" is, but it's number 2 on a list that Nat Geo put together so it should count for something).
---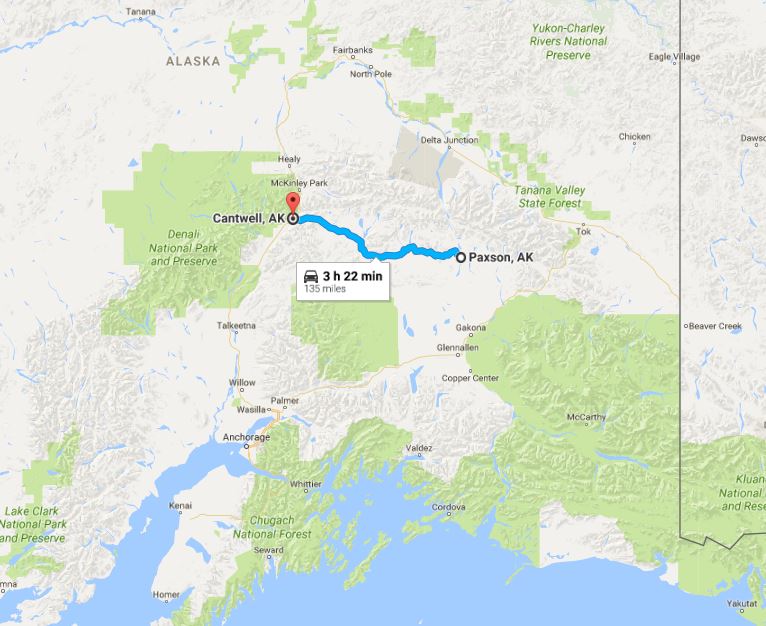 ---
The drive from Cantwell to Paxson took us somewhere between 3.5 and 4 hours total. It's comparable to the drive from Boston to new York City, except instead of endless Connecticut suburbs you are constantly surrounded by snow-capped peaks (Alaska > Connecticut). The road is mostly unpaved, so it's not the kind of drive you want to take in a Prius, and you'll be going 30-40 mph for the majority of the drive.
---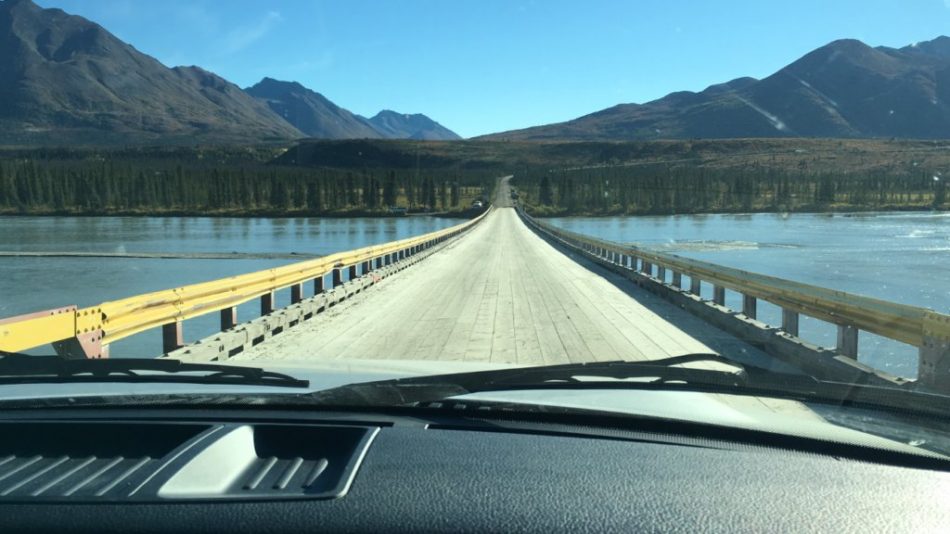 ---
If you're lucky enough to drive the Denali Highway on a clear day, you will have some good views of Denali for the first several miles after heading East from Cantwell. There is a designated Alaska Range viewpoint at mile 95 (the mile markers start at 0 in Paxson) and the central Alaska Range remains in view for the majority of the drive. At mile 42 and mile 37, there are places to pull off with spectacular views of the Alaska Range as well as Maclaren Glacier which was one of the more impressive glaciers we saw in Alaska. There is also a short hiking trail that begins at mile 37, but we didn't do any hiking off the highway because there were so many hunters out that day and we decided getting shot would be a terrible way to end a vacation which up to that point had been going so well. It was actually pretty astounding how many hunters had set up camp just off the highway and it became clear to us why we weren't seeing any large animals. We had been hoping to see a bear, a moose, or at the very least a caribou, but much to our dismay, our only wildlife sighting on the drive was this little guy…
---
---
Once you get to mile 21, the road is finally paved, and shortly thereafter, the Wrangell Mountains come into view. Of all the mountain ranges we saw in Alaska, the Wrangells were probably the most impressive. Being the tallest mountain in North America, Denali is obviously no slouch, but the heart of the Wrangells essentially looks like three Denalis side by side, one of which is an active volcano. The views of the Wrangells only get better after you get beyond Paxson.
---
Although there are designated places to pull off the road, there are views throughout the duration of the drive. In fact, I don't think there is a single segment of this road that doesn't have views of either the Alaska Range, the Chugach Mountains, or the Wrangell Mountains. If Denali National Park and Wrangell St. Elias are both on your Alaska itinerary, you should absolutely take this drive. For one, we're telling you should take this drive so it shouldn't take any more convincing than that; however, if you are hesitant to take our expert advice, Google maps will probably send you on this route anyway…
---
*If you're interested in learning more about hiking trails, places to eat, or campgrounds along the Denali Highway, click here.