A conch, a parrot and a rooster walk into a bar. You don't need a map to follow that joke: you know you're in the Florida Keys. The Keys are one of the few places in the US where you might think, "What country am I in?" But wherever you are in the Keys, it's all good—I've never been in an area that has more of a smiling "what the hell, why not?" attitude.
It's on a place's edges where you see the more unusual sights, and for the southern section of our great land, the necklace of islands that is the Keys is about as edgy as you get. Driving through the Keys, you see so many boats, big and small, some tied up to aged docks, some whooshing through the aqua waters. Each boat in each key portends a promise of adventure—or maybe just a lazy day. And the people-watching is exquisite: strolling through my Hemingway Museum tour was a strikingly attractive, tall blonde European woman wearing the most clingy (and most minute) hot pants imaginable, ones that put Richard Simmons to shame. Add in the lady-of-the-night silk stockings and the impossibly high high heels, and you have just another interesting sight in Key West. Perhaps she thought Papa might be coming back for a quick drink.
What the hell—why not?
I had a hundred happenings of beautiful or boggling sights and situations on my last Keys trip, but I'll focus on one: The Dry Tortugas National Park. First of all, when I think of national parks, I always think of forested trails, towering granite crags, trees with the girth of an Olympic pool—forgive me: Yosemite defines a national park for me.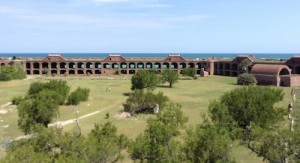 Water defines the Dry Tortugas. Lots of water.
The park is a jaunty—but lengthy—ferry ride away from Key West: 70 miles and two-and-a-half hours, to be exact. How dry is it? They named it that because there's no fresh water around. Perhaps that's no big deal to all the sooty terns and frigate birds that while away the hours at the park, but consider what that might have meant if someone—say, the government—decided to put a gargantuan fort out there, and fill it with soldiers.
Goodness.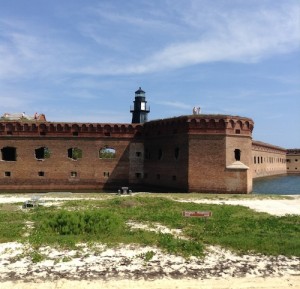 Fort Jefferson, the massive, Pentagon-like fortification that takes up most of the park's main island, is one of those "Wow, how did this happen?" things. You might think you couldn't land the building permit today. But before our lads in Washington decided to use all of the bricks in the Western Hemisphere to build a remote fort and prison, there were other visitors: namely Ponce de Leon, who first dubbed the area Las Tortugas, "the Turtles," creatures there now protected under law.
Sometime around 1829, the U.S. wanted to have a heavier management hand on Gulf of Mexico shipping. They'd already put up a lighthouse on Garden Key, and they started building Ft. Jefferson in 1847; 30 years later, they still weren't finished. That's probably because 16 million bricks just doesn't cut it when you want your walls to be really thick. Though neither foreign army or lunatic sailor ever invaded the fort, the military still managed to parch the throats of hundreds of soldiers there for many years.
But there was some notable employment of the fort during the Civil War: it housed Rebel prisoners, notorious among them Dr. Samuel Mudd, who was said to have set the leg of John Wilkes Booth, broken from his leap onto the Ford's Theater floor after assassinating President Lincoln. There was some controversy about Dr. Mudd's knowledge of those events when he rendered his aid, but the doctor was later pardoned by President Andrew Johnson for his help with a yellow-fever outbreak on the island. (How can I resist: His name was still Mudd, but no longer mud.)
I traveled with a group of writers out of Key West to the park on the Yankee Freedom ferry. The seas were calm, which was welcomed for the long, long lengths of blue and green and blue-green and green and blue seas we traversed. Because there are so few other islands (and all of them small) out there, approaching the fort from a distance is like seeing a brimming mirage get bigger and bigger. Did I say 16 million bricks? And like all good mirages, the fort is surrounded by a moat, though I thought it was a pretty pedestrian moat that could have been breached by any cunning tortuga.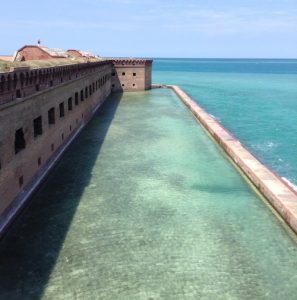 You can take a formal fort tour, but we preferred to amble about the deep inner walls and chambers of the several-story megalith, where if you listen closely, you can hear a whisper from 150 years ago: "Does anyone have a beer?" In the subtropical sun, on an island that would seem a zillion miles from any soldier's (or prisoner's) home, it must have seemed mighty dry indeed. Walking atop the upper walls is a treat, for the brilliant views, and the up-close and personal acquaintance you can make with the giant cannons still pointing seaward, all well-mannered now.
Our trip on the Yankee Freedom included snorkeling gear (as well as a serviceable breakfast and lunch), so into the warm waters we went. Warm they were, but there was a fair amount of surge, and the snorkeling proved mostly murky to me, though I saw a brilliant blue tang, some frisky parrotfish and lots of little swimmers. Some guy near us kept shouting things like "Grouper! Giant tarpon! Barracudas!" but every time we swam over, all I could see were stirred-up waters. At least he didn't say he saw a wolf. However, with those deep exertions both above and below the waters, I felt assured that I'd earned the gin and tonic, served up strong on the Freedom after they'd opened the afternoon bar.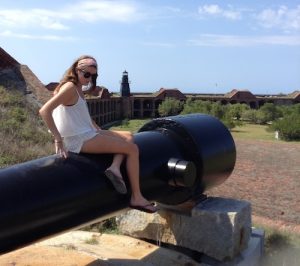 Though the sandy waters didn't reveal much of the coral reef, it is the third-largest reef system outside of Australia and Belize. There's a 46-square-mile no-take ecological preserve providing sanctuary for beasts winged, finned, and shelled, so don't try to stow a hawksbill in your backpack for the trip back. Speaking of trips back, it was dandy. There was even a raffle, presided over by the budding stand-up comedian who gave us the ride's ground rules on the way over. You could win a trip back to the fort, but at that point, I would have favored another gin and tonic.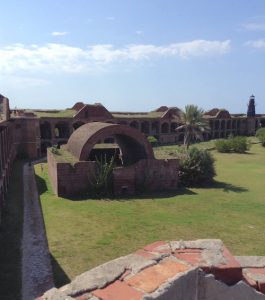 A bit later in the trip, at the truly classic Mrs. Mac's diner in Key Largo, we overheard a patron at a nearby table say to his comrade, "Hey, if you ever see Bonefish Bob from Islamorada, tell him I said hello." That line sums it up for me about the Keys: distinctive, eccentric, and welcoming.
Bob, if you're out there, hello!