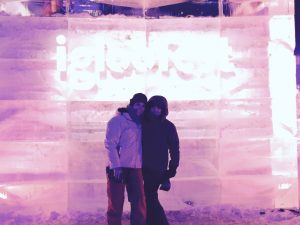 How cool would it be to say you went to an EDM festival in an igloo?
If that sounds like something you'd bundle up for, check out Igloofest in Montreal! I went this past January, and not only was it a blast, but visiting Montreal in January is a great bargain (and cold, but who cares when you're drinking your jagermeister-root beer concoction!)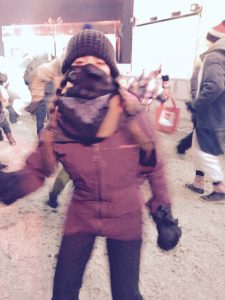 As it so happens, I went with my mom; she was my travel buddy in Montreal. I had been dying to go to Igloofest but didn't bring it up since I didn't think my mom and EDM fests really mixed. Imagine my surprise when she brought up the idea of going to this fest to me. Once I got over the initial perceived weirdness of going to a fest like this with my mom, it was easy to have fun at Igloofest.
We attended opening night, and while there was a good crowd of people gathered, it did not feel crowded. Between an ice slide, dancing, drinking, food, and a drum version of guitar hero, it was one of the more fun music festivals I've attended. Plus, now I have some pretty great bragging rights (it's hard to compete with dancing in an igloo, even if they are open air).
If you're a budget traveler, you'll want to buy tickets online, in advance, and in a package to save money ($45 for 3-day weekend pass or $20 online for one night). Once you have that covered, dance the night away, slide down the ice slide, and of course, dig into a hot serving of poutine (fries, gravy, and cheese curds for those of you unfamiliar).
I highly recommend adding this to your list for next year and booking tickets soon. They're cheap that time of year (and so is Montreal since it's the off season)! While in town, enjoy the snow sports Montreal offers along with lots of mulled wine and hot chocolate. Igloofest often coincides with the Fete de Neige (Snow Festival), so you'll have your pick of winter celebrations, all at hugely discounted prices compared to Montreal during the summer.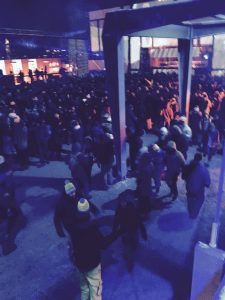 Tips:
Wear long underwear, snow pants, a fleece, a ski jacket, good snow boots, and remember to bring a good hat, pair of gloves, something to cover your face, and hand/foot warmers. Extra points for anything neon or outrageous
Step inside to warm up and buy a bright Igloofest hat (everyone will be wearing them, and if you're observant, you'll see college kids in past years hats when you're out and about)
Feel no guilt about the drinks, poutine, and other crap you will consume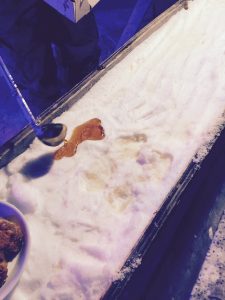 Don't forget to take lots of pictures and make all your friends jealous (just kidding)
Make sure that you remember your ID and money for food/souvenirs! They're strict on carding (it's 18 and up) because of the underage kids who want to get in