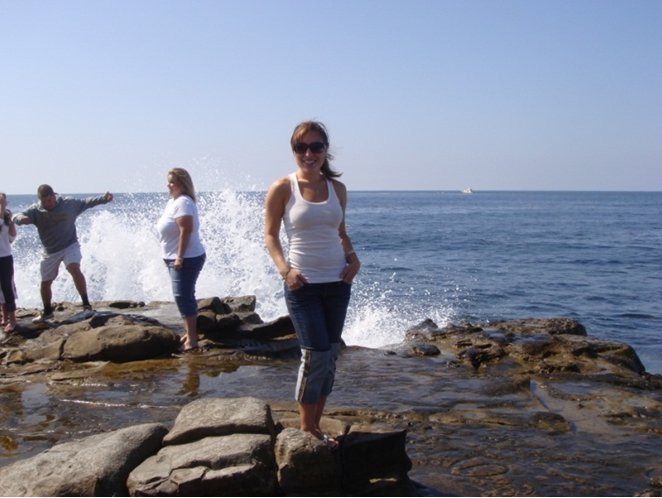 Standing on the cliffs at La Jolla Cove
Friday, September 16th, 2011:
I flew the 2500 miles to San Diego, California on the premise that I would find my future there. After an especially tumultuous year – full of uncertainty about my career, debilitating heartbreak and unstable friendships – I was left feeling empty, despondent and indefinable. I had no idea who I really was and vowed to spend the next year in search of her. A multitude of spontaneous trips, dates and one tattoo later, I arrived at one of my final tasks. I wanted to attend graduate school to catapult a career change and establish my newly defined persona with fresh surroundings. One such place was San Diego. I read about the city, mapped out my adventures and packed my bags with enough educational artillery to get me into Harvard. I was set to spend the following Monday afternoon one-on-one with the director of admissions at the University of San Diego. I may have been looking for an MBA program but what I was really doing was chasing after change by the means of a new and faraway place.
It would be less than 48 hours after my feet touched west coast soil that my entire purpose would change.
Saturday, September 17th, 12:00pm:
La Jolla cove is situated on the coast just north of the city. The town is an odd mix of upscale boutiques and dive bars and the only accessible beach is the size of a large living room. Though relatively close to downtown San Diego, it is not exactly quick to get to (and good luck finding parking when you do finally get there.) We opted for the cheap and "scenic" route by way of a 45 minute bus ride. I say scenic because our in-line entertainment was a would-be bike bandit surrounded by about ten well-armed men (literally, I mean they had nice, big arms). The group of men caught the guy stealing a bike in a nearby parking lot and surrounded him until the police arrived. I don't know if it was indicative of a general sense of community in San Diego, but I was impressed.
We spent the rest of the afternoon entertaining ourselves at La Jolla cove and watching the seals sun themselves. After an ocean-view lunch at Cody's At The Cove we headed back to town. Yulia loves "the club" as she calls it, so we planned to go dancing that evening at Gaslamp district. Naturally, this meant we would spend the next four hours shopping for dresses at Fashion Valley. (Go here for a coffee on the patio on a clear morning before shopping. It's relaxing as heck.)
I met Yulia only months earlier when she was assigned as my intern at work. We immediately bonded over a mutual loathing of incompetent business practices and a love for coffee and chocolate. A modelesque native of Russia with legs of enviable length and an accent that could command the attention of any man, Yulia surprises you with her pointed and sometimes way-over-your-head intellectual comments. She came to America only four years earlier with $400 in her pocket and because she obviously had a lot to teach, she became a great friend in my quest for self-discovery.
Late that evening, we laughed our way to a cozy restaurant on 5th street as we discussed the swarms of uniformed men roaming the district. (The ratio of good-looking men to women in San Diego is about 4:1. Odds for Dani and Yulia? Fantastic.)
After a plate full of pasta and a glass of Disarrono, I was ready for bed. Feeling guilty and not wanting our hours of dress shopping to go to waste, I agreed to check out a bar called Jimmy Loves. We made our way past the live music crowd and downstairs to the basement bar. No sooner did we reach it, we were flanked by a pair of guys. (Here we go again…)
After no less than ten unsuccessful attempts at dancing sans drunk boys, we gave in. The story goes that they were with a group of their fellow Marine buddies and one of them had just been left at the alter. (Right and I'm 5'10′" and eat Twinkies for breakfast.)
They ended up being fairly charming – or maybe it was just adorably pathetic. Whatever is was, we decided to forgo our straight-laced selves and leave the club with them. It could have been a subconscious persuasion by The Marine (the broken-hearted one) who kept imploring that we live life in the moment. It is the only way, after all, he could bring himself to smile in the present without letting the past weigh him down. We followed The Marine, his roommate side-kick John Wayne and the rest of the crowd. What ensued was quite possibly the most surprisingly hilarious ten-block walk back to their hotel. (No mom, we did not go in. We took a cab home from there.)
Turns out, their stories were true.
Now, trying to get ten Marines – who were intoxicated both by alcohol and the excitement of a rare night of freedom – to walk back to their hotel is a bit like herding cats (very large, good-looking cats, of course.)
They were entertaining, of course, but what was impressive was that they never lost their sense of brotherhood and were always perfect gentlemen. I took a liking to The Marine, because despite everything, he took it upon himself to make sure that every last brother returned home safely.
Finally, we all made it back to the hotel and said our goodbyes. Though all ten or so of us had exchanged numbers, Yulia and I left never expecting to see any of our Marines again.
Silly girls.
No sooner did Yulia and I reach our hotel door, my phone rang. It was The Marine. He apologized for the rather sporadic evening but what he really wanted was someone to talk to. I asked him why she left him. He said she couldn't handle his being away. After almost four years in the service it was easy to blame a failed relationship on the distance and he unwillingly accepted.
My reply? "I don't buy that. Love exists whether or not two people live in the same city. It isn't a tangible thing. You feel it no matter where you are or how much distance is between you. If it's a love worth having then you would have it without condition."
He didn't speak for a full thirty seconds and I was starting to have insert-foot-in-mouth syndrome. Then he replied, "Who are you? I kept asking myself that over and over again tonight. Who is this girl? I have never met anyone like you. You're so…alive."
We agreed to meet for breakfast the next morning.
Sunday, September 18th, 12:00pm:
Sluggish, hungover, and just as adorably endearing as the night before, The Marine and John Wayne met Yulia and I on the patio at Fashion Valley. The Marine was without his tuxedo. John Wayne, on the other hand, came just as he was the night before. Jacket and all. So there we were, a Russian, a Greek, a Montana boy in a suit and his Mexican born, Texas-raised Marine friend at breakfast on a beautifully clear San Diego day.
We stayed for three hours and just like that, we were long lost friends.
The boys, being reluctant to return to the harsh reality of what they modestly referred to as "work," offered to take Yulia and I to Pacific Beach. This is when The Marine and I had some time to get to know one another. We walked the beach for over an hour. The Marine told me about his cross-country days in high school and how he resents having spent what were supposed to be his college days learning how to shoot rifles and eating MRE's. But he had a higher purpose he said. He talked about his trips around the world to places like Kuwait and Guam. He talked about his eight siblings and growing up on his parents farm. And then, still smiling, he talked about his lost love.
A frigid wave caught our feet and brought us back to the present. We had been so consumed by our spontaneous day that we realized we hadn't eaten since breakfast. We gathered the others and headed back to search for food.
Now, when I first had the idea for this blog I was worried that my trips wouldn't be interesting enough to read about. But here I was, riding around San Diego in an open-windowed Mustang with my fabulous Russian friend being wined and dined by a couple of Marines.
I think I sometimes worry in spite of myself.
Monday, September 19th, 1:00pm:
The next afternoon, I attended my meetings at the University with a newfound sense of energy. "Be the life he sees in me," I told myself. I interviewed with the ease of someone who no longer needed them quite so badly. I was beginning to see that the change I was looking for didn't come from a city or a faraway school. I had already been experiencing change without those things. I spent the past ten months doing things that my old self would've never considered. I experienced moments of profound self-discovery simply because I was doing things I had never done before. It wasn't necessarily change. It was evolution. The means of which were always within me. It's our job to explore that universe, to evolve, to find happiness…to live and be alive. And it took the seemingly simple observation of The Marine to make me realize that I was already there.
That evening, while walking through the beautiful Balboa Park, I got a call from The Marine. He wanted one last dinner. This time, the four of us opted for Russian cuisine at a hard-to-find restaurant called Pomegranate (or so we think) on El Cajon. Yulia was our menu tour-guide. It seemed appropriate that the walls of the restaurant were covered in inspirational messages left behind by patrons past.
Finally, we parted ways and the next morning, Yulia and I boarded separate planes back to Orlando.
I don't know what it was about The Marine that captivated my attention. I hate to think how boringly normal our trip would have been had I chosen to go home that night at Gaslamp. I don't know why we felt unusually comfortable with each other or what made us laugh as though we were old friends. I especially have a hard time understanding how such a simple act – the befriending of a stranger – could have led to such meaningful lessons.
As my plane taxied the runway, I thought back to my walk on the beach with The Marine. I remembered being struck by his smile as he talked about his lost love. I realized that right there – his happiness – was the power of the human spirit. Living proof that man is a universe within himself. That everything we are made of is enough. It might take a broken heart or a trip to Guam (or even just a misguided trip to sunny San Diego) to uncover happy parts of us that were always there. When The Marine saw a life in me that I hadn't yet been aware of, I became all the more alive because of it.
I'm not sure what my future holds or if I will ever see our Marines again. I don't know what schools will accept me or how many times I might change my mind until then. I don't know what new city I'll fall in love with or how badly I'll want to be home. And I'm OK with that. It's time to stop chasing change and to just let life evolve and when the time comes – when tomorrow becomes right now – I will live life the way it is best lived: unburdened by the past, uninhibited by the future and totally, unequivocally, unapologetically in the moment.