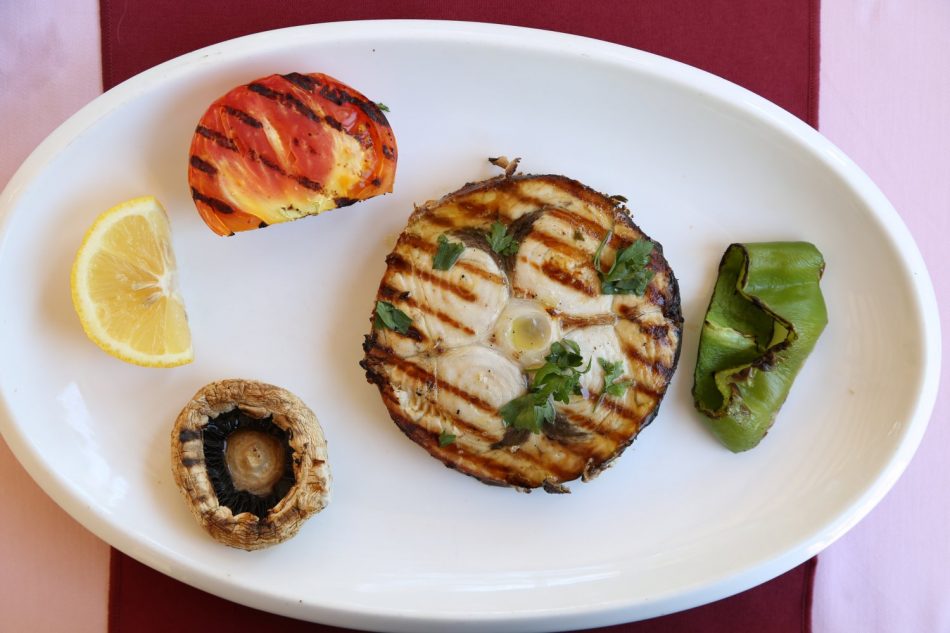 A spiny lobster crawled on top of the other, lifeless sea creatures displayed on the table. Chef Paul Bartolotta easily picked it up with a gloved hand. The olive skin in his slightly round face glowed as he spoke knowledgably and enthusiastically about the dishes he loves to create-fresh seafood from the waters surrounding Italy, made more savory by his blends of herbs and spices and his techniques.
Bartolotta clearly takes the work he loves seriously. He has divided the Mediterranean and Adriatic Seas into zones, based on factors like their water climate and available nutrients. Sea creatures taste better when they've come from the correct zones, he believes, so a fish caught after swimming into the wrong place wouldn't make it at Bartolotta's Ristorante in the five-star Las Vegas Wynn hotel.
After his brief presentation, Bartolotta's staff served lunch. Scanning my plate, my eyes focused on an octopus tentacle. It was about two inches long, about an inch wide at the base and tapering to a dull point. The purple suction cups puckered from the white flesh like a grandmother's kiss.
I am not an adventurous eater. I had never tasted octopus, and had never planned to.
The chef weaved through the few tables, making sure that everyone was enjoying his creations. In small part, I didn't want to be impolite, and I didn't want to disappoint him. But mostly, I was taken in by his obvious skill and passion. I didn't want to miss out on anything he chose to serve me, no matter how far outside my comfort zone it was. I would have eaten it out of his hand.
I cut a small piece and tasted it. The suction cup felt somewhat rubbery against my tongue, but the flesh was tender and tasty, as though it had gone from swimming in the ocean to swimming in butter. It filled my mouth with enough pleasure that I finished the whole tentacle. I'm glad I tried it, though I probably wouldn't order it from a menu. The suction cups were just too weird.
After lunch, I went up to my room at the Encore to take a nap. It was only about one o'clock, 3:00 at my home in Virginia, but I was tired. Unable to get a last-minute flight out of convenient Reagan National Airport, I'd arisen twelve hours earlier in order to catch an o'dark-thirty non-stop from Baltimore-Washington International, nearly an hour's drive from my home. But that wasn't the only reason I was tired. I'd been struggling with the revisions on my book for weeks. Ordinarily, I'd have passed up the short-notice opportunity to visit Vegas on the cheap in favor of gutting through the work, but I was having attitude issues, frustrated with the publisher, which still hadn't paid me my advance. I wanted to give myself to my work, but I felt exploited, and the pursuit of excellence didn't seem safe. And so I was paralyzed, appalled at the thought of doing a poor job, afraid of the pain of doing a good one.
Forget 'em. I was off to Vegas.
As tired as I was, I couldn't nap. For a while, I lay sleepless in the plush king-sized bed, with its white linens and comforter. Maybe a bath would help me sleep. The large bathroom featured a deep tub and separate shower, a long vanity, and a small television; a door on the far side from the tub opened to the small water closet, with its own phone. As the tub filled, I squeezed the bottle of bath gel into the stream of water. I sank into the bubbly hot water, which reached my shoulders, and leaned my head back. How nourishing it was to feel pampered, from the limousine ride to the hotel, to the bottle of ice-cold water-on a silver plate-offerred me at check-in, to Bartolotta's buffet, to the clean, deep, gold-fixtured bathtub.
For dinner, I scored a table at Sinatra. The restaurant is a culinary tribute to the Chairman of the Board. In display cases out front are his Oscar for From Here to Eternity, his Emmy for Frank Sinatra: A Man and His Music, and his Grammy for Strangers in the Night. The main dining room features banner-length photographs and, of course, his music. But I was seated among the racks of wine in the chef's room.
I looked at the menu, and my hopes leapt at the butternut squash ravioli, made with amaretto and vanilla. In a few moments, Chef Theo Schoenegger stopped by my table. He wanted to prepare a special meal for me and would like to know about my food preferences, as well as any allergies. I think I was a great disappointment to him when I said that I was most intrigued by the ravioli. "We can do that as a middle course," he said, but he clearly wanted to prepare something more spectacular. That was fine with me; when a man who obviously knows what he's doing insists on delighting me with something special, I don't argue.
Soon I received four small sample-sized seafood selections as my appetizers; I enjoyed them even as I awaited the ravioli, which came next. It exceeded my hopes. The pureed butternut squash was thick and smooth, the consistency of a savory Boston cream. The vanilla and amaretto played off each other, like high and low notes in a Mozart symphony.
A white fish followed as my main dish; it was tender, flaky, and delicious. Then, perhaps recognizing my love of autumn's orange vegetables, Chef Schoenegger included a pumpkin-flavored, ricotta-based cheesecake as one of two desserts, along with a tiramisu, which was better than some I've had in Italy. And the savory tang of the rich, smooth cheesecake complemented the sweet taste of the chocolate-y tiramisu. It's hard to decide whether dessert or the ravioli was my favorite part of the meal, though after three courses, I couldn't finish.
But I had no trouble sleeping afterwards, in the bed that had been remade and then turned down for me. Beside it were four slippers: a small white pair, and a large beige pair. At first I was surprised. Surely this excellent hotel staff knows I'm here alone. Later I realized that the second pair was there in case I invited an overnight guest.
After a breakfast buffet featuring selections like quail eggs and lobster medallions, I headed to the slot machines. Upon losing my budgeted $20, I checked in at the spa, where I opted for its signature Good Luck Ritual. As I lay prone, the full-body massage began with the ding of a small bell above my head. Then the masseuse reached her lavender-lotioned hands under the face cradle and instructed me to inhale three times, to relax me. Based on the five elements of Feng Shui, the massage features a lemon verbena and peppermint foot cream, a wild lime botanical scalp treatment, and heated Thai herbs in between. When instructed, I rolled onto my back, that bittersweet moment of anticipated further pleasure combined with knowledge that it was soon coming to an end. And after several minutes, the therapist held eucalyptis-lotioned hands over my face, again instructing me to inhale thrice, to revive me. Another bell ding above my face signaled that my Good Luck Ritual had run out. Had the masseuse offered me a cup of hot herbal tea after the final bell ding, and thus extended the soothing sensation a bit longer, it would have been nearly perfect.
But gastronomical sating was only as far as the Botero restaurant, where I ordered a caprese salad as an appetizer. As I bit into a piece of tomato, my head tilted back; my eyes popped wide, and a small oh escaped my throat. The tomato was -grilled. The warm olive oil lingered on my lips; the basil tingled my tongue. I didn't know that caprese salad could be so sensually innovative. I almost expected the woman at the next table to say, "I'll have what she's having."
The short rib I had for dinner prolonged the fabulous sensations. I usually eat in the counter-intuitively more efficient European fashion, knife in right hand, fork in left. I read in a French essay somewhere that Americans perform a petite ballet with each bite. But I adopted the American style, savoring the feel of my own fingers on one another as I passed my fork from hand to hand, almost as much I savored the taste and tenderness of the beef. It was worthy of Giselle.
Reluctantly I realized that I couldn't finish the short rib and still have room for the souffle I'd ordered. A tomato had already left me wide-eyed and open-mouthed. What would a chocolate souffle do to me?
Nothing, it turned out, that hadn't been done before. The souffle was excellent, the quintessential gourmet comfort food. But perhaps because only the best pastry chefs would even attempt a dessert that demands such precision in preparation, it was merely on par with all the other souffles I've loved in my life. However, it was accompanied by two sauces: coffee and vanilla. I tried the coffee first; it didn't do much for me. As I neared the bottom of the dish, I poured the vanilla sauce over the remains of the dessert. It was nearly as astonishing as the tomato. The pure punch of vanilla filled my mouth. If instead of beans, vanilla came naturally in the form of thick cream, this is what it would taste like. Anyone who thinks that plain vanilla is boring has never had vanilla like this.
Then it was time for the last night in my turned-down bed, once again accompanied by one-too-many pairs of slippers. The lingering sensations of tomato and vanilla would have to keep me warm and sated though the night.
The next morning, after once again feasting on quail eggs and lobster, I walked along the Wynn Esplanade, a row of shops featuring a Chanel boutique, Rock and Republic's only discrete shop, and even a Ferrari dealership, which connects the Encore with the Wynn. After getting back my $20, plus an additional $8, at the Wynn slots, it was time to pack and head for the airport.
I left feeling richer by much more than $8. From the moment I first surrendered to the octopus, through the dazzling dinners and the sensual spa, I felt nurtured and inspired by the Encore's imperfect excellence. I went home and threw myself into my book, determined to make it sing like Sinatra.