I know what you're thinking: Ohio is not exactly synonymous with romance. But with its varied landscapes and unique regions, the Buckeye State has many idyllic places for proposals, first and second honeymoons, and weekend getaways, whether your idea of romance involves couples pampering at a luxury spa or escaping civilization at a secluded cabin in the woods. Here are five Ohio destinations where you and your partner can spark, celebrate, or rekindle your romance.
Hocking Hills Cabins<
The Hocking Hills region in southeastern Ohio is a hidden gem. Hocking Hills State Park comprises six distinct sites with towering cliffs, recess caves, waterfalls, and canyons carved in sandstone. The most popular site, Old Man's Cave, is the starting point for a six-mile scenic trail that wanders through three of the park's six areas. In this untamed wilderness, lovers will feel they truly are the only people on earth. Secluded cabins with majestic views, fireplaces, and hot tubs guarantee your romantic escape will be one to remember.
Amish Country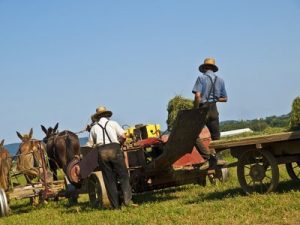 Located about an hour south of Cleveland, Ohio's Amish Country is a place you and your loved one can relax and enjoy a simpler side of life. Wander through historic downtown Millersburg and explore the Millersburg Glass Museum, eat some of the country's best cheeses and pastries, and browse the many craft and antique shops. At the end of the day, retire to one of the area's quaint inns, many of which have luxury spa facilities and upscale dining establishments, for some private time.
Wine Country
Wine-making has been a tradition in Ohio for over 150 years, and there are now more than 180 wineries stretching from the shores of Lake Erie to the Ohio River Valley. Spend the afternoon tasting award-winning pinot noirs, Rieslings, and ice wines, and then head to a locally owned lodge where your room overlooks Lake Erie. The wineries play host to several events throughout the year tailored for romance, including the "Chocolate is for Lovers Trail" in February, the "Spring Fling Wine Trail" in March, and the "Fall Frolic Wine Trail" in September/October.
Cincinnati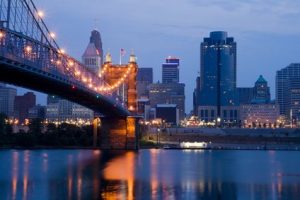 If your perfect evening involves dinner and a show, head to Cincinnati for a romantic weekend in the city. Take an afternoon walk in Eden Park, then take a leisurely walk to Nicola's Restaurant—Cincinnati's top romantic dining spot as rated by Yelp reviewers—for a five- or seven-course tasting menu before you take in a traveling Broadway production at the Arnoff Center for the Arts. Non-theater lovers can book a dining or sightseeing riverboat cruise through BB Riverboats. After the show or the cruise, enjoy a night at one of the city's boutique art hotels.
Castles
You don't have to travel to Europe to get that romantic Middle Ages feel, just head to one of Ohio's more than 20 castles. Ravenswood Castle in Hocking Hills is straight out of the medieval England, but with modern amenities. Spend the night in a four-poster bed and then enjoy breakfast in the Great Hall. The Piatt Castles in West Liberty were built in the 1860s and 1870s by brothers Donn and Abram Piatt. Today the castles, which are located only a mile apart, are museums. Other castles throughout the state operate as art museums, bed and breakfasts, public buildings, and more.
The Arts Castle just north of Columbus serves as a cultural arts center for Delaware County.[/caption]Ohio's romantic charms have long been some of the state's best-kept secrets, but the secret's out. The region's breathtaking scenery, excellent food and wine, and rich cultural activities provide the perfect backdrop for the romantic getaway of your dreams. The next time you are planning a trip alone with your sweetheart, explore the many pleasures Ohio has to offer.
Lastly, if you're looking for accommodations on your tour of Ohio, check out Hotel Engine and take advantage of their exclusive member rates.