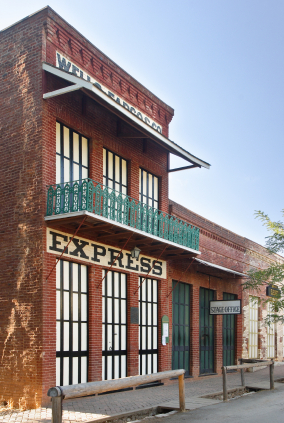 However, instead of continuing their journey, they elected to camp for the night under a large oak tree. The five men had traveled for months searching for gold said to be easily picked out of California's mountain streams. They had found plenty of streams but no gold.
All five spent a miserable night on the ground as a rain storm drenched Tuolumne County. In the morning, the men decided to let their blankets dry out before continuing on their journey. While waiting, one man dug his pan into the soil in a gulch near Kennebec Hill. "Find any gold?" he was asked.
He had.
Within a few days, forty tents appeared around the gulch. Within a month, the population exploded to five thousand. In fact, there were so many gold prospectors working in this territory that their campfires along the route from Stockton to Sonora were near enough to each other that the light from their fires could show a traveler his way in the dark. On the 29th of May, a mining district was organized and the name chosen to replace "Hildreth's Diggins" was "Columbia, Territory of California."
Columbia's population continued to increase, along with the gold production, but hundreds of houses and businesses were wiped from the face of the earth by the fire of 1854. Sonora newspapers proclaimed: "Columbia In Ashes." The town was rebuilt, prospered, but was devastated by another city-wide fire in 1857. Brick buildings with iron shutters and doors went up this time, and the town grew until the gold deposits gave out. Around 1870, mining companies left town and thousands of people went with them. Things were quiet after that. History does not reveal when the Hildreth party left, but it does say a few hundred residents kept Columbia alive.
Total gold extraction: $87,000,000. That's the figure on the historical marker at the entrance to the park. Wells Fargo says $55,000,000 in gold was weighed on scales in their old building where the stagecoach now stops. Information is everywhere in town and legends abound.
One legend concerns Columbia being considered as the capital of the new state of California. (Statehood arrived September 9, 1850.) One town after another was considered: Montery, San Jose, Benecia, etc. So, some miners thought: WHY NOT COLUMBIA? And they obtained 10,000 signatures, according to legend, on their petition to make Columbia capital of California.
Then, a local lawyer attempting to help a convicted killer, sent a letter to the governor, asking that the killer's life be spared. The lawyer had attached the petition, after removing the heading. The governor, assuming he would please 10,000 constituents with one stroke of his pen, reduced the killer's sentence to seven years.
The legend doesn't end there. Columbia DID become the capital of California. Sort of. Governor Earl Warren signed the Columbia State Park Bill in the town's justice court during a celebration attended by the ubiquitous 10,000 people. And, in front of all those potential voters, the governor declared Columbia "Capital of California for one day–July l5, 1945."
Part 2
I was down in Columbia because of my past. California History had been part of my fourth grade curriculum where I had developed the philosophy: WHAT BETTER WAY TO CULMINATE A STUDY OF THE GOLD RUSH ERA THAN BY VISITING IT? I had toured the gold mine, led hikes up the hill to the brick schoolhouse, and had panned for gold in the cold waters of the sluice box. And, long after my students had had the misfortune to graduate from my class and give up fun studies of their home state, I still went down to Columbia on some weekends. For one thing, I liked its "Living History Program." Characters in costume act, talk and often convince me that they really are from the 1870s. For another, it meant being in a city where no cars are allowed on the main street. And, sometimes, I just like to get away and a restored Gold Rush town at the 2200 ft elevation is just the right distance between where I am and where I want to be.
Columbia, California IS a living history. In fact, Columbia recreates itself, like a Phoenix, almost monthly. The miners, gamblers and camp followers that left when gold deposits gave out get recreated for "Hildreth's Diggins 1852" every year. The Fireman's Muster demonstrates how hand pumpers like Lil Papette were used by firefighters of long ago. Of course, any class can participate in the bucket brigade and get wet and educated at any time. (For a complete list of events, check out Columbia, California's web site.)
Night time is something to hear in this old town. After you eat in the City Hotel, you leave the candlelight and warmth of the old building and wander down a lamp post lighted empty Main Street. When a dried leaf is blown across the asphalt, every scratching sound it makes is heard clearly in the clean mountain air. No airplanes pass over head. The Columbia Airport routes all flights away from town. The nearest train, like the one used in the movie, "High Noon," is way over in Jamestown.
Nearby Parrotts Ferry Rd. is just two lanes and there's no traffic there, at night. So, it's just you and the night and your own heart beat. The same is true for other Gold Rush towns on Highway 49–Sutter Creek, Chinese Camp, Big Oak Flat. Same ordinary, ear-filling quiet. Other pieces of living history to visit.
I know, I know. You are thinking I'm making a pretty big fuss over some old brick buildings in the mountains where some people dress up in funny clothes once a month. You might even know some one who finds living history programs boring. So, what keeps me coming back? Let me answer this way: I have enjoyed a major musical production in the Fallon House Theater, had dinner with "Mark Twain" during a Victorian Feast, one winter, and have been in the gold mine when the lights went out, and the guide said, "It's so dark in here, you can't see your hand in front of your face!" Of course, he was right, but one of my gifted students responded, "No, but I can IMAGINE what my hand looks like." So, maybe the memories influence me.
Then I think: Maybe my desire to visit here has to do with how Columbia touched the child in me, the child who never got to be a pioneer, a cowboy or a Quixote-like prospector off on an adventure in the wilderness. I grew up on the flat lands of Michigan where my soul yearned for the mountains, valleys and huge boulders I saw in cowboy movies on Saturdays. Ironically, many of those same movies were filmed in Columbia. So, we know I didn't grow up in Columbia, but when I was there, I grew. I have never lived in Columbia, but when I was there, I lived, if only in my imagination. Columbia has always helped me think outside my mind and then let me return home, not with gold, but refreshed– a feeling that gold can't buy, a feeling that feeds my soul.
Dr. Hildreth was right. You can go into the mountains and find riches. You just have to look in the right places.