I'd be willing to bet that if I asked you if you've ever been to Torrance, CA, your response would be something along the lines of "uh, where now?" Surrounded by Hermosa, Redondo, and Palos Verdes, well-known beach cities along California's Santa Monica Bay, Torrance is often overlooked. However, for those who are looking for an authentic community experience in a location that is still close to all the Southern CA tourist hotspots, and will make a little smaller dent on your pocketbook, I'd urge you to find Torrance on the map. It has special qualities that some might say make it the beating heart of the South Bay.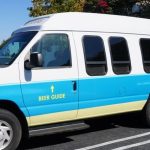 On a recent tour through some of Torrance's main arteries, organized by Discover Torrance, a hotel sponsored PR marketing effort, I discovered a rapidly growing craft beer scene fueled by some very passionate small business entrepreneurs who weren't afraid to follow their passions and turn their dreams into reality. After arriving at the Doubletree, I was promptly whisked away by LA Beer Hop, a small family-owned tour company that takes visitors on craft brewery tours throughout the city by van. The first stop was Red Car Brewery located on Sartori Ave. in a structure that was built in 1928. The owners, Laurie and Bob Brandt, decided to keep as much of the original architecture and design as possible while creating an open, lively atmosphere with tables on one side, and beer barrels and bar on the other. They have seven barrels that they bought from a brewery in Maine and drove across the country. The city of Torrance recognized their fervor and invested in their thirst, and Red Car Brewery became one of the largest government funded projects in Torrance in 2000. Shortly after opening, Laurie asked a minister to bless the brewery and when he did, he officially claimed it was "a place of gathering". With community support, Laurie and Bob worked hard to launch a business that resonated with the community, paid back the city loan in 5 years, and now regularly host fundraising events at the brewery for other small non-profits in a pay it forward fashion. They welcome all occasions.
Bob, a self-taught master brewer, insists on only serving what he brews himself and with batch #883 under his belt, he's had plenty of practice. But it's no wonder he was able to master his recipes since one of his ancestors was one of the original hops growers in California. Brewing is in his genes. Bob continues to experiment with new flavors for batches regularly and has even added a Turbo Pumpkin and Pumpkinhead Ale specialty for Thanksgiving. While I'm no expert, I was impressed with the subtleness of the Pumpkinhead Ale's ingredients of real pumpkin, cinnamon and nutmeg. They are English-style beers and Bob has 5 serving tanks, but manages to keep a wide variety ranging from Electric light, which is crisp, clean and refreshing, to South Loop Porter, which is full–bodied with chocolate malt flavors. Laurie compliments Bob's brewing with her energetic and friendly Mid-West hospitality and oversees everything non-brew related, from the menu to marketing and management. This dynamo team banters while they work and it's easy to see why they have repeat customers and loyal, long-time staff. Laurie jokes as we sit down to eat, "We work together and we
still
love each other". The flavorful menu is equally compelling and with great pairings, it's no surprise that all are jovial by the time they walk out the door.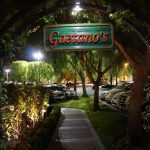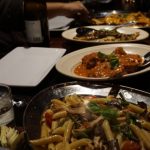 Later that day, LA Beer Hop drove our small group to Gaetano's, an Italian restaurant that has been open since 1993. It is another family-owned business situated in the Airport Plaza Shopping Center. It has a small outdoor seating patio and inside bar and restaurant. The atmosphere was booming with lively chatter and an Italian Aria playing in the background as we walked through the doors and were greeted by our comedic server, Debbie, who reminded everyone of Elaine from Seinfeld. Despite Debbie's full time day job as a PE Teacher, she was attracted to the restaurant's charm as a patron and quickly joined what is clearly a close-knit team shortly after they opened their doors. The menu includes some traditional favorites as well as creative daily specials. We opted for their 4 course family style menu and tasted everything from their Caesar salad, to Butternut Squash Ravioli, Chicken Marsala, and scrumptious flourless chocolate cake. When I asked Debbie what keeps bringing people back to the spot, she said, "It's a place where good people come to enjoy our food, but they stay because they love the people". The family who runs it is from Palos Verdes and Cicely, and with lots of grandma's recipes on the menu it's easy to understand why it is a community favorite.
On to Miyako Hybrid Boutique Hotel, located at 21381 Western Ave. This establishment is only five years old and is one of two locations in the US, the other residing in Downtown Los Angeles. It has solar panels on the roof, green practices, and with an address close to Los Angeles Airport (LAX), as well as several automotive and aerospace headquarters, it is very popular among Japanese business travelers. "
Mitsuwa Japanese market is right around the corner, which offers fresh and convenient ingredients for Ise-Shima Cocktail Lounge, a full-service restaurant just inside the lobby of the hotel. We had the opportunity to meet Alejandro Vazquez, Hotel Sales & Marketing, as well as Yukio Sonoda, Executive Chef. While Alejandro supplied us with information about the hotel and regaled us with stories from his home country of Argentina, Yukio took pride in expertly preparing an array of palate pleasing appetizers for us to sample. The spread was impressive with flaming snails, towers of tuna tartar, snow crab legs, Kobe beef, and barely expired lobster. Their mixologist also whipped up flights of uniquely named cocktails – Blue Saketini, Isashima Sunset, Rising Sun and Lantern of Peace to name a few. The merriment spilling from our glasses was intoxicating and we all left feeling satiated and grateful for such a fantastic display of artistry not soon to be forgotten.
While it was going to be hard to beat the taste of Torrance that we got on the first day, the following days offered no shortage of diversity. While I was understandably skeptical as we pulled up to a café called Yellow Fever, my skepticism was instantly transformed to admiration as we walked through the doors of this family owned jewel of a spot where they offer a fusion of Asian flavors that are soul soothing, which is exactly why their slogan is "Asian bowls for your soul". Owners, husband and wife duo Mike & Kelly Kim, now include "ridiculously tasty Asian bowls" as part of the definition for Yellow Fever in their dictionary. Mike and Kelly both have corporate backgrounds and have used their combined talents to launch this fun and flavorful café. With the help of restaurant manager, Jeffrey Nita, they are soon to boast of additional locations and will continue to support the local community with their eco-friendly practices and fundraising events.
Once our bellies were full of Asian flavors, we were off to Strand Brewing, which has recently just moved into a new 36,000 sq. foot warehouse tucked away at 2201 Dominquz St. Strand was founded by Rich Marcello, often referred to as the front man, and Joel Elliott, known as the mastermind behind the scenes. Friends for 25 years now, Rich and Joel started Strand in 2009 in a 900 sq. foot industrial space with Rich's grandmother's bingo money for capital. They have tirelessly worked to refine operations and promote their business. Today, Strand is poised for explosive growth with 7 beers on tap ranging from Amber and Pale Ale to Stout, but Rich and Joel are determined to keep a very communal, sparse atmosphere for their open space beer garden and tap room that sits just off to the side of the main setup. "Slow and steady wins the race", Rich says as he pours us a glass of their Atticus IPA, which had a balanced, smooth flavor. Of their 100 first accounts, 97 of those accounts still order from them today, six years later. Strand Brewing Co. was recently recognized as the 2015 Small Business of the Year for the 66th Assembly District, which primarily includes all of the South Bay cities. Rich's energy was contagious as he said, "When my feet hit the floor every morning, I know I'm in the middle of something special, and I'm happy to be part of it". As we left, we said hello to one of the servers that we had met the day prior at Red Car Brewery, who works for both locations. We were warmed not only by our beer buzz but also by the sense of collaboration in this community.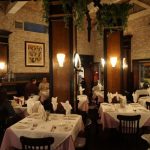 Later that evening, we met Chef Michael Shafer at the Depot, situated in the refurbished Pacific Electric Railway building located along Cabrillo Ave. The restaurant oozes in classic elegance with its white linens, dark wood accents, high ceilings, and servers in black uniforms. In his raspy, booming voice, Michael explains to us that he initially came to Torrance because of all the headquarter companies that were based there, but soon realized that it was also a "great community". As our servers placed Buster's Ahi Tuna Poke, Rock Shrimp Sausage, and Caramelized Brussel Sprout appetizers on our table, Michael amused us with stories about his troubled childhood, first job as a busboy and how he now mentors kids who are interested in the restaurant industry. Originally from Buffalo, NY, Michael initially went to school to be an art teacher but quickly realized that he wanted to combine his passion for creating with his love of food. He spent 3 years in Europe honing his skills, working in several
European Hotels and eventually came back to the US to work as Executive Sous Chef for the Century Plaza Hotel. Since then, there have been several other hotels, restaurants, and awards and Michael has become a bit of a town celebrity. He's not afraid to take a risk and can rally positivity with his vivacious personality. He is a bit of an oxymoron as both an ordained minister and lover of rock and roll with long, wavy hair that he pulls back in a ponytail, full, bristly beard, chunky rings on almost every finger, and bracelets and necklaces from countries all over the world. Despite appearances, what rang true with his persona was the slogan on the arm of his chef's jacket that read, "Live well, Love much, Laugh often". Michael explained that now, when he caters a wedding, he can do it all – officiate the ceremony and then serve the guests. He's also raised millions of dollars for various charities around the community and humbly rejects recognition for any of it.
On our final day, there was no way that we could leave Torrance without visiting two of the towns most renowned bakeries: Torrance Bakery and King's Hawaiian Bakery & Restaurant. While both bakeries have a delectable assortment of confections, the former is quaint and serves only confections and coffee, while the latter showcases family style Hawaiian flare and has a full restaurant. Torrance Bakery is located at 1341 El Prado Ave. and reminds visitors of Torrance's humble beginnings in the early 1900's when it was first incorporated. The street is lined with trees and the bakery is only a block away from El Prado Park, which makes for a quiet spot for enjoying morning coffee. Torrance Bakery is also renowned for its wedding cakes, which were showcased next door in between the bakery and their sandwich shop. The latter, King's Hawaiian, is family owned, in its third generation, and located at 2808 W. Sepulveda Blvd. One walks in to find an assortment of breads, cakes, pies and several other goodies that are sure to be the hit of the party.
Cesar Chavez said, "If you really want to make a friend, go to someone's house and eat with him… the people who give you their food give you their heart." The restaurants and bars that we visited in Torrance felt exactly like home and each one of them gave us their heart.
For more information about Torrance, please visit Discover Torrance