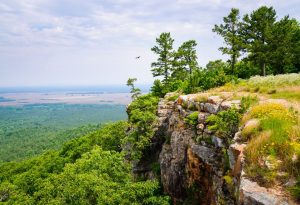 A smile of contentment warms the crisp evening breeze, as my Big-Easy reality eases back to its default setting: A humbled existence devoted to saving lives, amidst the controlled chaos of a stressful clinical environment.
Just a few days back, the dullness of my royal blue nursing scrubs surrendered to the brightness of my candy pink hiking suit. The travel bug took an awful bite! It is nudging this brown-eyed, fun-size wanderlust to defy conventional wisdom, and listen to the tiny voice that whispers:
"GO…. There's nothing stopping you!"
THE DRIVE
My relentless spirit of adventure soon outplayed an old familiar fear of driving in unfamiliar places.
Driving my 2012 Sapphire Pearl RX 350, I took a 7.5-hour road trip spanning 454 miles, from Destrehan, Louisiana to Hot Springs, Arkansas. This is my first long-distance solo road trip,
Ever!
I knew this road trip was going to be fun. I did not know that fun was about to be re-defined, in a good way, by this thing called CouchSurfing.
COUCHSURFING 101
CouchSurfing is a worldwide hospitality network of travelers and travel enthusiasts.
Dedicated on making travel more doable, CouchSurfing hosts freely offer what extra living space they have in their homes: a couch, a floor, an air mattress, an entire room, an attic, a basement, a yard for pitching a tent.
As a token of reciprocity, gratitude, and appreciation, CouchSurfing guests offer their hosts whatever time, talent, skills, and resources they may have, including the promise of opening their homes to former hosts whenever the need arises.
CouchSurfing, in my opinion, is evolutionary. It is a practical alternative for solo travelers who, for reasons of budgetary restrictions or desire for optimal immersion – or both – would rather ditch conventional wisdom and avoid staying at a hotel.
What about safety?
The CouchSurfing website comes with safety features, such as member verification. Members are encouraged to post timely, factual feedbacks about their CouchSurfing experiences. CouchSurfers searching for hosts can look before they leap.
FIRST-TIME ENCOUNTER
Prior to this road trip the idea of sleeping in "a stranger's house" was just as unsettling as the thought of "letting a stranger sleep in my house," if not more.
Finding the concept brilliant, practical, and exciting, I joined the CouchSurfing community in December 2014. However my membership status remained inactive for months. I was  intimidated by so many "what-if's."
After hesitating for a whole year I finally found the courage to trust my daredevil instincts. Come what may!
This trip was my full-pledged proverbial plunge.
THE ARRIVAL

It was almost dusk when I arrived at my Hot Springs CouchSurfing destination. Upon meeting my hosts, Karen and Randy, all residual reluctance instantly faded into oblivion! My usual let-whatever-comes-come-and-whatever-goes-go attitude instantly took center stage.
Later that night Dan and Chiro, a couchsurfing couple from India, drove in from Oklahoma… and, instantly, we all bonded – beautifully, naturally, effortlessly. We were a family, meeting up for the sheer joy of celebrating a long-overdue reunion.
It was so refreshing!
Awesome happens when you're able to feel instant closeness with people from far-away places. It is so reassuring to be seen, heard, accepted, and celebrated by trusting folks who know you only through the words and images on your CouchSurfing Profile.
FEEDING THE FOODIES
We took turns preparing home-cooked meals. Feeding a diverse  family of six became so delectably compelling. Promoting our respective ethnic cuisines was exciting. It paved the way to hours of gastronomic indulgence.
The tantalizing aroma of spices, and irresistible flavors of authentic Indian food — served over raw, thought-provoking, hearty conversations — filled my foodie senses, igniting a gluttonic excuse for eating as if it was the last meal of my life….
Yes, that is precisely what I did!
The following day was equally unforgiving. It was my turn to do the cooking.  We then stuffed ourselves with chicken adobo, seafood gumbo, pansit bihon, 6-cup fruit salad.
What a tasteful moment of guilt-free indulgence!
THE FLOW
The next day we woke up to a blistery 34-degree-Fahrenheit morning. That's Louisiana's operational definition of "cold."
That would have been a valid excuse for me to roll back under the covers. I would have rather slept-in for as long as I could. Hiking the Caddo Bend Trail at Lake Ouachita State Park would have been the last thought to cross my mind.
But this week-end was about spontaneous sociospiricultural immersion. Everything was up for grabs!
It was not a matter of going with the flow; it was about being the flow.
Before long my enthusiasm warmed up like it was nobody's business. I was swaddled by the joy of collecting once-in-a-lifetime memories.  My hunger for time-warping, mind-stretching, consciousness-expanding adventure found its match! The rest, as they say, is history.
HOT SPRINGS HIGHLIGHT
Hot Springs is the 11th largest city in Arkansas. Located in the Ouachita Mountains, this relaxing vacation destination is parallel to Hot Springs National Park — the smallest fully-fledged national park in the United States.
The laidback atmosphere of this charming little town makes it a travelers' gem, ideal for solo travelers, couples, and families.
Here are the highlights of our group adventure in Hot Springs:
Soak and heal in the soothing thermal waters of Quapaw Bath House
Experience the architectural glory of Arlington Hotel
Tour the historic Fordyce Bathhouse
Stroll through the Grand Promenade
Explore the Bathhouse National Historic Landmark District
Shop at the souvenir stores along Central Avenue
Hike the Caddo Bend Trail
THE TAKEAWAYS
So there I was, lavished by my CouchSurfing hosts' exceptional hospitality. It was endearing! I felt empowered to have authentic, heart-based connectivity with my fellow couchsurfers.  This had me acclimating spontaneously into what once was a daunting, unconventional way of traveling.
In the midst of all that, I stumbled upon the following bold conclusion.
We live in a world blessed with so much abundance. Any perceived shortage of kindness is mere illusion! Believe it or not, there is a constant flow of love and compassion – within and around us.
The key to all-things-fun-and-wonderful is immersion. It is the basic ingredient in making travel more delightful, if only we would:
Step beyond our usual comfort zones.
Explore and expand the boundaries of our minds.
Trust in the inherent goodness of the human heart.
WRAPPING IT UP
As my first-time visit to Hot Springs trailed to an end, I knew there would be a second time… and definitely a third! I also knew that the way I travel would never be the same again.
Exploring a place I've never been — through the hospitality and kindness of those who fondly call it home — is a savvy solo traveler's ultimate delight.
If I were asked to condense this four-day Hot Springs adventure into a single word, what word would that be?
Transcendent.
This CouchSurfing experince has deepened my appreciation of the way human existence sizzles.
People are delectable appetizers in a wholesome life-enhancing feast, generously served in a buffet of unparalleled serendipity.
The instant camaraderie, sumptuous meals, fun hikes, heart-based connections; the hours of soulful conversations, bathhouse soaks, sight-seeing, souvenir shopping, bonding with my hosts' four-legged children…. brought Benjamin Disraeli's words to the limelight of my mind:
"Like all great travelers, I have seen more than I remember, and I remember more than what I have seen."
On my drive back to the place I fondly call home, I became acutely aware of how fabulous life is. We are all marvelous creatures of love and light…. beautiful, peaceful, human beings: whose hearts throb for goodness, whose minds swell with compassion, whose spirits roam free in an eternal Serenity of Oneness.