Steering through the upland regions of Bukidnon to the highly elevated vicinity of North Cotabato can be the most tedious journey I've ever done in Southern Philippines. The vast land area, long and winding trail had taken us 7 hours to reach the intended destination. Such a wearisome travel was later exchanged with excitement, as we arrived in the city being warmly treated by intimates who, too, were part of the important visit.
Situated off the central part of Mindanao, Kidapawan sits as the capital city of North Cotabato and is one important destination in Southern Philippines. Apart from rich cultural heritage, the city itself provides complete amenities to visitors: cheap hotels, amusement centers, shopping stores, among many others, and is called the "fruit basket" of the country because of its abundant exotic fruits.
But the main come-on to visitors (especially during months of October to December, including summer) is the exceptional "Mt. Apo"-the country's highest peak where thousands of travelers regularly climb to explore. Kidapawan City well places itself at the foot of Mt. Apo which opens its doors to the world and likewise makes the province of Cotabato a prospective world-class tourist destination.
Mount Apo, according to published sources, stands an altitude of 10, 311 ft. It is flat-topped, with three crests, crowned by a 500-meter-wide (1,600 ft) volcanic crater holding a small crater lake. Moss-covered century-old-trees, alluring flora and fauna, sulfur craters and massive boulders surround the majestic mountain. It also serves as a habitat of the now endangered Philippine Eagle.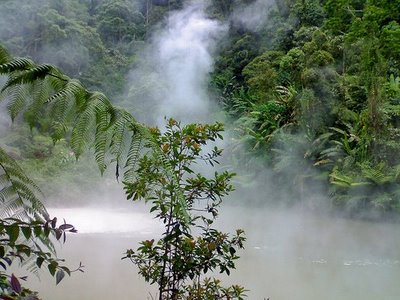 Innate mountain spots which can be seen in Kidapawan are the Marbel Falls; the Mawig Falls in Balabag; the Lake Agco; the Lake Venado which is hidden among the mountain ranges and has an elevation of 7, 200 ft (above sea level); and the Mandarangan Geological Site-a major educational tourism site within the Natural Mt. Apo Park. The Lake Agco bumps up itself at about 4, 200 ft (above sea level). It is approximately 5 kilometers from mountain trekkers' start-off site at Barrio Ilomavis, Kidapawan City.
Transportation going to the city's hinterland barrios is served by "tricycles"-a modified passenger motor vehicle (also known as "motor cab") prevalently used in the Philippines for local transport. Using a rent car or bringing your own private vehicle (as what we did) is much preferable for a comfy ride. A trustworthy guide, too, of course is very necessary.
Travel experiences I spent in Kidapawan were very much unusual ("strange" as I call it) because it blended memorable time with sociable people on a religious organization, which I never did before. I, too, went there to visit a friend who was going to have his investiture as new parish priest of Bulakanon in the Municipality of Makilala, North Cotabato (about 30 minutes away from Kidapawan City), yet I did have lots of adventure, escapade and fun. I'd traveled a long way with friends, including my sister and my brother-in-law.
The town owns a very simple milieu and lifestyle, pacific with pristine air where rubber and fruits thrive. Wide, spacious green fields caught my attention next as we drove through a narrow, lengthy road heading to Bulakanon's community church. Proel, Joel, Kid, Francis and I then met with Fr. Jay where the good priest treated us with lavish meals, fruits, and drinks-along with other clerics, nuns and friends attending such an important Sunday.
We 5 wanderers with Fr. Jay also had a sumptuous dinner at the residence of one respected parishioner, who generously provided us native foods, fruit shakes and drinks. Perhaps the most pleasing scene of the place is the warm hospitality the people of Bulakanon have possessed.
The remaining days gave us enough time to go back and rove around Kidapawan, visit a convent and a monastery, hang out in to some nighttime pubs, play bowling, and do some sightseeing. Some recommended establishments ideal to stay in at the city include the "AJ Hi Time Hotel and Restaurant"; the "Mount Apo View Inn"; "SAM's Guesthouse & Apartelles"; and the "Grand Ficus". There are a number of department stores, fast food shops, communication facilities in the vicinity and internet cafes as well.
There have been rumors that Kidapawan is not a safe place to visit in Mindanao, but that's somehow far from being the case. Such experiences undoubtedly left me a nostalgic feeling that, until now, it makes me want to go back there; this time, to explore the apex of Mount Apo. The city's simplicity and rich cultural legacy give Kidapawan a down-to-earth splendor.
Kidapawan awaits foreign visitors. World nomads looking for rare spring temperatures and climbing experience in Southeast Asia should not miss to visit this yet another interesting destination in Southern Philippines. Its tranquil environment, inborn mountain resorts and waterfalls, abundant fruits, highland springs and its exceptional Mount Apo simply offer an ethereal delight.
How to get there
For global travelers: Book a flight to Manila International Airport (or NAIA). From Manila take a domestic flight to Davao or General Santos City (flights from Manila to either city is available daily, with 3 different airline companies). It takes approximately 1 hour and 40 minutes to fly down to both metropolises. From Davao or General Santos, take a bus ride to Kidapawan City. (For more detailed information, safety guide on mountain trekking, go to the city's tourism office, located just next to Kidapawan City Hall, or contact this writer.)
The Author thanks the following
Joel and Faith Te Roa, SFO who made all my travel excursions possible; Proel Mofar for the long ride and good company; Francis "Iscobar" Mabale, SFO; Emmanuel "Kid" Cabarles; Rev. Fr. Jay Saniel, OFM of Holy Family Parish, Bulakanon, Makilala-North Cotabato for the warm hospitality, accommodation, car, food and drinks (those kinds of food still make me drool); Bro. Eric Magalona, OFM; Joel Tanaid, SFO; the Secular Franciscan Order (SFO) of Kidapawan; Damietta Aspirancy House of Kidapawan; Poor Clare Monastery of Kidapawan; and the Order of Friars Minor (OFM).
Dave's Travel Corner has provided Junfil Olarte a "Letter of Assignment". Countries in Southeast Asia, including Japan, China, Australia, and New Zealand interested in story assignment with the author, email to freelancejune@yahoo.com. Junfil is an international travel writer and a regular contributor of this site.