What it's really like to live in Beautiful British Columbia's biggest city.
Anyone who knows me will know that I spent over two years in Canada on an IEC Working Holiday visa – mainly because I don't shut up about my time here. And although I moved around, overall, I spent just under a year in Vancouver so I feel qualified to write about it. Here's a summary of my experience:
Getting There
Okay, so let's take it back to 2019: Pre pandemic. I'm in final year of college and dying to get out of Ireland. Me and a big group of friends decide to go to Vancouver for the summer.
Why Vancouver? It was a no brainer really – the visa is relatively easy to apply for, it's far less expensive than visas for other countries, it's for a whole 2 years, and they accept thousands of Irish citizens every year.
I had visited friends in Vancouver the previous summer and I loved the city's vibe – it was laidback, outdoorsy, and not too hectic. The fact that there's loads of beaches and it's an English-speaking country made it an easy sell.
So, we arrived over in May and moved into an unfurnished 5-bedroom house in Point Grey, one of the more affluent areas. But trust me when I tell you, we were not of affluence, and we did not blend in here. We furnished the rooms using Craigslist, Facebook Marketplace and picking up things that people had left out on the street (a common occurrence in Vancouver). Bear in mind there were around 15 of us living in this house at any given time. It sounds like madness, and it was. But it was so fun!
Side note: The Irish and New in Vancouver Facebook group was our bible, and it should be yours too! It's full of international people who live in the city, and anything you want to know, it's likely someone has asked about it in this group before.
I started an internship with a major global bank. I was the only one out of my group working in a corporate job, and some of my friends thought I was crazy, but I did it and I have no regrets. I still think I made the most of those few months, I had sound co-workers, and I'll forever fondly remember leaving for work in the morning and stepping over a passed-out housemate on the kitchen floor.
Daily Life
We spent a lot of time on the beach, chilling in our back garden, and just strolling around Kitsilano or Downtown. The mountainous scenery around the city never failed to amaze me, and we would often stumble upon big budget film sets. I also witnessed some of the most incredible sunsets I have ever seen here.
It's worth noting that everything is very expensive here – groceries, phone plans, rent (hence 15 of us squished into said house). I hated how they didn't include taxes in the price, and tipping was compulsory. It seemed that simply existing there would drain your bank account. But slumming it can be kind of fun sometimes, especially when you're in a new city, right?
I specifically chose to say that 'almost' everything is expensive, because there is one notable exception – The thrift shops here are fantastic – there's so much selection and they're dirt cheap! Some of my favourite things I own are from Vancouver thrift stores. If you're in the mood and have time to kill you're bound to get lucky. Some of my favourites were: Value Village, Wildlife on Granville St, and The Salvation Army.
Going Out
Being Irish, and essentially being on our holidays, we would go for drinks often. Honestly, the nightlife in Vancouver was disappointing. I feel perhaps it's not a priority of Vancouverites – they seem so into healthy living (not a bad thing). But we often felt that pre-drinks were the best part of the night out and the nightclubs were disappointing. Except for 1811 on Davie Street. Snaps for you, 1811.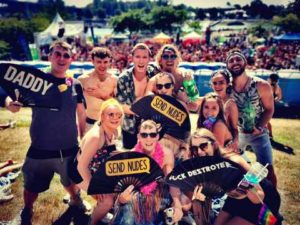 So, we ended up just making our own fun a lot of the time. No fear because Irish people are good at this. We would go drinking at beaches or parks or in the garden instead, which worked well because it was more affordable for everyone. There was a Drum Circle at Third Beach in Stanley Park every Tuesday evening and that was also great craic – would recommend, the sunsets were beautiful. The odd time we would get a limo home from the club. If there were enough of us, it only cost $10 each. Absolute notions, you could say. But don't let my disappointing bar experiences halt your travel plans. It's worth noting that there are raves happening in or near Vancouver every other weekend during summer, you just need to keep an ear to the ground. There are also plenty of Irish-organised events happening during the summer such as club nights, outdoor DJ events and boat parties.
Food & Drink
Okay, so Canada is a relatively new country and doesn't have much traditional cuisine. However, here are some finds you should try while you're here:
Poutine – a dish from Quebec consisting of chips, cheese curds and gravy. The only Canadian food I can think of, oops.
Sushi is popular here and really tasty and good value – there was a little place just by our house that did a California roll for $2.50!
Chocolate Lava Cakes from Dominos Pizza – Delicious!!
Rain or Shine Ice-cream – kind of expensive, but their Malted Milk Chocolate Honeycomb flavour is to die for.
Here are my restaurant choices:
Activities (in Vancouver):
Beach: Loads of lovely beaches around Vancouver. Special mention to Wreck Beach – one of my favourite places in the world! Wreck Beach is a clothing optional beach just off UBC campus and on summer weekends it's honestly like a mini festival. Amazing scenery and sunsets, good vibes all 'round. You can buy food, drink and clothes on the beach. Beware of the stairs back up on your way home, your fitness will be tested.
Stanley Park: This is a gorgeous park filled with loads of woodlands and beaches. Drum Circle and an outdoor cinema take place here during the summer. There's also an aquarium and a swimming pool. You can rent bikes and cycle (or skateboard, etc) along the Sea Wall for gorgeous views.
Rent a Boat: Such a fun thing to do with a few friends. Rent a boat from Granville Island and cruise around the coast for a few hours. No boat license needed.
Kitsilano Swimming Pool: An outdoor saltwater swimming pool just beside Kitsilano Beach, with lovely city views.
Activities (outside Vancouver):
While the city itself is beautiful, one of the best things about Vancouver is its proximity to nature – it is surrounded by stunning lakes and mountains. You will need a car to get to most of these, but there are a few (Lynn Canyon, Deep Cove, Grouse Mountain) that you can access via public transport. Renting a car in Vancouver is reasonable when split between a group, or you can sign up to Evo, which has lots of cars all around the city & you can rent them for short or longer periods of time (you will need a Canadian driver's license).
Here are some of my must dos:
Trip to Whistler! This is a rite of passage for anyone in Vancouver. There are regular, super affordable buses. Make sure you sit on the left-hand side of the bus – the views on the drive are INSANE (I can't emphasise this enough). If you and your friends are feeling boujee, try to find an Airbnb with a hot tub (queue Glamorous by Fergie). Whistler is a fantastic escape from the city. In the winter it's one of the largest ski resorts in the world, and in summer it's a haven of beautiful lakes, hikes and outdoor activities such as mountain biking, bungee jumping and river rafting. You might even see a bear! I highly suggest you do Vallea Lumina, a multimedia night walk through the forest (It sounds weird, I know, but it's magical). And The River of Golden Dreams is a must do! This is a free lazy river that starts at Rainbow park and brings you through the scenic countryside. You just need to bring your own boat (Explorers will do).
Hiking: There are some incredible hikes on the outskirts of Vancouver. It's a nice thing to do during the day that's good for your mind and body. Some of which I mentioned above you can get to via bus, others will require a car. Two of my favourites are Joffre Lakes and Mark Summit.
Camping: This was one of my favourite things to do while living in Canada. There's an endless amount of camping spots in Squamish and Pemberton and beyond. I loved to go camping by lakes as there was stunning mountain scenery – and the stars. Wow! Bring a barbeque and a floatie, and don't forget to bring bug spray! Some of my favourite spots are: Cat Lake, Hippie Lake, Twin One Creek, Birkenhead Lake, Harrison Lake (has an inflatable water park), and Cultus Lake (has an actual water park – a really fun day out!) Be sure to pack up any food in the car before going to sleep (so you don't attract bears) and leave each space as you found it.
Winter in Vancouver
I suppose I should mention that I personally found Winter in Vancouver to be a bit dull. It rained a LOT, and if I'm honest, it often just felt like I was back in Ireland. There's a reason it's nicknamed 'Raincouver' – it can be like this even in June! So, I decided to move to Whistler to learn to snowboard (and ended up getting hooked).
Of course, there are plenty of things to do during the winter in Vancouver. And there are local mountains such as Cypress, Grouse and Seymour that you can go to if you fancy skiing or snowboarding.
Trips
Fancy a little getaway while you're in Vancouver? I mean, why not! You could head to Eastern Canadian cities such as Montreal or Toronto, head up to Yukon or Alaska, or take a road trip closer to home. Because of the pandemic, we didn't get to venture too far, but we still had a blast. Here are my favourites destinations that are relatively close by:
Banff/Jasper road trip: Head to see the Rocky Mountains in Alberta. Me and 5 friends rented an RV and drove from Vancouver to Banff, taking in the amazing mountains, lakes and glaciers on the way. The RV was such a fun experience for us, and it worked out cheaper and easier than renting a car and getting Airbnbs along the way. Be sure to check out Lake Louise and Moraine Lake. There are loads of great hikes to do here too.
Tofino: Get the ferry across to Vancouver Island, and then drive to Tofino. Tofino is a quiet little surf town with lots of character. The beaches here are more like those at home, with salty air and softer sand (great if you're feeling homesick). We rented equipment in the town and stayed at a campsite that was right on the beach. We also queued for an hour for Tacofino, but it was so worth it.
Okanagan: If you love wine, this should be at the top of your list. The Okanagan is a wine region in inland British Columbia, about a 4.5 hour drive from Vancouver. It has a much warmer climate and so the landscape is much drier and desert-like. We went to Kelowna to visit friends and had a brilliant time. Our highlights were doing a wine tour, and renting a boat on Okanagan Lake.
And that just about sums up all my wisdom. If anyone has any questions about visas, work, or life in general in Vancouver, please feel free to reach out to me and I'll be happy to help.
Disclaimer: These are all just my opinions.