Living in San Francisco, there's no dearth of restaurants to choose from on a Saturday evening. A few weekends ago, I was given the opportunity to dine in Oakland and wondered what on earth the food scene would be like – was there even a food scene?!
The answer is a resounding yes!! From the Temescal area to the streets around Broadway and Telegraph, Oakland surprises with top notch chefs, hipster bars and a thriving food scene! Then there's old Oakland. I ventured out onto Broadway and 9th and was taken aback. The street actually looked festive and inviting!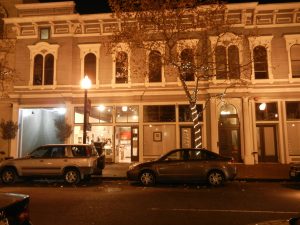 This area is now home to an upcoming array of shops, retail stores, some of which are pop up and others that are more permanent. Popuphood neighborhood, as it seems to be calling itself, is a clever way to revive old town and increase foot traffic.  Take a stroll, you'll see some pretty architecture, reminiscent of the victorian homes in San Francisco. I even vaguely felt some similarity to Larimer street in Denver! This pic below is of popuphood store Marion and Rose's Workshop, worth a look and very hipster. You'll find stuff like home goods, gifts, and accessories. I didn't find too many other stores open yet, but the area has potential!   I kept walking, my destination an Italian restaurant a few blocks further on Broadway.
Alessandro, the Italian gondolier I met earlier in the day for a Gondola ride around Lake Merritt, swore to me that 9th and Washington, a few blocks down Broadway, held the most authentic Italian restaurant in old town – Desco. It just so happened that Lindsay Wright, the PR Manager for VisitOakland.org had made reservations for me and a guest, at the same restaurant that night!
Four months old, Desco replaces another Italian restaurant that was quite short lived from what I hear.
NOTE DESCO RESTAURANT is permanently closed – we keep this article for nostalgia sake.
Owner and executive chef Donato Scotti hopes to re-create the magic of his previous successful restaurant openings (Donato Enoteca in Redwood City and La Strada in Palo Alto). The interior was warm and welcoming with a vintage brick wall and what felt like ceiling to floor windows. I had a corner window table perfectly situated with views out onto Washington street.  Juan, the manager, was gracious and welcoming and told me both Donato and head chef Simone were from northern Italy, Donato from Bergamo in Lombardy and Simone from Torino, Piedmont.  I frantically tried to comb the corners of my mind to see if I knew anything about either area – I was experiencing a brain freeze. I couldn't even recall ever hearing those names!
I stuttered something about having been to Rome and Tuscany, when Juan said these regions were further north of Tuscany, where it's colder and people eat heartier food. What's heartier food I thought, meat and potatoes flashing before my eyes. I wasn't too far from that it seemed – at least on the meat part. Oh and no tomato sauce up north. Italian food to me, until now, was all about the tomato sauce slathered over pastas and pizzas. Ah…this was going to be a long night. I exhaled in relief when I realized Juan was talking about starting me and my husband off with some drinks.
He brought out a classic Italian cocktail, Negroni, consisting of Gin, Vermouth and Campari. It was delicious and different. We also tried a Piedmont white wine called Gavi. Gavi's claim to fame is that it was the first Italian wine that gained international reputation and it is still one of Italy's top ranking white wines. So you can see why I had to try it! If you like well-balanced fruity wines, this one is a must try, and a great pairing with seafood.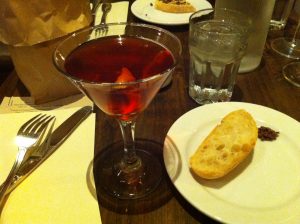 As I sipped my wine, I noticed Juan was stopping at almost every table, exchanging a few words, lingering longer at some tables and giving that personal touch to the patrons.  I have seldom seen this in a San Francisco restaurant.
The server must have had my stomach growling, for right on cue, she brought out an assorted Bruschette, which I was convinced was not the Bruschette.
She then explained the three different assortments were caramelized onion and spicy salami, almond paste and pesto. While the one with the almond paste was my least favorite, the pesto was extremely flavorful. The spicy salami was a terrific contrast to the sweet caramelized onions and I give this a thumbs up as well. By now I had forgotten about the lack of tomatoes on this Bruschette! The second appetizer that was recommended was a chickpeas dish with thinly sliced prosciutto and picked radishes, called Prosciutto di Parma.  I've never had anything like this, the chickpeas was cooked just right and the prosciutto was delicious. I was off to a great start!
I couldn't help notice how attentive the staff were, from re-filling my wine and water glasses, to promptly clearing dishes, to bringing out the next course. If you follow food blogs, especially the Amateur Gourmet's blog, remember the post he wrote about 10 Signs You're in a Good Restaurant? Well Desco definitely fulfills #9 on that list: the plates are cleared quickly, but not too quickly.
I was idly glancing at the menu wondering what I should be ordering for the main course when Juan came out to give us his recommendations. He also explained how they sourced fresh ingredients from nearby farms in Half Moon Bay as well as Italy for Oregano and Fregula, a Sardinian pasta that is very similar in texture to Couscous.  Why not use the Oregano here, I asked. Donato apparently preferred the Italian version, which I can relate to, for every time I visit India, I'm again awestruck by how different vegetables and spices taste there.
Juan recommended Donato's hometown dish, the Casonsei, a pork ravioli filled with homemade sausage and topped with amaretto crumbs and brown butter, as well as the traditional Piemontese ox tail Risotto. Er…neither one had any tomato sauce AND I wasn't about to eat ox tail. I don't care how traditional it is or if it's Donato's signature dish I'm not trying it.
What can I say – I was persuaded by my friend who was in an adventurous mood! It was actually flavorful and much like beef…cooked tender and almost falling off the bone. Definitely give this a try at Desco!
The Casonsei was simple, without a lot of fuss or excessive sauce to hide any imperfections. The well cooked pork bits were perfectly strewn on top to provide that added flavor.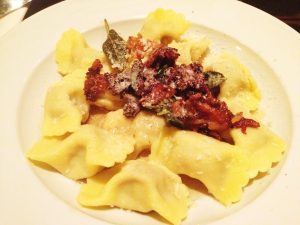 Lastly, I wanted to try the Cartoccio, a seafood pouch of mussels and shrimp with Fregula pasta and this was the highlight of my meal because I got to meet Chef Simone! He brought out the dish and explained that the pasta was brought over from Sardinia and that I would recognize the similarity to couscous. He also talked about how the paper the seafood was ensconced in was also from Italy. I wondered why they just couldn't use paper from here. But the Oregano conversation came to mind, highlighting once again the care that Donato puts into sourcing his ingredients. Definitely farm to table, Desco is a bargain compared to some of its San Francisco farm to table restaurants!
So, did I love the seafood pouch? I was not a fan of the mussels, which I normally adore. These were a bit dry for my taste, however nothing that couldn't be solved by scooping up the white wine reduction sauce at the bottom to give it that kick it was lacking. The shrimp was just right and the Fregula pasta was yum! It did look a little like couscous but the texture was less dry.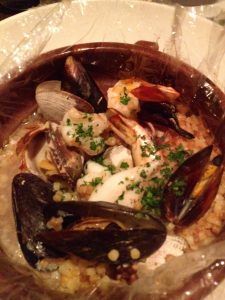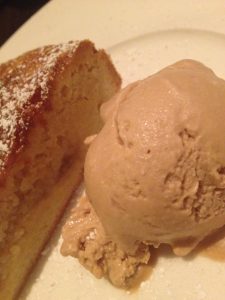 We ended the meal with a decadent torte accompanied by hazelnut gelato which was the perfect ending. The gelato was good and the torte was not too sweet, just the way I prefer my desserts.
The Amateur Gourmet's 10 Signs You're in a Good Restaurant ends with #10: the little details add up. And at Desco, they truly do. After our meal, Juan brought us an Amaro, an Italian herbal liquer that he said they are quite proud of.  Drunk as an after-dinner digestif, it has a slightly bittersweet flavor. The Amaro, along with getting to met Chef Simone truly added up and we left, feeling satiated after a two and a half hour culinary extravaganza without any tomato sauce.
Where: Desco is on on the corner of 9th and Washington, Oakland
When to go: Try dinner, the atmosphere is old-world Italian
Good for: A romantic night out, a small group of friends
Price: $$